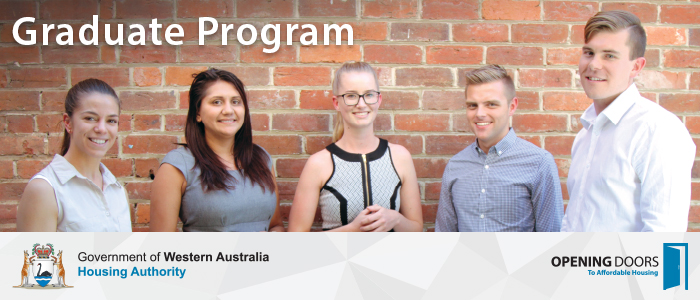 Working with us
Department of Communities
---
As a Western Australian Public Sector employee, you will enjoy all the benefits of working for the Western Australian Government, including flexibility and variety of work. Some of the other benefits you will experience include:
Diverse rotations with the opportunity to work across numerous business streams
A dedicated mentor, peer support and networking opportunities within Government, Private and the Not for Profit sectors, which will help with your development
Competitive salary with an increment in year two
Professional and personal development through training, site visits, placements, workshops and leadership programs
Opportunities for regional and remote travel
Health and Lifestyle Program including free exercise classes and health consultations
Flexible working hours to suit your lifestyle
Career progression in a challenging and rewarding workplace, with the opportunity for you to make a difference to the lives of Western Australians.
Graduate Training:
You will be exposed to a variety of activities throughout the program. Your first week is dedicated to your induction. After that, we will design a professional development program (PDP) with you that will help you fit into the organization. The PDP is based on your existing skills and experience and can include opportunities such as:
In-house formal courses
On-the- job training
Site visits
Public Sector Commission's Graduate Future Leaders Program (first year)
Internal Foundations of Leadership program (second year)
Computer based training
External seminars and workshops
Personal development courses
Mentoring
Opportunities for regional placements and visits.
Although there is no guarantee of permanency after the graduate program finishes, graduates are strongly encouraged to apply for positions within the Housing Authority. Over 75% of graduates have taken on positions at the Housing Authority after their placements. We invest in our graduates and strive to utilise their skills, experience and expertise within the organisation and we can also assist with application and interview preparation.