icare Graduate Programs and Jobs
icare is a Public Financial Enterprise that delivers insurance and care services to the people of NSW. Whether a person is severely injured in the workplace or on our roads, we support their long-term care needs to improve quality of life outcomes, including helping people return to work.
icare currently has 0 opportunities.
Select the following options:
Who are we and what do we do?
icare
---
icare was established in 2015 to deliver insurance and care services to the people of New South Wales. We protect, insure and care for: 
injured workers
severely injured road users
employers
builders and homeowners.
When someone is severely injured in the workplace or on the road we support their long-term care needs to improve their quality of life. We work with each person individually to achieve the best outcome for them. And, where possible, we help them return to work.
We also insure public buildings and landmarks such as the Sydney Opera House and the Harbour Bridge.
Although we're one of the largest general insurance providers in Australia, we've got a vibrant, accepting culture and we think like a start-up. We're redesigning what we do and how we do it to put our customers front and centre. We focus on the person, not the process.
We truly care about our customers – we're there to support them in whatever way we can. With empathy. Always.
If you'd like more information about us and our vision, visit www.icare.nsw.gov.au
Our graduate program
icare
---
As an icare graduate you'll take part in a rotational program that includes hands-on work in real, meaningful roles across a number of areas in our business. 
Being part of a small graduate program means you get individual attention.
We've designed the program to help you develop the skills you need to succeed, and to grow your potential for a future leadership role at icare.
After you've completed the program you'll have a permanent position and you'll be part of our next generation of leadership talent. We'll work with you to develop a career plan and guide you towards the next step in your career.
During the program you'll be stretched and challenged. You will be exposed to work that requires you to think strategically, analytically and creatively about our customers and the future.  You'll also have the opportunity to influence and partner with others both within and outside of icare.
What you'll get:
Mentoring and coaching by members of our leadership team. They'll guide you through your workplace transition and advise you on allocated projects and programs of work
A host team and leader at each rotation
A tailored learning and development program which includes workshops and structured learning sessions involving leaders from across the business
Projects to work on with your fellow graduates involving research, planning, strategy development and presentations. The focus is on developing your leadership skills and capabilities. We want you to have opportunities to excel
Regular performance, development and salary reviews
Flexible working opportunities so you can balance work with family and community commitments
Working at icare is fast-paced, creative and fun. Although the nature of our business is serious, we don't take ourselves too seriously. We thrive on new ideas, design thinking and adapting to change.
A commercial mind and a social heart is at the core of everything we do.  It's part of our DNA. We operate with commercial savvy in a smart and efficient way – we're always looking for ways to do things better. 
We value our people, their life experience, their compassion and their abilities. We want them to be bold and task risks, to break the mould and make their mark – and to do it with integrity, courage, accountability, respect and empathy.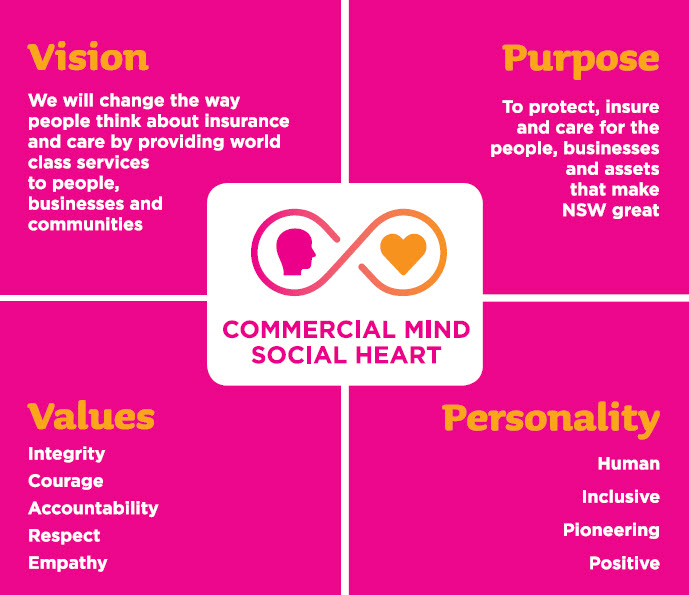 Who we are
The icare foundation is a social venture. Every day we're working to make sure the people of NSW stay safe and healthy at work and on the roads, and have the support they need to recover from injury.
We do this by collaborating with, and funding organisations that are taking a fresh approach to injury prevention, health and wellbeing, and recovery.
Our impact
Since the foundation was established, we have committed over $25 million in funding to support seed, scale and research projects in the injury prevention, health promotion and recovery space.
Already, we have positively impacted the lives of thousands of people who live in NSW. We plan to continue collaborating and funding innovators who are making real in-roads and trailblazing new paths in injury recovery and prevention, and health and wellbeing.
How did we get here?
We were established in 2016 with the aim of partnering and connecting a diverse range of support organisations with the people who need them - injured workers and road users, their families, carers and employers, today and in the future. Between now and 2021 we will invest a total of $100 million into innovative initiatives and research projects that focus on injury prevention, treatment and recovery.
Our philosophy
We are passionately committed to protecting and caring for the health and wellbeing of the people of NSW. That's why we're shaking-up and disrupting the traditional role of a foundation, because we believe that breakthroughs come from innovation.
We look to partner and collaborate with people who are thinking differently and trying new approaches to tackle problems at their core.
Diversity

icare
---
Diversity is being invited to the party Inclusion is asking everyone to dance Verna Myers
We are committed to building an inclusive workplace that reflects the communities we provide insurance and care services to every day. Our aim is to provide world-class services that empower people to have choice and control in identifying their goals and the kind of support they need to achieve them.
To do this we need talented individuals that work together to make a difference. Not only for our customers but also in creating an amazing place to work, where we can unleash every team's potential to achieve great outcomes. You'll join a very diverse group of people that reflects the dynamic mix of Australia and our customers.
We are steadfast in building a culture, guided by our shared values where all our people make a difference, thrive and find meaning in the work they do. We are committed to providing an environment free of discrimination for everyone.
At the heart of it, we want people to bring their whole selves to work, feel valued, respected and feel connected. It's also important to us that everyone can achieve work life integration so people can perform at their best. This might mean enabling flexible and supportive ways of working and providing accessible technology, information and premises.
We run a range of programs and initiatives each year across our organisation to raise awareness and provide support in building a culture of inclusion and addressing barriers. We celebrate diversity days and events, including International Day of Persons with Disabilities, Chinese New Year, Sydney Gay and Lesbian Mardi Gras, NAIDOC, Harmony Day, Diwali and International Women's Day. These are often led by our people for our people.
Our Young Person Network connects, supports and assists the growth of our young employees during their career journey at icare.