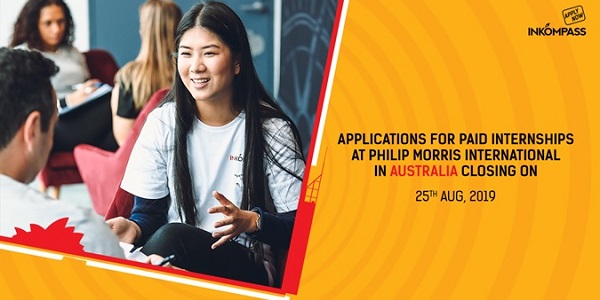 INKOMPASS embarks on a journey of self-discovery and exciting career opportunities with Philip Morris International (PMI). If you are looking for engagement with a global organisation, during the course of your studies, which will provide you with personalised development, including tailored training programs that will build your professional and personal skills, this is the opportunity for you! You will learn through engaging and challenging live business projects and interact with our senior leadership team to share your experience.
PMI is the world's leading international tobacco company, with six of the world's top 15 international brands and products sold in more than 180 markets. In addition to the manufacture and sale of cigarettes, including the number one global cigarette brand, and other tobacco products, PMI is engaged in the development and commercialization of Reduced-Risk Products ("RRPs"). RRPs is the term PMI uses to refer to products with the potential to reduce individual risk and population harm in comparison to smoking cigarettes. Through multidisciplinary capabilities in product development, state-of-the-art facilities, and industry-leading scientific substantiation, PMI aims to provide an RRP portfolio that meets a broad spectrum of adult smoker preferences and rigorous regulatory requirements. For more information, see www.pmi.com and www.pmiscience.com.
Together, we don't wait for the future to be created, we define it.