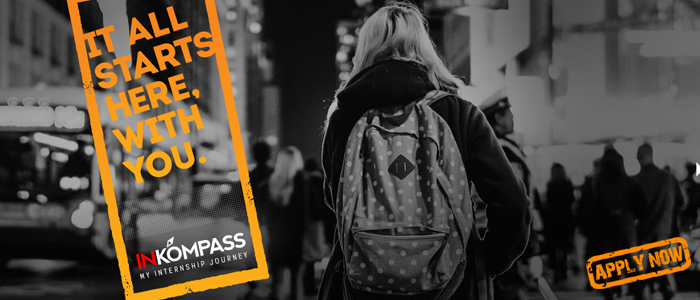 What you need to know…   
Why should I apply?
INKOMPASS is a unique 2-cycle internship program which enables you to DISCOVER yourself through challenges and cultural diversity. You will be given the opportunity to:
Work on REAL BUSINESS PROJECTS that will help you develop portable skills
Build an INTERNATIONAL network
Receive personalised feedback and COACHING
We are looking for candidates who are:
Fluent in English
1 st year university students
Have any major or concentration of study
Curious, adventurous and open-minded.
If this sounds like you, apply now!
Degree/Disciplines
At INKOMPASS, we keep things simple: we want to work with the best. That's why our priority with INKOMPASS is to attract, support and develop diverse and unique individuals from all disciplines.
How to apply
Please visit our website and go through the online application process.
Step 1. Application – if you meet our eligibility criteria, we will invite you to take some online tests.
Step 2. Selection – If you successfully complete the online tests, you will be invited to an assessment centre on 27 or 28 September 2017 (in Melbourne).
When to apply
Applications are open from 1 July 2017 – 26 August 2017.
Eligibility
First year university students completing a 3 year degree
Second year university students completing a 4 year degree
Must have working rights in Australia or New Zealand (international student visas accepted)
Position locations
Internships are offered in Melbourne and Auckland.
Further information
Please visit our website – www.inkompass.global
We look forward to recieving your application!