Our Vision, Mission and Values Guide Us in Everything We Do.
Our company's Vision, Mission and Values are the cornerstones of our culture. They guide our global strategy, define our overarching goals, and serve as a constant reminder of Jacobs' high performing, innovative and empowered culture.
Our Vision, Mission and Values are inspired by our teammates, our rich history, and our promising future. For 70 years, Jacobs has been the driving force behind some of the world's greatest engineering feats.
These guiding principles help ensure that our company will continue to provide solutions for a more connected, sustainable world for many years to come.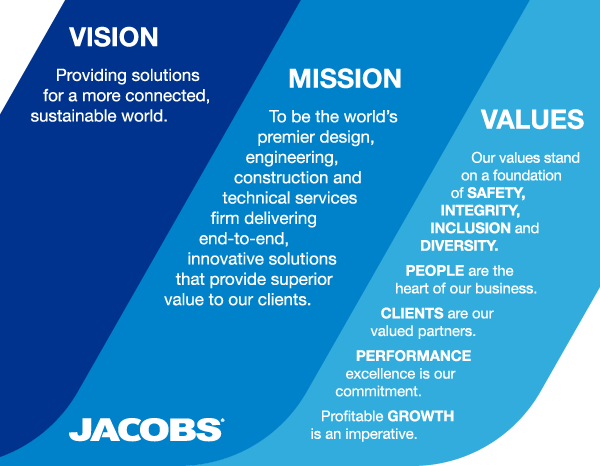 Imagine the Possibilities
At Jacobs, our focus on building long-term client relationships has helped us become one of the largest and most diverse providers of technical, professional and scientific services including engineering, architecture, construction, operations and project management, as well as scientific and specialty consulting. Our portfolio spans industrial, commercial, and government clients across multiple markets in over 230 locations around the world. Have a look at some of the projects Jacobs is delivering here –Jacobs Projects
Connect with us on LinkedIn, Twitter, Facebook  and Instagram.
---