Inclusion & Diversity

Jacobs
---
Inclusion means welcoming all backgrounds, experiences and ideas.
At Jacobs, we value inclusion and diversity because it energises our people and encourages creativity, collaboration, and innovation. Learning about new and different perspectives and experiences creates more varied thinking. Considering several unique points of view often results in better decisions and solutions for our clients, our investors, and ultimately our company.
The term "inclusive" can refer to many things; but as it applies to Jacobs, it means welcoming and respecting the varied backgrounds, talents, skills, and experiences of all our employees and everyone we do business with around the world –embracing and appreciating both our similarities and our differences. Inclusion is woven throughout our culture of caring; enabling us to be an engaged, committed, and productive company that produces positive results for our clients and their stakeholders. Come work for us -we want you on our team!
Jacobs Employee Networks
At Jacobs, we are committed to creating a Culture of Caring -a workplace that values the safety, positive mental health, and inclusion and belonging of all employees.
Our Jacobs Employee Networks play a critical role in fostering our Culture of Caring in the work they do. These employee-led and employee-organised groups are centred around offering employees an opportunity to collaborate with others around the world who share similar interests and explore opportunities that relate to their specific goals. The shared mission of our employee networks is to celebrate and develop Jacobs' diverse employee population, provide career enriching development opportunities for all levels of talent, assist in the attraction and retention of top diverse talent, facilitate, innovationat Jacobs, and contribute to the communities in which we live and work.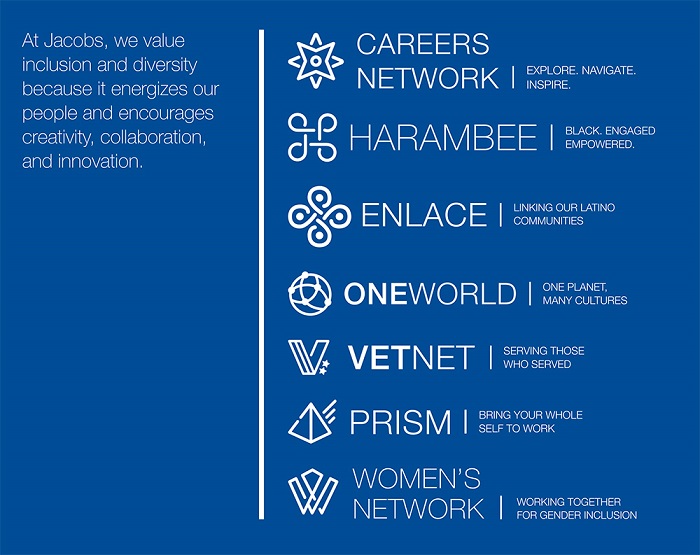 ---