Working at Jones Day
Jones Day
---

Sarah Loewy – Law Graduate
Since starting as a Graduate six months ago, I have been really fortunate to work on a large litigation matter with a close-knit team of lawyers. My day generally consists of assisting the team with a variety of tasks, including conducting discovery, assisting in the preparation of witness interviews and affidavits, undertaking legal research, preparing materials for Court hearings and attending team meetings to discuss the progress of the matter. I take time out during the day to have lunch with colleagues in our break room overlooking Sydney Harbour, go to the gym with colleagues or attend one of our regular New Lawyers Group training sessions. Each day presents new challenges and opportunities to learn so I always feel engaged. In addition to local training, Jones Day sends all Graduates to Washington D.C. for the New Lawyers academy to support us in our development and encourage us in building relationships with international Partners and our global cohort.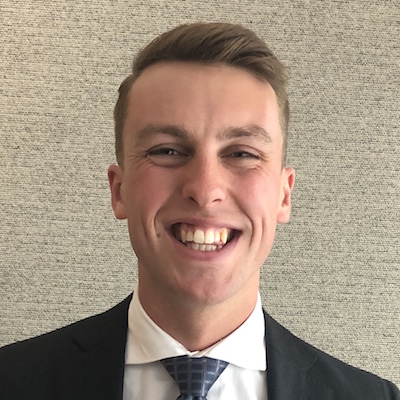 Paddy Clark – Summer Clerk
My clerkship with Jones Day provided me with an incredible opportunity to experience real life inside a global law firm with a rapidly growing presence in Australia. A typical day during my clerkship involved completing legal research, drafting documents, attending meetings with clients and Counsel and accompanying lawyers to Court. The lawyers I worked alongside always explained the broader context of the task I was doing, making the work significantly more interesting for me and confirmed I was making a meaningful contribution during my time with the firm. The size of the Jones Day Sydney office has provided me with the very best of both worlds: great one-on-one experience with both senior lawyers and partners, and working on nationally and internationally significant matters thanks to the standing of the firm globally. The other clerks and I formed a close knit group and often shared lunches and drinks together after work, as well as being involved in the many social events included in the Jones Day clerkship Program.