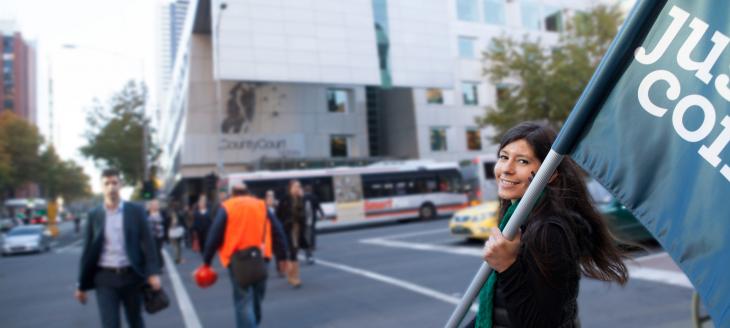 FAIRNESS AND JUSTICE THROUGH THE POWER OF PRO BONO
Justice Connect helps people facing disadvantage who are ineligible for legal aid and cannot afford a lawyer - and the community groups who support them - to access free legal assistance. We harness the power of pro bono legal help to create a fairer and more just world. 
Along with delivering services those who need them, we work closely with lawyers to build and strengthen a commitment to the pro bono ethos and to support them to undertake pro bono work, and we challenge and change unfair laws and policies that inhibit access to justice.
There are two core elements to our work.  The first is assisting disadvantaged individuals to obtain legal assistance where they cannot afford a lawyer or obtain legal aid. Justice Connect receives and assesses requests for pro bono legal assistance from the public and refers them to pro bono solicitors and barristers through our Referral Service program. 
Justice Connect is also known for the development of innovative and sustainable programs that target the unmet legal needs of particular client groups.  Pro bono lawyers play a key role in providing legal advice, representation and training in these programs.
Sometimes our work reveals laws or policies that cause or perpetuate disadvantage, or which are unduly complex.  We engage with law and policy makers to help improve these laws.  Our law and policy reform work is based on evidence drawn from our casework and uses the stories of our clients to give them a voice and highlight the need for change.