KPMG is one of the most trusted and respected global professional services firms with over 162,000 people in more than 155 countries. As a leading provider of advisory, audit and tax services we help organisations build, protect and realise value in dynamic and challenging business environments. 
Our purpose is to inspire confidence and empower change and to be the clear choice for our people, clients and the public.
Working in Advisory, Audit & Assurance, Tax or Enterprise, you'll be mixing with some of the brightest minds while working on significant commercial projects with some of the nation's most respected companies.
At KPMG there are more than 30 practice areas and thousands of clients, your career options at KPMG are truly unlimited. 
With such a wide variety of interesting clients tackling unique business problems, no day at KPMG is going to be the same. At KPMG you can look forward to a variety of work that will continually challenge and stimulate you.
Not sure what parts of our business you're interested in? Or where you might fit? That's OK. As a graduate, you'll have plenty of time to explore your many options. If you're passionate, curious, innovative and committed, you'll do well. Regardless of your degree, your experience, or the disciplines you've studied, you can start here and literally go anywhere.
We provide an extensive variety of services across many diverse industries. To have a look at  some of the varied areas in which you can potentially work visit our Career Choices Page:
https://home.kpmg.com/au/en/home/careers/graduates/your-career-choices.html
We provide a collaborative culture that focuses on the wellbeing of our people to drive innovation. Our workplace of the future provides an agile work environment and a career that flexes to your lifestyle, fostering an open and supportive environment that enriches our people and client experience.
We support numerous organisations in the areas of education, social inclusion, health and the environment, working on initiatives that make a genuine difference to our society.
We believe diversity of thought, background and experience strengthens relationships and delivers meaningful benefits to our people, our clients and community. We are consistently recognised as an employer of choice for women, and our inclusive culture promotes the development of our people irrespective of gender, ethnicity, generation, flexible work status, family circumstances, sexual orientation or disability.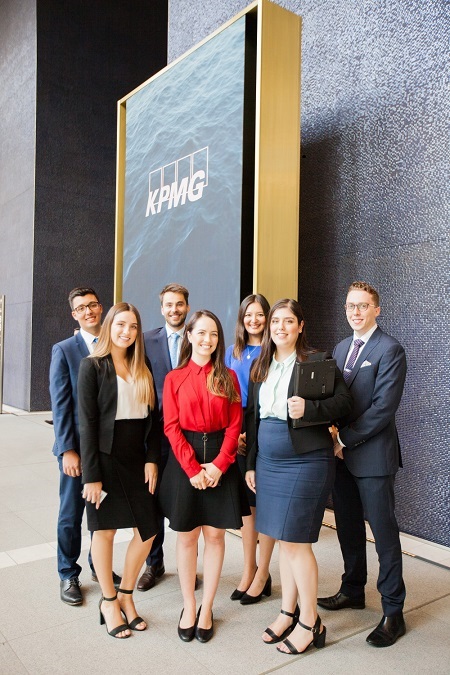 Interested?
You can learn more about our different business groups and find out where a KPMG career could take you on our Career Choices page.
Applications for the 2020 Graduate program and the 2019/20 Vacationer program will open very soon. Please see below for key dates:
2020 Graduate Program
Applications open – All locations 
  18 February 2019
Applications close – Melbourne & Sydney 
  10 March 2019
Applications close – Canberra, Brisbane, Perth, Adelaide & Regions 
  24 March 2019
2019/2020 Vacation Program
Applications open – All locations 
  18 February 2019
Applications close – All locations 
  7 April 2019
2019 KPMG Foundations Program
  Applications will open in early August 2019 in all locations.
Click here to Submit your application.
International students are eligible to apply for our Graduate Program.
Find out how to apply.
---