Our Selection Process
KPMG
---
KPMG are excited to launch 'KPMG Career Launchpad' – a new application and interview experience for students to launch their career.
Before you read the below, have you checked out our graduate website where we help you navigate your career options?
We offer opportunities in our Vacationer and Graduate programs across our various offices nationally. Once you've decided which business group you'd like to start your KPMG career pathway with, you'll need to submit your application to be part of the KPMG Career Launchpad experience.
1. Application phase
An exciting KPMG career starts with a simple online application. We'll ask you some questions about your experiences to date, and why you've chosen to apply to KPMG. Be sure to do your research, have your CV ready and check your application for any typos. You can only apply to one location but you will have the ability to select up to five preferences of business groups on your application form. After completing the application, you'll be emailed confirmation details on your submission. If you do not receive this, please email [email protected].
2. Abilities assessments
Once you've submitted your application online, you'll be invited to complete two online assessments. The first is a game-based assessment that gives us some insight into your ability to evaluate and make decisions based on different types of information. After you complete the game-based assessment, you will then be asked to complete a short values inventory. The values inventory provides us with an idea of how you best work and what you value in your career, so there are no right or wrong responses. Both assessments should take no longer than 20 minutes to complete. You'll need to complete these assessments within 48 hours so we can progress your application to the next stage.
3. Video interview
After you've successfully completed our online assessments, we will send you a link to complete a video interview. The video interview shouldn't be longer than around 10 minutes. We'll ask you to answer a few questions about yourself using an online video interview tool. Don't worry, the questions aren't tricky (and you get the chance to practice using the video tool beforehand). This will give us a chance to 'virtually' meet you and understand more about your motivations for applying to KPMG and the particular business group you've expressed an interest in. Prepare as you would for any other behavioural style interview.
4. Final stage – information session and final interview
The final stage of our recruitment process involves you coming into one of our offices for an information session and panel interview. You'll have the opportunity to tell us about yourself in a friendly and relaxed environment. You'll also hear from our recent graduates, find out more about the benefits of working at KPMG and have the opportunity to ask any questions you have about our process and programs.
Your interview will be behavioural-based and it will take place with a partner or director, and a senior manager or manager from the business group you've expressed interest in. This interview will last approximately 45 minutes and allow us to find out more about you. Your interviewers will ask you questions about your life, your time at university, your extra-curricular activities and any work experience you've acquired.
5. Our offer
If you're successful at the final stage of our process, you'll be contacted by KPMG and a written offer of employment will be forwarded to you. If you have any questions about our offer, or about working at KPMG, then we encourage you to talk to your local Graduate Recruitment Consultant.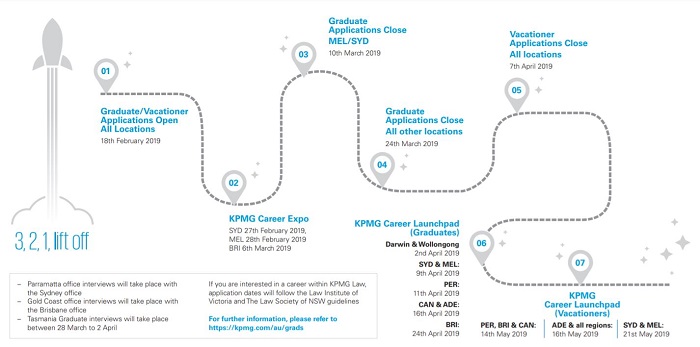 ---