The KPMG advantage
We'll support you with ongoing training, structured development programs and a dedicated mentor.
We'll offer you a career pathway that allows you to develop as fast as your ability allows.
Through our global network, we offer opportunities for overseas secondments.
Our Corporate Citizenship programs give you the opportunity to use your skills for the benefit of the wider community.
We like the real you.
There is no set type of person that succeeds at KPMG. Diversity of thought and experience are our greatest strengths. And attitude is every bit as important as ability.
Being a team player, having passion for what you do and a desire to continuously improve will take you far. If you love to learn and sincerely want to make an impact, you'll feel at home from day one.
Independent thinking is essential. We want graduates that can look at a problem from a variety of angles. You'll need to be prepared to challenge assumptions and bring new perspectives to our clients' businesses.
KPMG Perks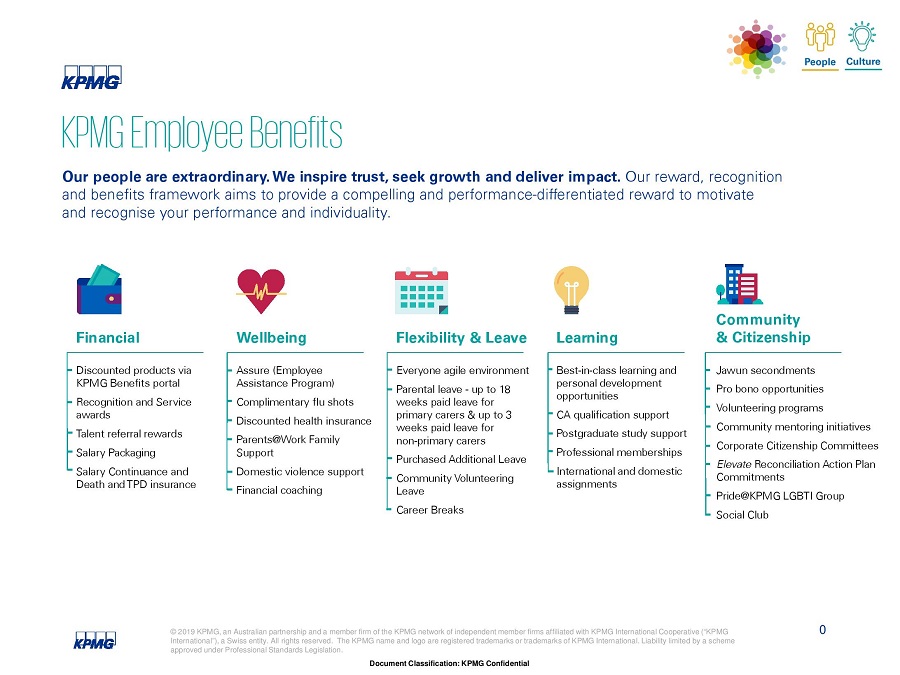 Vibe of the Place
One of our biggest points of difference that we are proud of is our culture, and you will hear this a lot within the office about why people choose to work at KPMG.
KPMG is committed to providing an environment which enables everyone to succeed – a safe space for our people to bring their whole selves to work – where inclusion is at the heart of our values. Our culture influences how we interact with our colleagues, clients and the broader community. We believe our diversity of thought, backgrounds and experiences strengthens relationships and delivers meaningful benefits to our people and clients. It also makes KPMG a vibrant and interesting place to work.
Underpinning our culture are our flexible work practices that enable you to work in a way that fits in with the life you want to live. There are opportunities for people to be part of employee resource groups and networks that support more inclusive workplaces for Aboriginal and Torres Strait Islander colleagues, LGBTIQ+ people, people from Culturally and Linguistically Diverse backgrounds, Women and People with Disabilities.
You can expect lots of challenging and diverse tasks, a structured learning pathway program, and plenty of opportunity to be involved in social events with your colleagues. We have beautiful offices around the country which advocate an 'everyone agile' environment, which means you have the ability to sit wherever you like to enjoy the view. This means you might sit with your team one day, or choose to sit amongst new people the next. You can also expect to dress for your day – some days you might have client meetings and you'll put on your fancy pants, and others you might choose to tone it down to be more business casual. When we say no two days are the same, it applies to the type of work you do, where you sit and what you might wear!