LAB3 empowers ambitious organisations to grow fearlessly through automated and scalable cloud technology. We are one of the largest Azure engineering practices in Australasia, and have expertise in Cloud & DevOps, Data, IoT & AI, Security, Networks, Modern Workplace, and Managed Services.
LAB3 currently has 0 opportunities.
Select the following options:
Past LAB3 Graduate Hiring Statistics
If you're interested in working at LAB3, understanding when they have opened up applications for their graduate programs, graduate jobs and internships is helpful knowledge to have so you know when you might need to apply. Use the below information to see when LAB3 hires graduates, but more importantly what graduate degree's and other student attributes they target for their jobs.
---
Work rights
Australian Citizen (100%),

Australian Permanent Resident (100%),
Past LAB3 Graduate Programs
Check out some of LAB3's past jobs they have posted on GradConnection over the last 12 months. Understanding the details about what a graduate employer is looking for well before applications have opened can sometimes be the edge you need to secure your first graduate program.
---
LAB3's 12-month Graduate Program is designed to nurture your drive and passion for technology and accelerate your learning.
FEARLESS AND ACHIEVE MORE
LAB3 empowers ambitions organisations to jump ahead and modernize with cloud technology
Founded in Australia in 2017, LAB3 has experienced exponential growth and mid 2021 expanded into New Zealand. There are over 200 skilled employees always pushing over the edge to deliver on any challenge accepted. 
Today LAB3 is one of the largest Azure engineering practices in Australasia, and has deep expertise across all practice areas – Cloud & DevOps, Data, IoT & AI, Security, Networks, Modern Workplace, and Managed Services. Of significance, with automation there are proven solution frameworks across technologies ready to go.
Join our Fearless team and Achieve More!
INNOVATION AND PRODUCT LEADERSHIP
You will have freedom to innovate in all that you do. 
This happens within the flag ship R&D program as well as in the everyday delivery of client projects and services 
WORK ON NEW AND EXCITING PROJECTS 
At LAB3, our clients are varied and the work is exciting! As a leader in cloud technologies, there is a focus on greenfield projects. 
LEARN AND BUILD YOUR KNOWLEDGE
LAB3 will support your ongoing professional development. Work alongside recognised leaders across practice areas and attain Microsoft certifications. 
A FUN AND SUPPORTIVE PLACE TO WORK 
Work, rest and play. LAB3 will support you to achieve in your career and accommodate your family commitments and wider interests in life. 
A GROWING LIST OF ACCOLADES 
CRN Impact Award Finalist 2021
LikedIn Top Start Up List 2020 AND 2021
Microsoft Australian Growth Award 2020
Red Hat Partner Award 2020
CRN Fast 50 Number 1 Winner 2019
ARN Innovation Award Finalist 2019
Deloitte Tech Fast 50 Award Finalist 2019
LAB3'S GRADUATE PROGRAM RECRUITMENT PROCESS RUNS MARCH AND SEPTEMBER OF EACH YEAR
KICK START YOUR CAREER
LAB3's 12-month program Graduate program is designed to build your capabilities, apply your learnings, keep you constantly challenged, and accelerate your career.
GAIN DIVERSE EXPERIENCE 
There will be a blend of unique experiences, opportunities, and training fundamentals – with rotations, mentors, coaching sessions, client interactions, and the chance to gain Microsoft and HashiCorp certifications. 
FEAR LESS AND ACHIEVE MORE 
Your mentor will help you create a career development plan, to equip you with the knowledge and skills you need to leap ahead in your career in tech and with LAB3.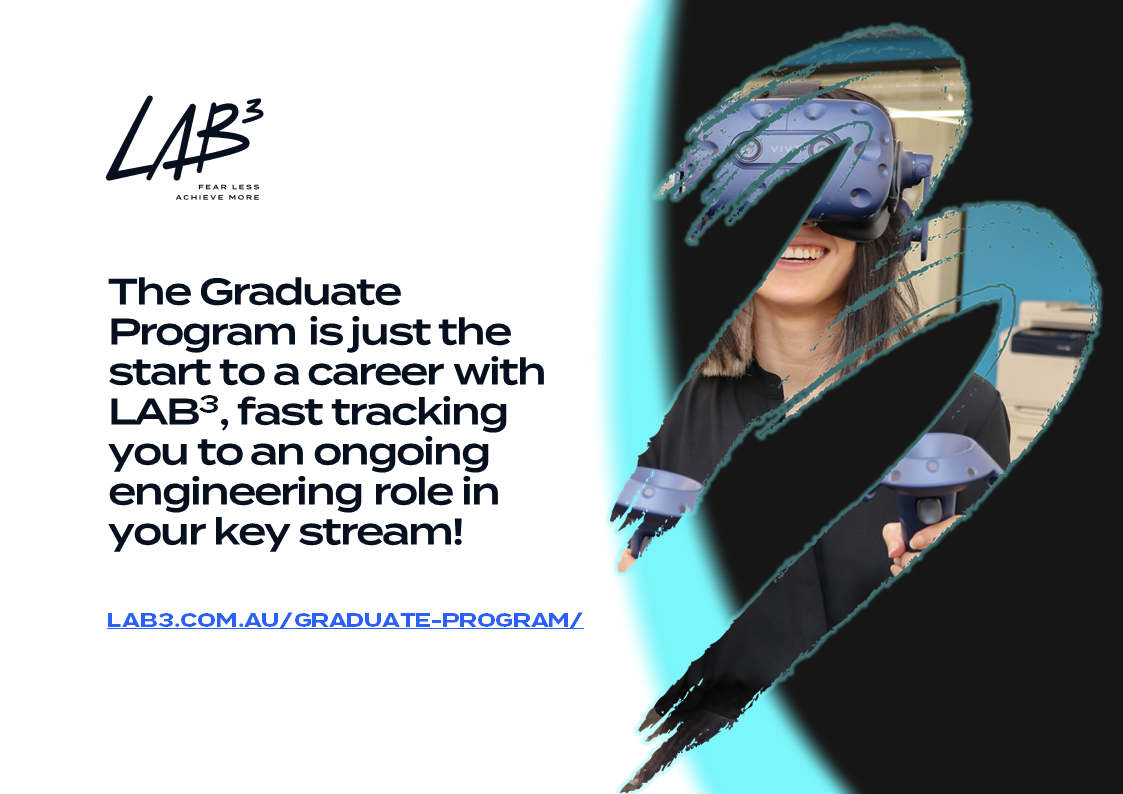 Click here to check out our Graduate application process!
Certifications and Learning 
All LAB3sters have access to complete unlimited Microsoft & Hashicorp certifications
We also have a comprehensive Learning Management System to access endless online professional development courses
Health and Wellbeing 
We regularly drive fitness initiatives such as group classes. 
The Melbourne office has access to onsite gym, shower and bike storage facilities!
All LAB3sters have access to our online wellbeing portal including free and confidential counselling services 
Work Life Harmony 
We work flexibly and recognise the importance of individual flexibility needs - LAB3 are committed to finding the right balance for you! 
Our teams work flexibility splitting their time between their home office and our actual office
We also have options for additional leave!
Diversity & Inclusion

LAB3
---
At LAB3 we encourage you to be yourself and bring your whole self. An range of perspectives at LAB3 fuels our innovation and challenger mindset and makes us an industry trailblazer. We are more creative, flexible, productive, and competitive as an organisation because of the unique capabilities, experiences, and characteristics that everyone brings to the team. 
Gender Equality

LAB3
---
Join LAB3 and experience the support of a strong female network – we meet fortnightly to both socialise and work on our professional development together. Gain access to coaching experiences, strong female guest speakers and have the opportunity to build a network of inspiring female colleagues. 
At LAB3 we are committed to addressing the gender inequality that exists within our industry through the achievement of a number of commitments including: 
flexible working arrangements 
incorporating gender pay analysis into our remuneration processes  
increasing the representation of women in our leadership team and engineering practices 
Sponsoring women to participate in Microsoft's Thriving Women's program