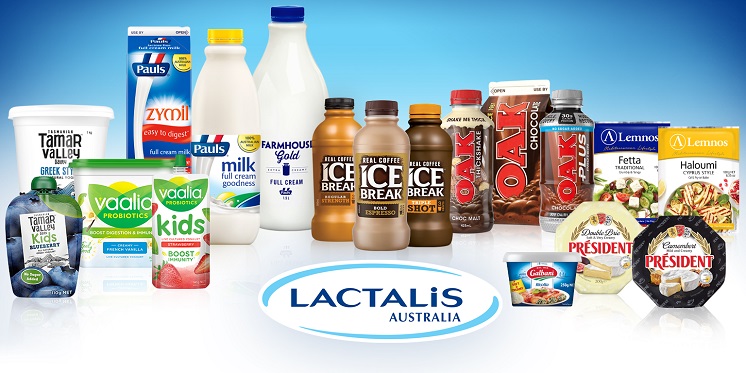 2022 Industrial Operations Graduate Program - Longwarry (VIC)
Are you looking for a graduate experience with meaningful work?
Are you looking to working on challenging projects?
Do you want be part of a Company that will train and develop you?
Are you looking to be supported by an assigned mentor to give you all the tips and advice to help you thrive?
Well, if your answer is YES, don't wait any longer! Here you will have a fantastic opportunity to get your foot in the door of a leading organisation. You will have access to both Australian & international career opportunities with a highly competitive salary.
COME JOINS US!
We are Lactalis Australia - we live the #Lactalis Experience
Lactalis is a STORY of a family business created in 1933 and is today the worlds' No. 1 dairy company.  We are 85,000 loyal employees working across 100 countries and together we create the #LactalisExperience.  
Lactalis Australia's iconic and heritage brands are our PASSION, providing quality and nutritious products for all Australians.  We continue to be humble, proud and resilient.  
We have great people, and we care for our land, farmers and consumers, which is our driving purpose to ensure a responsible and sustainable dairy industry. 
We take pride in developing our internal talent and encourage entrepreneurship by bringing together pragmatic and tenacious personalities. Our accountability ensures we have ownership within our roles and with our EXPERTISE and dairy "know how", sets us apart. Here at Lactalis Australia you can make a difference!
With a presence in every State and Territory within Australia, We are Lactalis Australia - we live the #Lactalis Experience
We are launching our exciting graduate program in 10 of our locations for 2022, which include some sites that manufacture our Cheese & Ingredients, Yoghurts and Desserts and Milk!
What can you expect from our Graduate Program?
Lactalis Australia is currently looking for recent graduates to take part in our Industrial Operations Graduate Program from February 2022 to December 2023.
This rotational program is designed to provide structured support to our graduates while they develop leadership skills and an understanding of various production and mechanical processes within the FMCG / dairy industry. 
This is a multi-faceted program, involves the following:
You will spend time on the factory floor understanding the various roles, processes and day to day operations of production;
You will learn to manage the implementation of new equipment and production lines in a project mode;
You will assist our Production coordinators to understand their role and gain leadership and organisational skills;
Set rotations on your site with an assigned mentor, learn leadership skills and gain insight into different management areas within our manufacturing arm; 
Project work and presentations based on the rotations completed; and
Training that includes leading and coaching, project management, an introductory course on the dairy industry run by an expert training organisation, a development week working on your communication and key transversal skills and more…
What's in it for you?
Lactalis Australia has designed this program with the aim of giving you the tools you need to kick start a rewarding and successful career. This is a rare opportunity to develop technical and interpersonal skills, while learning how to manage and communicate with key stakeholders. You'll gain hands on experience and this will allow you to choose a path right for you!
Managers and mentors will be beside you throughout the program, offering advice and insight to help you along the way. In addition to this invaluable support, you'll also be given a level of autonomy to make your own decisions and grow as a leader.
Performance reviews will be conducted throughout the program and Lactalis Australia will make every effort to secure a permanent position upon completion of the program. This being said, there is certainly scope for successful graduates to begin a full-time career in one of the many Lactalis Australia sites nationally.
In return for your hard work and dedication throughout the program, you'll be rewarded with a highly competitive base salary plus super, along with all the rewards that come from being a part of a global industry leader.
Should I apply?
Lactalis Australia welcomes applications from candidates who have completed a degree within the last 24 months, or who will be graduating before the end of 2021. 
You are an Australian Citizen or Australian Permanent Resident and you have a Food Science/Technology, Logistics / Supply Chain, Mechanical, Chemical degree or similar.
As you're a recent graduate, Lactalis does not expect you to have extensive experience, however the following would be highly beneficial:
Knowledge about the dairy industry and a passion for wanting to work in FMCG / dairy
A desire to grow and succeed with Lactalis Australia
Strong academic results
A general idea of how to manage a range of stakeholders
Awareness of health and safety within a work environment
Does this sound like you? Then don't miss this outstanding opportunity to begin your career with one of Australia's leading FMCG companies - Apply Now!
Applications close 17th January, 2022.
17-12-2021
Job type:Graduate Jobs
Disciplines:

Engineering, Engineering Chemical Processing, Engineering Electrical,

...

Work rights:

Australian Permanent Resident, New Zealand

...

Locations:

Salary

$70,000

VACANCIES

1

POSITION START DATE

Feb 2022 (approx)

Program Duration

2 Years

Remote Friendly

Blended

Closing Date:17th Jan 2022, 7:00 am
Search
Enter an employer or university you want to find in our search bar.