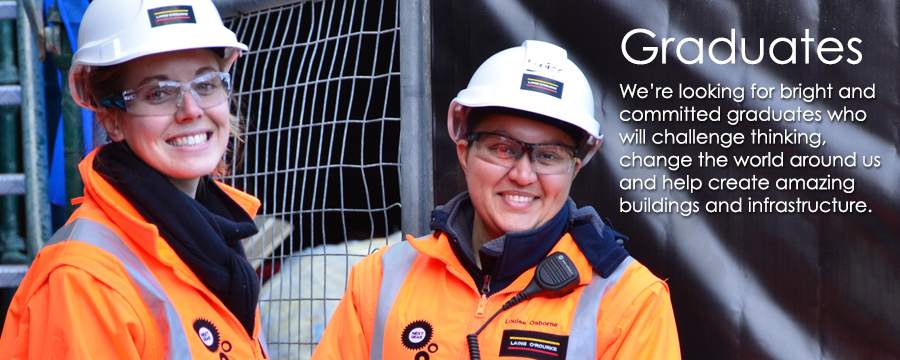 About the Graduate Development Programme
Laing O'Rourke
---
The Graduate Development Programme is an award-winning two-year rotational programme targeted at high-potential, highly motivated university graduates. The programme is designed to stretch and challenge you, while at the same time providing a comprehensive overview of Laing O'Rourke's diverse business and operations.
Combining practical on-the- job experience, technical learning and professional development, our Graduates are provided with the opportunity to work across a variety of exciting projects, functions, sectors and regions within the organisation. We provide unparalleled career opportunities for talented graduates who are positive, team-focused and performance-driven.
Laing O'Rourke Graduates are provided with the opportunity to work in a variety of exciting projects, placements and positions throughout the organisation to give you a comprehensive overview of the business. By completion of the programme, you will have gained new knowledge, skills and networks across a range of different functions, projects, regions and sectors of the business.
The Graduate Development Programme focuses on developing the foundations of a successful career by offering you:
A structured two year professional development programme
Project-based and office-based rotations through key disciplines of the business
Responsibility to be entrusted with (and accountable for) meaningful work that will stretch you
Regular goal setting, support, feedback and performance reviews with your line manager
An assigned mentor to support and assist you with career planning and progression
Access to the latest research and development at Laing O'Rourke
Access to senior leaders in the business
The opportunity to network with peers across Australia
Access to a range of technical and professional skills training
Coaching and support from our national Graduate Development Team
Regular national Graduate Development Day conferences and networking opportunities
Opportunity to achieve professional chartership accreditation with your relevant industry body
What do we look for?
We look for Graduates who:
Are due to complete a relevant university degree prior to joining us in 2018.
Are determined and driven with a demonstrated record of achievement.
Work with energy, initiative and enthusiasm.
Commit to creating a positive culture that puts safety at the heart of what we do.
Challenge and change practices to encourage innovative thinking.
Commit to learning and development, and seek opportunities to develop their potential.
Continually improve efficiency and develop flexible solutions for our clients.
Work collaboratively as one team to support the total capability of our business.
Are adaptable and mobile to work across Australia with full Australian working rights.