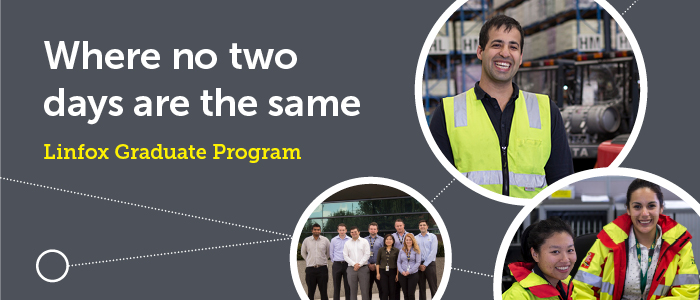 Our Graduate Program
Linfox
---
We have one main stream in our Graduate Program – Operations.
With over 175 sites across Australia alone, our program is focused on transport, warehousing and distribution. We're committed to delivering service excellence and adaptable supply chain solutions and many of our sites operate 24/7 to ensure our customers receive their products on time.
Our graduates work with management on daily operations to ensure our sites run efficiently and effectively.  This can involve managing teams of operators, gaining operational experience in receiving and inventory, planning and organising loads and fleet for deliveries or being accountable for risk and compliance reporting.
Graduates can also work across our Commercial, IT, Innovation, Finance and Supply Chain Solutions teams during rotations, to help gain a broader understanding of our end to end business. Meeting deadlines is a key priority for our business so working within teams and being accountable for the work you do is essential.
Graduates receive a full time / ongoing contract, a mentor, a buddy, four different rotations focusing on different customers, products or services, a supportive peer network, the opportunity to travel and responsibility for critical projects or a team of people. 
We are looking for people who want to build their careers in operations; you'll be based in operational sites in either transport or warehousing.  The rotational program provides you with the skills you need to be an operational leader of the future and build your career.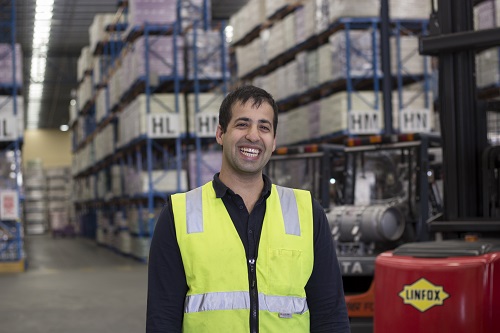 Where do our graduates end up post program?
Graduates have progressed into roles such as National Operations Managers, Regional Transport Managers, Site Managers, Operations Managers, Transport Schedulers, Commercial and Finance Analysts.
The scope of roles is significant, so if you want to build a career in logistics, Linfox is the organisation.