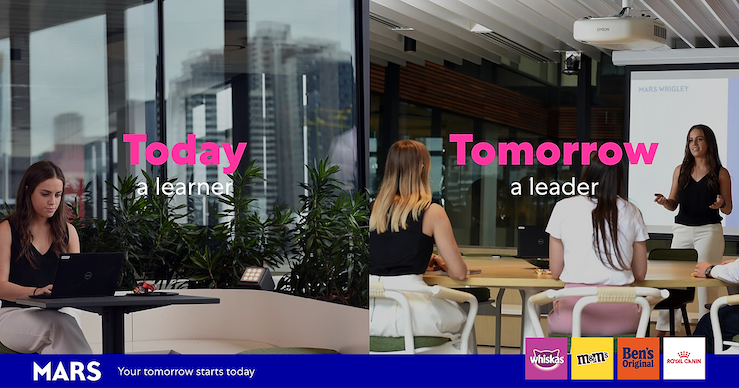 Mars Research and Development Internship Experience - Central Coast
Due to the short nature of the Intern engagement, Mars does not offer relocation for this opportunity and you must be available to be on site at Wyong daily.
The Role
Are you a current student who wants to get a taste of what life at Mars entails? Keen to play an important role in our Engineering team here at Mars? Are you humble, driven for success, and someone who can turn feedback into a personal learning opportunity?  Do you operate by a set of values and care about the impact your work has on our global communities? If this sounds like you and you're ready to learn and grow with a company that values your development and career, we want to hear from you! 
The Mars Food Research & Development Internship will be a three-month engagement from December 2021 – February 2022 and is designed to give you work experience on a real project that delivers real results for the company, while also letting you explore what Life at Mars is about! Working at our Mars Food site in Wyong, NSW where our teams produce brands like Masterfoods, Dolmio, and Kantong, you will join our R&D team to deliver on a real project that will deliver real results for the business! 
You will have access to a world class kitchen where ideation, innovation and creation are developed under the one roof. The successful intern will be someone who is passionate about nutrition and wants to play a leading role in improving the health of Australians by bringing our Food Purpose "Better Food Today, for a Better World Tomorrow" to life, by ensuring our products are future fit and making them healthier choices for our consumers. In this role the lucky intern will help reformulate our products, make bench prototypes and complete sensory evaluations to ensure our products continue to delight our consumers.
Key Responsibilities 
With the guidance and mentorship of your Line Manager, you will:
Reducing the sodium and sugar in our balanced weekly meal maker portfolio without compromising on product taste 
Making bench samples in the R & D kitchen
Conducting sensory panels to ensure our product still meet our key quality attributes  
Collaborating with the Product Development team and other cross functional teams
Attending morning panel and team sensory panels as a taste tester
What does a successful Mars graduate look like? 
Energetic and Passionate: a love for the food industry is a must! 
Humble: you understand that success comes from teamwork and you enjoy celebrating wins with your teammates
Driven: Delivering tangible outcomes is important to you and you are passionate about ensuring the role you play is contributing to the bigger picture 
Analytical: You are logical and methodical when identifying the best solution for a difficult problem. You won't stop at the first answer and apply critical thinking to look beyond the obvious and understand the issue at hand 
Curious: You are curious about the world you work in and want to explore new ideas and new ways of working. You understand that there can be many failed attempts before finding the best way
Adaptable: You thrive in a changing environment and can adapt when things are up in the air. You enjoy the challenge of unfamiliar tasks
Why Mars Australia?  
Awarded #4 in the Best Place to Work Australia survey for 2020
Be part of an intern cohort – Aside from your functional team, your intern cohort is your family and you will go on the journey together. There will be social and development opportunities with your peers from other functional programs (Engineering and Sales/Marketing), giving insight into Mars operations from a different lens 
Focus on development – you will have a Personalised Development Plan, as well as accelerated learning opportunities so that you can experience what life as a Mars Associate is like  
Career progression – joining Mars on the Internship program will give you the opportunity to showcase your talent in order to be considered for future Graduate and Entry Level roles 
Real role, real projects – from day one, you will start your Mars journey in a real role that delivers real outcomes for the business 
About Us:
What do MARS®, SNICKERS®, EXTRA®, ECLIPSE®, PEDIGREE®, WHISKAS®, DOLMIO®, UNCLE BEN'S® MASTERFOODS ® and ROYAL CANIN® have in common? They're all made by Mars. We're a family-owned, principle led business that's been making products for people (and the pets that people love) for more than 100 years. Together, our 125,000+ Associates around the world are empowered to take action every day towards the world we want tomorrow. Because we know, the world we want tomorrow starts with how we do business today. 
For more information visit careers.mars.com  
Mars Australia & New Zealand is an equal opportunity employer committed to providing a working environment that embraces and values diversity and inclusion.
03-08-2021
Job type:Internships
Disciplines:

Engineering Chemical Processing, Food Technology, Medical

...

Work rights:

Australian Permanent Resident, New Zealand

...

Locations:

VACANCIES

2-3

Position Start Date

November 29, 2021

Program Duration

3 Months

Closing Date:15th Aug 2021, 11:59 pm
Search
Enter an employer or university you want to find in our search bar.