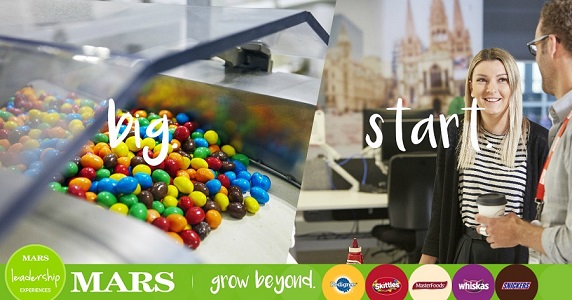 The Mars Leadership Experience - Our Graduate Program…
Mars Australia
---
Where you start your career at Mars, is just the beginning. Joining our Graduate program, which is known as The Mars Leadership Experience, will kick off three rewarding years packed with great experiences, opportunities and learning. Our program is designed to build both your functional/technical skills, as well as providing you with stretching leadership opportunities to prepare you for an exciting career.
You're an individual, so why have a stock standard career? Experience a Graduate Program that's personalised and committed to helping you grow, not just professionally but personally too. We'll work together to understand your development needs and ambitions to navigate your rotations year on year.
To us, every graduate is a potential leader. That's why the moment the program starts you'll be handed huge responsibilities. You're also provided with the freedom to explore the new, and are fully supported while you gain knowledge and experience. As a Graduate, you'll not only play an integral role in our continued success but you'll also be working with the industry's top talent who are all keen to support you in your leadership journey as your line managers, mentors, buddies and new friends.
Key features of The Mars Leadership Experience include…
Three year rotational program
Individualised career pathways/rotations 
Real responsibilities from day one
Support from Senior Leaders, Line Managers, and peers 
Formalised mentoring program and training
Reviews of your development with Management Team members each year
Individualised development plans annually
Mars University learning and development opportunities