McDonald's Graduate Programs & Internships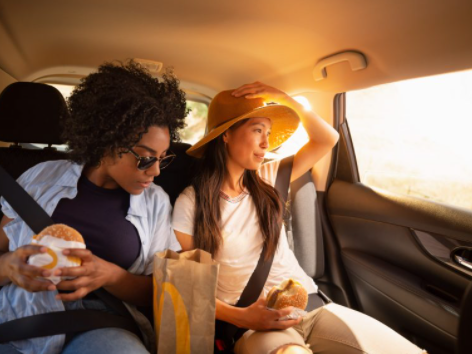 McDonald's Australia is the largest quick service restaurant operation in the country, and one of the largest employers in Australia having employed over 5% of the Australian population! 
Fondly known as "Macca's", we are famous in the global…
View more
Arts and Humanities
and 4 others
Hires applicants with degrees in
We're constantly striving to serve up a great variety of menu options, and with the introduction of some exciting new features at Macca's, we're also serving up a great variety of crew roles.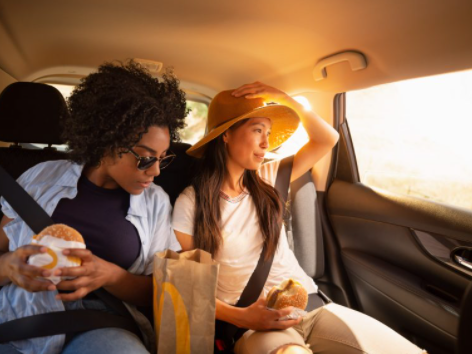 McDonald's Australia is the largest quick service restaurant operation in the country, and one of the largest employers in Australia having employed over 5% of the Australian population! 
Fondly known as "Macca's", we are famous in the global McDonald's world for adding beetroot to our Aussie burgers and creating the world's first McCafé in Melbourne. A household name in Australia for over 40 years, we believe that our customers are the heart and soul of everything we do and make it our mission to bring a smile at every seat. 
In Australia we have 996 restaurants, and five corporate offices. Famous in the global world for adding beetroot to our burgers and creating the first McCafe in Melbourne, we make it our mission to make every moment count! But we don't just build burgers, we build career opportunities too!
"None of us are as good as all of us" - Ray Kroc
At Macca's, we believe our people are our greatest asset. We are committed to our people - our franchisees, corporate staff, restaurant managers, crew and suppliers. We strive to provide opportunity, recognise talent and develop leaders. We believe that a diverse team of well-trained individuals working together in an environment that fosters respect and drives high levels of engagement is essential to our continued success.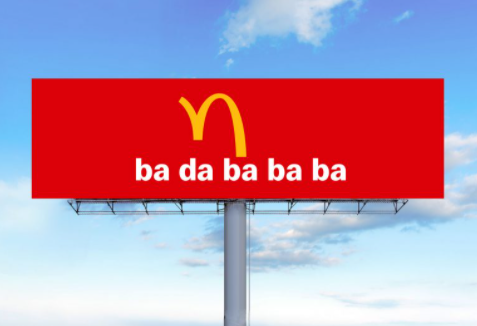 Employer of choice 2018 & 2019!
McDonald's Australia is proud to be recognised as an Employer of Choice in the Australian Business Awards two years in a row. McDonald's Australia is well known as a learning and development organisation that creates employee opportunities with skills for life. This has been critical in how we recruit, retain and develop our people in our restaurants and corporate office.
Property Division: Building careers that build the arches
The National Development Group is a group of dedicated individuals who are responsible for providing growth to the McDonald's Australia business and its partners, through a focus on profitable restaurant growth and responsible reinvestment. We support growth with the delivery of world class design outcomes that meet our customers' expectations.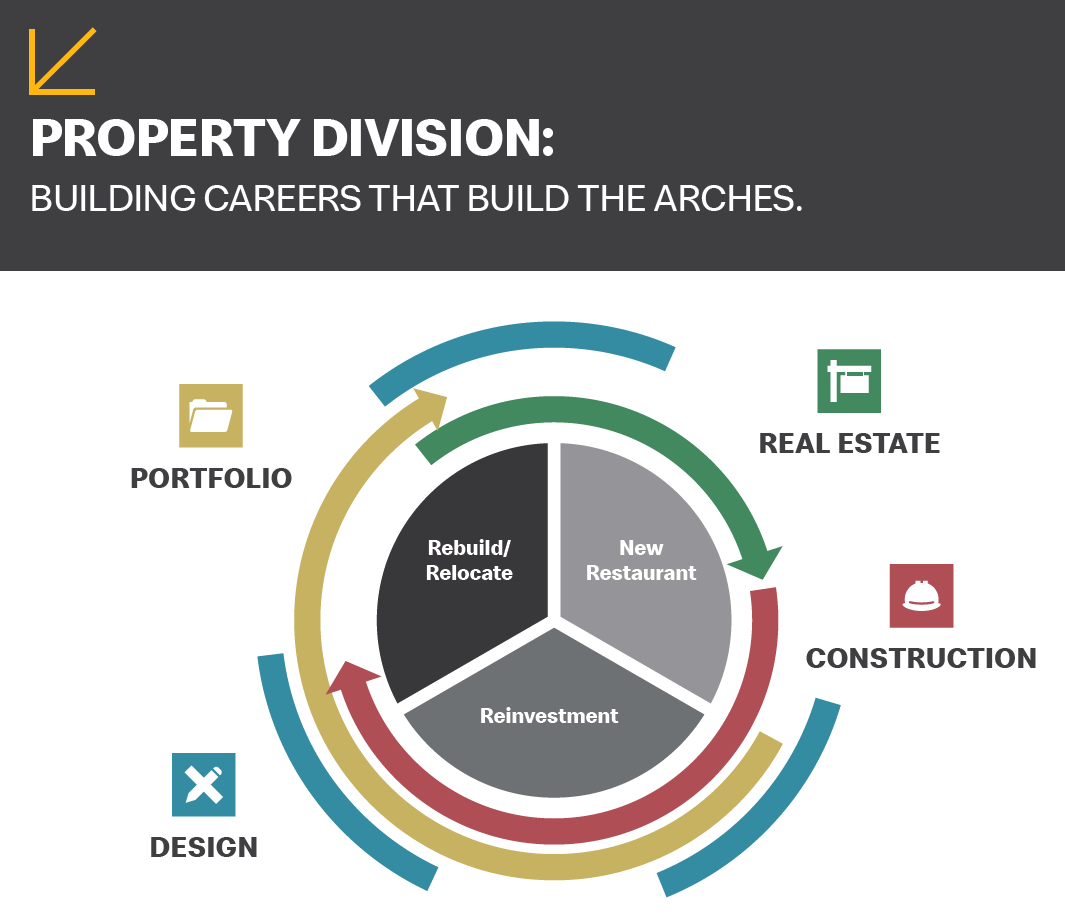 We put the customer at the heart of all that we do and this is what drives us to deliver better development outcomes each and every day. Brilliant execution is supported by an ongoing focus around safety. Our expectations in this area are unwavering and it is the cornerstone of all that we are and do. These expectations carry through to all of our external business partners, who are integral to our brand and its success.
Our culture is built upon honesty, integrity and transparency. Communication and stakeholder management are crucial to a sustainable level of high performance. All of this is underpinned by a desire to have fun in what we are doing through a shared goal of achievement. Each member of our team is motivated by the success of our combined results, whilst understanding clearly what they do to contribute to that success.
We take pride in the development of individuals within our team and are proud of the opportunities that are offered through the broader business.
Why Choose Mcdonald's Corporate?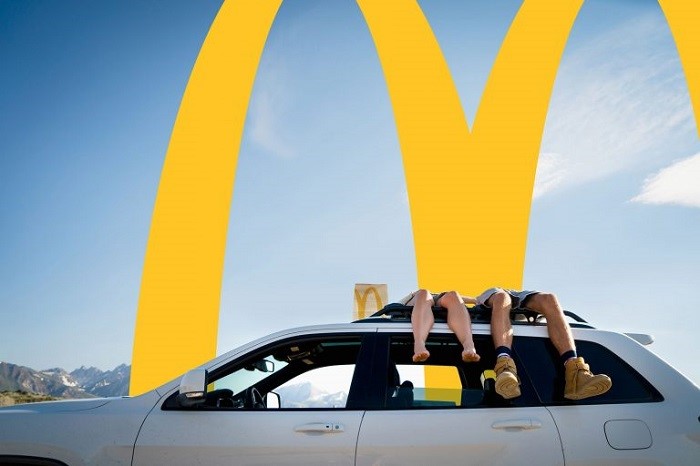 Employer of Choice winner for the past three years, McDonald's Australia values Community and Customer as well as being Bold, Authentic and genuinely Caring about our people. Working with us means taking pride and having fun along the way; while building and developing your career in a dynamic and supportive environment. Not only do we offer flexible working arrangements, a bonus week of annual leave and an attractive staff discount; but we provide an opportunity to work alongside other passionate and talented people – (not to mention laugh) every.single.day.
We are well known as a learning and development organisation that creates employee opportunities with skills for life. This has been critical in how we recruit, retain and develop our people.
The culture in our corporate office is dynamic, fast-paced and a whole lot of fun! With a mixture of new recruits, and some old time legends (including some staff with tenure of over thirty years) we welcome diversity and thrive off the collaboration of working with different people with different mindsets and working styles. Learn from senior leaders, operational experts and other grads!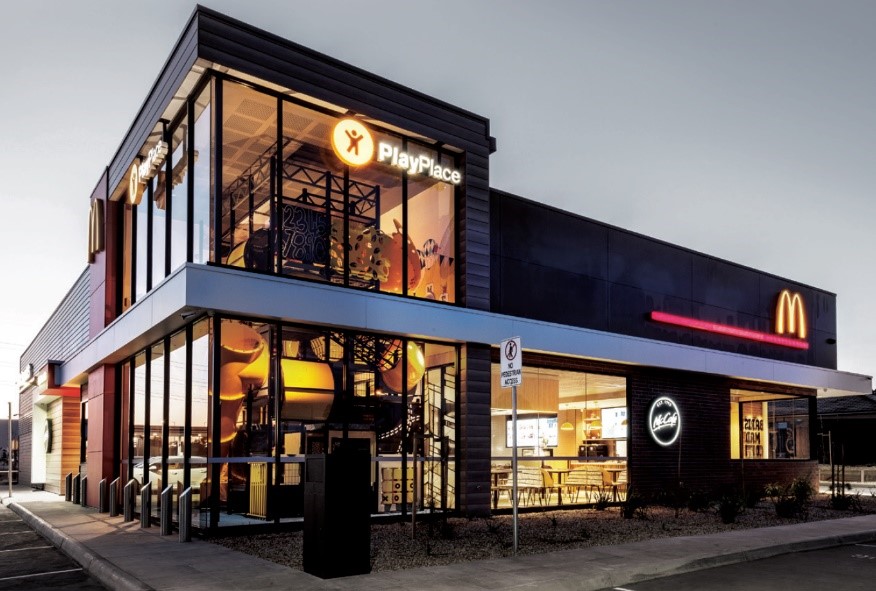 Appetite needs opportunity, and you'll feed it with Macca's Property Graduate opportunity!
Our graduate program in the Property Department is just the beginning of building a long and steady career that not only builds the arches; but your future too.
You will be buddied up with experts in each field, gaining hands on experience to fast-track your career with hands-on technical exposure on-site and in DA board meetings. You will be a sponge, learning absolutely everything there is to know about one of the world's most recognisable brands. Not only will you walk away (or walk further with us we hope!) with a breadth of knowledge of the development industry; but you will see with your very own eyes a multi-million dollar business sight that YOU helped build from a dirt pile to a multi-lane drive thru!
With takings in both Thornleigh and Collingwood, our Property Grad Programs are based within the National Development Group on a two year rotation between the fields of Real Estate, Asset, Design & Construction. It is a two year program, with the hope to continue into a permanent role at completion of the cycle. Intakes occur between March and September. Intakes for 2021 will be advertised in March 2020. Stay tuned for more information.
McDonald's Australia is the largest quick service restaurant operation in the country. Fondly known as "Maccas", we are famous in the global McDonald's world for adding beetroot to our Aussie burgers and creating the world's first McCafé in Melbourne. A household name in Australia for almost 50 years, customers are our heart and soul of everything we do, always making it our mission to make every moment count!
But we don't just build burgers, we build property too; and in the Property Department, anything is possible! Responsible for the strategy in management involved in acquiring, developing and maintaining a portfolio of over 1000 restaurants across Australia – the Property Department is the place to be.
It's #excitingtimes in 2021, as we are pleased to announce that we will be taking on Property Graduates again in our Graduate program in our Thornleigh and Aspley Head Offices. If you have a Bachelor's Degree in Property/ Commercial Development* and are able to commence a fulltime position from March 2021 – then we want to hear from you!
What's in it for You?
Enter into fulltime employment with McDonald's Corporate NSW or QLD as a graduate
Gain experience in each phase of the development lifecycle (including Real Estate, Construction, Design and Asset Management)
Have intensive, on-the-job training including workshops, projects and in the field exposure
Be buddied up with a Manager on the Property Team for invaluable guidance and mentorship
Work alongside a team of experienced and passionate Property and Retail professionals
Have the opportunity to continue on with McDonald's Australia at the end of the 2 year program
Build foundations for a long and successful career
Your Keys to Success:
You have a Bachelor's (tertiary) degree in Property/Commercial Development
You have full working rights in Australia as of March 2021 (for at least 2 years)+
You have a strong ability to operate in a fast paced and dynamic environment
You have ambition for challenges and are results focussed
You are a "Macca's Person" through and through, who can work well in a team
You have a true and unmatched passion for Property with a dream to make a career of it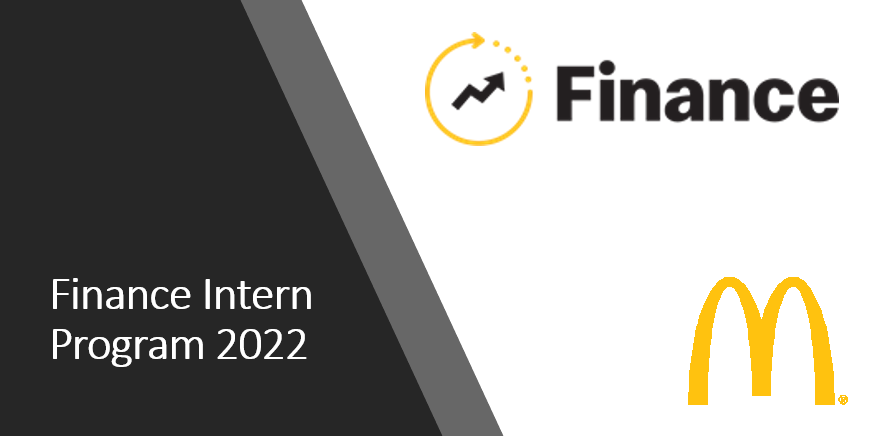 What is the purpose of this role?
12-month program
2 days per week
Mainly supporting the Assistant Accountant home team, with at least 1 day per month spent learning within the broader Finance space. Regular ongoing training opportunities for technical and soft skills will be provided. Exposure to Accounts Payable and Receivable, Assistant Accounting, Corporate Accounting, Tax, Operations Finance and Financial Planning/Analysis will be given throughout the program.
This opportunity will enable a Finance Student to develop their skills in a supportive and fast paced environment.
What will my key accountabilities be?
Compliance and governance processes
Various reporting to impact business decisions
Stakeholder management
Balance sheet health/reconciliations
Investigating and closing out bank reconciliation items
Invoicing and chasing aged debt
Modelling and processing Licensee and McOpCo store transactions
Implementing and processing licensee rents and rebates
Accounting for emerging topics, such as our growing digital operations
Your Background
Essential technical and behavioural skills
Studying Bachelor's Degree in Finance or Accounting
Ability to engage with others and build effective relationships
Customer-focused approach
Strong communications skills
Strong time management and prioritisation skills
Demonstrated experience working effectively within a team
Actively seeks and accepts constructive feedback to build skills and competencies Ethical and responsible, understands and adheres to McDonald's Standards of Business Conduct always
Our Charlie Bell Scholarship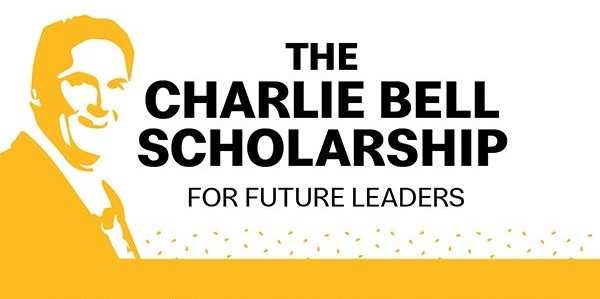 In recognition of the contribution made by the former McDonald's Corporation CEO, Charlie Bell, a scholarship for future leaders has been created in his name recognising Charlie's commitment towards the provision of ongoing learning and education. Charlie commenced his career as a crew person with McDonald's Kingsford in 1976 at the age of 15 and he quickly progressed through the ranks, becoming Australia's youngest Restaurant Manager at the age of 19. He was appointed Managing Director of McDonald's Australia in 1993 and then ultimately President and Chief Executive Officer of McDonald's Corporation in April 2004 at the age of 43.
Each year, awards may be granted under the Scholarship as follows:
an award, valued up to $15,000 may be granted to an employee of McDonald's Australia Limited or employed at a McDonald's restaurant by a McDonald's franchisee;
awards, valued up to $30,000, may be granted by the Selection Committee to individuals who have met eligibility criteria.
The Charlie Bell School of Management is proud to partner with Global Talent Manager firm Development Dimensions International, Inc. (DDI). Shortlisted applicants will be presented with the opportunity to participate in a leadership program facilitated by DDI Consultants. The program is designed to build foundational leadership skills, raise awareness of personal styles that enable and derail leaders, and introduce a structure and some tools for providing effective feedback and conducting productive, relationship enhancing discussions.
Who is Eligible?
To be eligible to apply for the Scholarship, applicants must:
gain acceptance to or be enrolled in, an undergraduate or postgraduate degree at an Australian University;
be an Australian citizen or permanent resident;
in respect of one of the awards, an applicant must be employed by McDonald's or its franchisees; and
not have been a previous award recipient of the Charlie Bell Scholarship for Future Leaders.
If an applicant is aged under 18 years, parental consent is required to validate the Scholarship application.
Selection Criteria
A committee, comprised of nominated representatives of McDonald's, the Bell family and appropriate industry and business representatives (Selection Committee), will judge Scholarship applications on the basis of relative merit with reference to the following criteria:
academic, career, personal: goals and achievements;
personal achievements: goals and ambitions;
community activities and other contributions to society;
demonstrated evidence of extent of need;
how the applicant expects the Scholarship to impact their studies and facilitate career aspirations;
an outline of the intended area of study;
recommendations and references;
an interview;
McDonald's brand ambassador; and
quality of presentation.
The Selection Committee may in its absolute discretion decide not to grant some or all of the Awards, if it considers that there are no applicants or not enough applicants (as the case may be) who sufficiently fulfil the selection criteria. The decision of the Selection Committee is final and no correspondence will be entered into.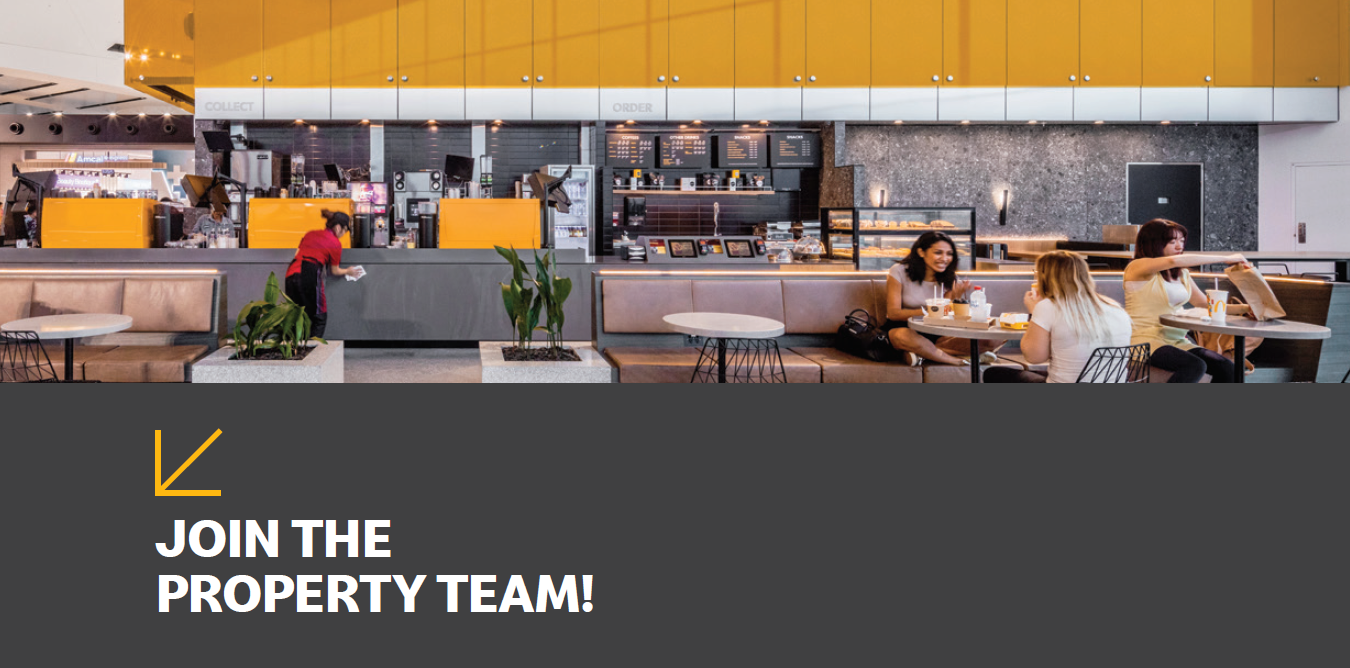 Join The Property Team!
We clearly have your attention; now let's build your application. Here at McDonald's corporate, we are passionate about making things fun, so applying for a Graduate Position should be too! Our Talent Manager, Erin Nasso and a Property Expert will be reviewing applications from 20th January 2021 so don't miss out!
Recruitment Process
APPLICATION: Submit your application via Grad Connection. 
Please include your Cover letter, Resume and completed Application Form. The Application Form is available on Grad Connection. Applications close January 17, 2021. 
VIDEO RESPONSE: Successful candidates will be invited to submit video responses to the following questions 
a. What EXCITES you about a career in Property? 
b. What EXCITES you about a career with McDonald's? 
INTERVIEW: All Video Responses will be reviewed and successful candidates will progress to the Interview stage. The Interview stage will include 1st and 2nd round interviews. 
REFERENCE CHECKING & OFFER: Upon completion of Reference Checking, the successful candidates will be offered the position, with the ideal start date March 1, 2021.
*Bachelor Degree must have been completed within the last 24 months (any degrees completed before January 2019 unfortunately cannot be accepted at this time.
+Full working rights are required for this graduate opportunity. At the time of application and until completion (March 2023); you must hold either Australian or New Zealand citizenship, or permanent residency with no restrictions or bridging/sponsorship requirements.
FULL TIME work is from Monday to Friday, 38 hours per week and commences from 1st March, 2021. Whilst McDonald's Australia's intention is to develop graduates into permanent employees, permanent employment upon completing the graduate program will be discretionary upon performance and is not guaranteed.
Our Cultural Pillars
McDonald's is defined by its culture. Our culture is an expression of why and how we do things around here. It influences the way we interact with each other, and how we interact with our customers, franchisees and suppliers.
Customer Obsessed "Look after the customers and the business will take care of itself"
Better Together "None of us is as good as all of us".
Committed to Lead "To be successful you've got to be daring, you've got to be first and you've got to be different. Leaders must lead"
Our BEST Leadership Model
Show the qualities that enable high performance
Deliver on what matters most to the organisation
Chart the right course by using data and thinking critically
Build up the team and uplift growth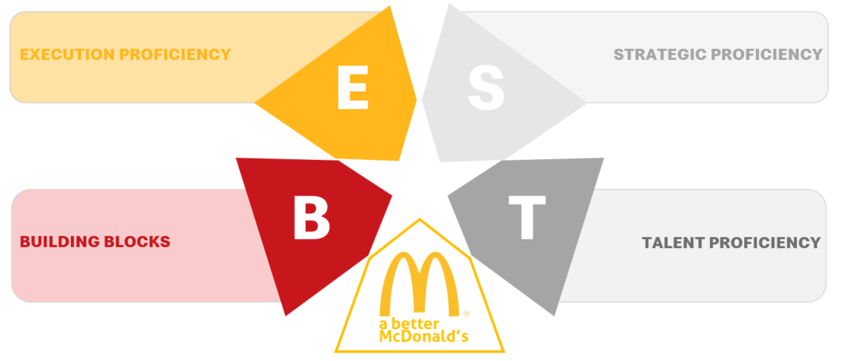 Macca's has a range of benefits for full time employees including health insurance, bonus annual leave and short/long term incentive schemes. We love to acknowledge and congratulate our people and even reward our top stars with a week at our very own holiday house on the Gold Coast. Coming in as a graduate, you will have access to our undercover car park, generous staff discount and free McCafe coffee every day from our restaurant grade barista machines. In Thornleigh we have a 24/7 gym on site and never miss an opportunity for cake or treats in both our offices.