Diversity at Mirvac

Mirvac
---
To help us to fulfil our purpose to ' Reimagine Urban Life', Mirvac promotes diversity and inclusion in the workplace.
Our Diversity and Inclusion vision is to "Build a diverse team and inclusive culture that values the diversity of perspectives and enables our people to: safely contribute; realise their potential; respond to our stakeholder's needs and provide Mirvac with a competitive advantage."
We deliver on this vision through 4 key focus areas:
Diversity of Thought - We recognise that a culture that honours the individual and supports diversity of thought will underpin innovation and our capacity to identify and adapt to change.
Inclusive Culture – We aim to foster a safe and respectful environment that seeks, cultivates and leverages the views of a demographically diverse workforce, by reflecting inclusion in our values and building inclusive leadership.
Flexibility – We continue to develop innovative approaches to work arrangements that enable our employees to achieve better work/life quality.
Gender Balance – We are committed to continuing our initiatives to reduce bias and provide equal opportunity for females to contribute and progress their careers at Mirvac, and we aim to drive participation in industry advocacy to improve gender representation across the broader property sector.
Gender Equity: Mirvac has a strong reputation for the work that we have done to promote gender equality in our workplace. This work has been spearheaded by our CEO, Susan Lloyd-Hurwitz and by our Board which is one of only a handful of ASX 200 Boards which is gender balanced.
The Gender Balance program that we have put in place has been multifaceted and has included:
Setting targets relating to various diversity measures.
Annual pay equity reviews – we have maintained a 0% like for like gender pay gap for 3 years.
Mainstreaming flexible work practices – 75% of our employees have some sort of flexible work arrangement in place based on the results of our engagement survey.
Participating in female only mentoring and sponsorship programs.
Creating ASPIRE our own female only development program for females in Construction. 
Implementing an industry leading Shared Care Parental Leave Policy.
Through our Gender Balance program, we aim to reduce bias and provide equal opportunity for females to contribute and progress their careers.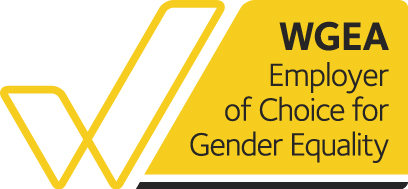 In recognition of the work we have done around gender equality we have been awarded the Workplace Gender Equality Agency (WGEA) Employer of Choice for Gender Equality citation for the last four consecutive years.
We are also very proud to be the first Australian property developer to be named as a White Ribbon Accredited Workplace. White Ribbon's mission is to eliminate violence against women, and the White Ribbon Workplace Accreditation recognises workplaces that are taking active steps to stop violence against women, and meeting standards to create a safer and more respectful workplace.

My Simple Thing:
Mirvac understands that we all lead busy lives and sometimes it's difficult to strike a balance between work and our own personal commitments. We believe that to fulfil our purpose we must develop innovative approaches to working arrangements that enable our employees to achieve better work/life quality. And, to assist in the management of individual employee performance and development to enhance their knowledge, skills and experience to build an enterprise agile workforce and learning organisation.
Many people get lost in their work commitment, forgetting about their life outside the workplace. When employees are provided with flexible working arrangements, they are given the ability to pursue other hobbies outside of work, improving their quality of life.
Mirvac is adamant at providing their staff with flexible working conditions. We do this by promoting greater flexibility through our Flexible Charter and applying the TW3 across our offices.
What is My Simple Thing?
At Mirvac we allow our employees to make small changes to their work conditions and make arrangements that enhance their quality of work/life. Staff are able to make changes to their workhours by discussing with their managers what is the most suitable step to take.
Flexible working does not necessarily mean working less hours, staff are encouraged to be creative in the use of time and technology and work around their working schedules.
Examples of simple changes that is currently in place:
Work from home
Take occasional Friday off
Go for a run/pursue other hobbies
Drop/pick up kids to and from school twice a week.
At Mirvac we have faith that when we provide our employees flexible working conditions, that it improves the relationship with our employees and Mirvac. Which drives determination and good work ethics.