MM Plastics Graduate Programs
MM Plastics, a division of Metal Manufacturers Limited, is a collection of companies that specialise in the distribution and conversion of plastics and related materials. With six individual companies under one roof, we are Australia's leading supplier of plastics to the widest and most diverse range of industries.
Our Businesses
MM Plastics portfolio of individual brands include Graphic Art Mart, Dotmar Engineering Plastic Products, Amari Visual Solutions and Fluoro P…
View more
MM Plastics, a division of Metal Manufacturers Limited, is a collection of companies that specialise in the distribution and conversion of plastics and related materials. With six individual companies under one roof, we are Australia's leading supplier of plastics to the widest and most diverse range of industries.
Our Businesses
MM Plastics portfolio of individual brands include Graphic Art Mart, Dotmar Engineering Plastic Products, Amari Visual Solutions and Fluoro Pacific. Together, these businesses service a multitude of industries from signage through to infrastructure, health and science, food and beverage and construction.
Each company operates completely independently of one another, ensuring we can service our customers needs quickly and with a personal touch that can't be rivalled. With the largest range of global industry leading suppliers, we are able to remain at the forefront of innovation and provide the latest products and offerings in the market.
For more information, visit: https://www.mmplastics.com.au/ 
If you want to work for an organisation that will unleash your potential and help you grow your career, you should be working with us. We know that our people are our greatest asset, that's why our goal is to provide you with the learning, mentoring and industry experience needed to help you achieve your professional (and personal) goals.
We have great people, who deliver great results. At MM Plastics, you'll feel challenged and motivated every day, with access to the right support whenever needed.
Not only will you be provided with the mentorship that you crave, we also know that the little extras can made a big difference. That is why MM Plastics reward their staff through a generous profit share scheme and outstanding career progression opportunities.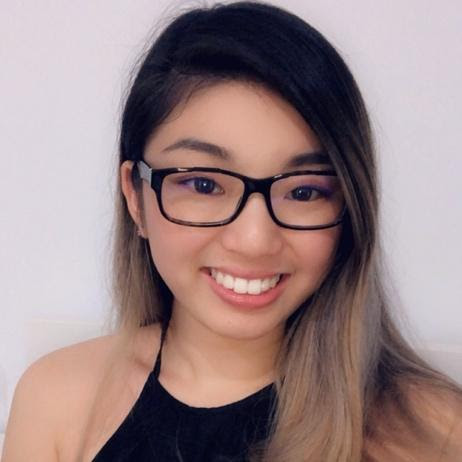 Your Name: Qlowie Yang
Your Job Title: Marketing Coordinator 
University Attended: University of Technology, Sydney
Degree qualification: Bachelor of Business – Majoring in Marketing
Year of graduation: 2020
What's your job about?
My major responsibilities entering the role as an graduate began with taking care of the socials, and on occasion blog writing. From there I was given the opportunity to learn graphic design. The team at the time was very artistic based so I had learnt the whole process of having to create socials, EDM and all event-based collaterals that was upcoming. I was pushed to create then execute my own artworks to our platform and manage the intricate details. 
Through my time, I've been given more of an opportunity to work around the company's marketing needs and at the same time find what I enjoy most in the company. The flexibility has allowed me to work on catalogues, brochures, products swatch line and car wrap events. In the recent months, I've been able to be a part of bigger projects leaning more towards digital marketing and helping the company launch 3 websites. It has been such a major learning curve, not having any skills in the field to then be given the opportunity to work on something new. 
I would say that anyone that has no experience but a strong passion for marketing or design could learn the intricacy of the field. 
What's your background?
I grew up in Sydney, Australia with a large loving extended family that has worked hard to take care of me and invested long hours staying up, patiently talking, and teaching me the value of education and enjoyment of life. This gave me the beautiful childhood I had and relentlessness attitude that I carry with me today. I'm an undergraduate, who studied a Bachelor of Business, majoring in marketing at The University of Technology, Sydney. I worked in the sale industry for almost 6 years and in the marketing industry for 3 years now. The current marketing position I have now, started as a graduate program that I applied through LinkedIn. It was a rotational role between customer service, sales and operations. The position was never for marketing but through multiple conversations as to where I wanted to be in 5 years. I shared that I had a marketing degree, and I would love to eventually pursue it. MM Plastics was very invested to my career and decided to give me the opportunity in the marketing team. Surprisingly that's how I worked my way into the marketing team I'm in now. 
Could someone with a different background do your job?
Oh yes! I believe someone without a degree but a strong passion for marketing, designs and communication could achieve the best in this role. Everyone must start from somewhere, and no one really knows everything. To enjoy the role to its full potential, you need to have the flare for creativity and a strong capacity to take on ever changing feedback and change.
What's the coolest thing about your job?
The coolest thing about my job is that I get to work on projects that I have no experience in. MM Plastics really focuses on personal growth. If you're willing to share what you're interested in and show that you're passionate in the field, then there's definitely a chance in the timeline to get involved in that area and progress in your career. 
What are the limitations of your job?
The greatest words I've heard before starting this position was – There is never a stop in career progression. If you're passionate enough and you can demonstrate a position is important/necessary in a company, the likely chances are high to come into that position. 
There are always limitations in every job but it's about putting in the hard work and to communicate the direction you want to eventually grow into. Without communication, any position will have its limitations. At MM Plastics the position hasn't been strenuous, but there are times like in every other position where extra time needs to be placed for time sensitive request. Other than that everything has been manageable and enjoyable. 
3 pieces of advice for yourself when you were a student...
My first piece of advice would be to research my university courses and all the subjects involved, but don't stop there. My second advice there would be to also research into the job market for the correlating job that matches with the degree and skills set and really see if there's a huge demand for it. My last piece of advice is to enjoy university by joining all the societies you can and socialise with people as much as you can during the process. 
---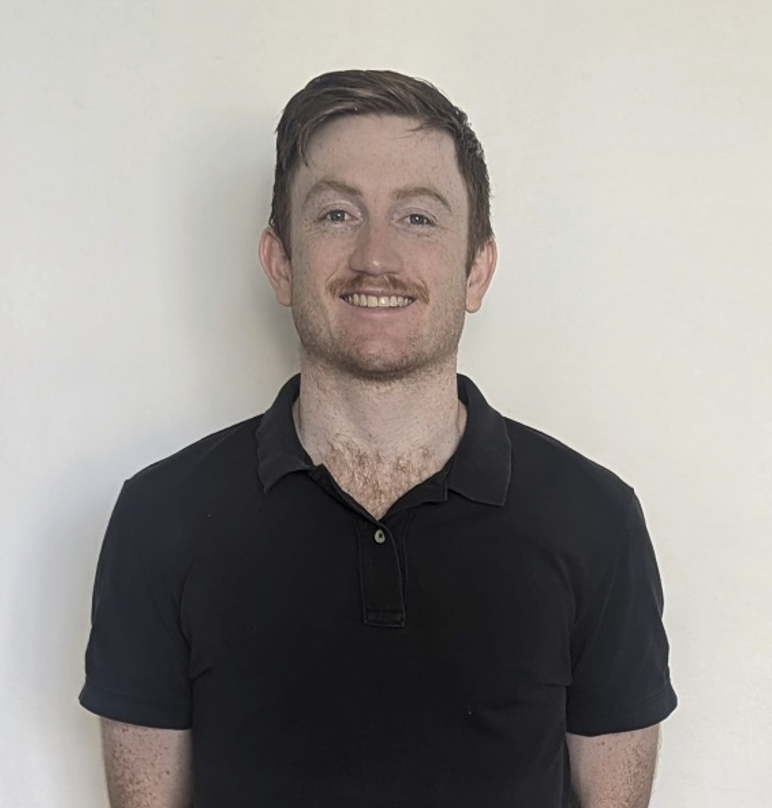 Your Name: Timothy Keily
Your Job Title: Business Support Analyst
University Attended: University of QLD
Degree qualification: Bachelor of Business Management
Year of graduation: 2011-2013 : Did not complete
What's your job about?
The MM Plastics family are AUS/NZ's largest distributors of Engineering and Signage Plastics, supporting local fabricators from Perth to Christchurch.
I belong to the MM Plastics Central Services Division. I support all front office, operational issues, family wide daily. From assisting customer service, to assisting middle and higher management in Data Analysis, my role covers a broad scale of issues and support - the majority being centred around our ERP (enterprise resource planning) system, Business Central. This includes the management of data tables within BC, which then feed into key business reporting programs such as Qliksense and Netstock.
I also support back of house projects – from on/offboarding staff, to assisting and driving internal projects such as system upgrades and annual stocktaking. Essentially, my role can be broad as my working bandwidth allows! Whilst I am based in Brisbane, which is home to 4 businesses under the MM Plastics banner, this role allows and promotes travel across the country.
What's your background?
I am the son of a mining engineer, so as a kid we moved a lot! However, I was born in Mount Isa, North West QLD and I've lived there for most of my life. Aside from being a Brisbanian currently, I've lived in Perth, Tasmania, and Townsville, so I guess you could call me well travelled!
My late teens to mid-twenties (as with most!) were full of life experiences, failures and successes which have really guided me over my life so far. I travelled a lot, experienced many cultures, and grew up in a large family of 7 people (5 kids, plus a zoo of pets!). I'm passionate about all sports and have participated in teams for as long as I remember. Travel, family, and sport are all facets of my life to which I can attribute a lot of my personality to. However, my most important stage of life was probably my university career! It was a flat out fail… However, the resulting ripple effects set me on a path to where I am today. 
I spent two years in Brisbane from 2011 to 2013, attempting a degree I had minimal interest in, not participating in my usual passions, devoting endless hours to pointless socialising, culminating in hindsight with depression and a lot of negativity. My circuit breaker was a trip back home to Mount Isa, to work a summer in the family business of real estate. 3 years later, I had met my future wife, bought a house and travelled as far Africa to New York! The skills I'd picked up from that period were all transferrable to the people oriented, solution-based role that I engage in today with MMP.
I moved to Brisbane in 2016 with my Wife and found an ad in 'Seek' detailing an "Cadetship" with one of MM Plastics children companies – Amari Plastics (now Amari Visual Solutions). I've spent time in almost every department of our business as part of the cadetship, which culminated in my appoint to my current role in 2020.
Could someone with a different background do your job?
Absolutely yes! No matter your background, if you are a people person with a drive to push yourself, and your colleagues to achieve their working goals, then you can be a Business Analyst!
Attention to detail is important, however tech savvy types will discover that this role has unlimited assistance at its disposal. We support a wide variety of personality types as well – from front line internal sales, to management, even external vendors. A must have skill is patience. Along with empathy to each different type of person you interact with.
What's the coolest thing about your job?
For me, the most simplified description of my job is, to turn business data into information, then supply that information to support our company's people in their endeavours to success.
The greatest satisfaction I get out of my role is the "Ahhh, I get it now" moments when a customer, both internal & external has when I provide a solution.  Whilst the MM brand has been around for over 100 years, MM Plastics has only recently acquired businesses such as AVS and Graphic Art Mart (GAM), so a large quantity of roles and functions within the business are without precedent and or descriptions. This is a by-product of a highly de-centralised business model which MM Plastics participates in as part of the MMEM Family. However, this allows myself and my colleagues freedom to inject resources into areas requiring assistance quite swiftly. However, the trade-off can be some late nights and early starts!
What are the limitations of your job?
The greatest limitation would possible be the physical distance between businesses! Every day, we have Dotmar NZ starting as early as 4am Brisbane time, which carries on to the last business to close the doors, Graphic Art Mart WA, at 7pm Brisbane time. This leads to some long hours, with occasional weekend work. The highly transient nature of lower level warehousing work can also lead to a high turnover of staff within our industry. This provides a significant challenge to me and operations team, as constant training, and error assistance with new staff, can lead us to time shortages for other projects.
3 pieces of advice for yourself when you were a student...
If I could go back to 2011 and talk to past Tim, I would start by saying go back to your passions like sport and music! Uni can be difficult as, unlike school, you must drive your own journey. However, the journey doesn't have to be so hard! Keeping your passions is just as important in life as your chosen field of work, so give your passions some time to keep you sane along the way. Secondly, ask for help and don't give up! Help with always come to those that deserve it. Finally, your twenties last for what seems an age. Don't rush to spend them all at once! Take time to take your time.
---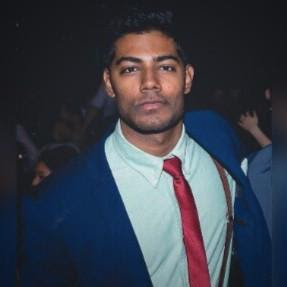 Your Name: Shrikar Badri
Your Job Title: Application Engineer
University Attended: University of New South Wales
Degree qualification: Material Science and Engineering (B.E)
Year of graduation: 2020
What's your job about?
My employer is Dotmar Engineering Plastic Solutions, and my role/responsibility is that of an Application Engineer.
My daily role takes on the tasks of an External Sales Representative, where I spearhead the liaising with our customer / client base on technical inquiries and business and sales opportunities. Essentially, I strive to be the first point of contact for our existing customers within my allocated territory. My day includes booking meetings and appointments with my customers in order to cyclically check in on their needs related to Engineering Plastics and Conveyor components. 
Interesting details: Dotmar is Australia's leading Engineering Plastics importer and supplier due to our notional branch scale which reaches into New Zealand.
What's your background?
I grew up in South India for the first 4-5 years of my life where I was then raised through majority of primary school in New Zealand.  
Since then, I have been in Australia from 2006 where I've completed my secondary and tertiary education. During this time, I had cycled through different jobs for different learning experiences. The most prominent of which, were internships at companies related to my degree, such as LMATS and Pallion, for my Bachelors of Material Science and Engineering at UNSW.
I reached out to Dotmar after having heard about the company through a lecturer at my university who was running a course on Polymers, of which I grew to like in a relatively short span of time. I reached out by inquiring about positions through the Dotmar website to which the state manager requested me to fill out an official application for a position they had vacant. I have now been with Dotmar since September 2020. I started off by working part time / casual during the final stages of my degree as a Sales Cadet and since 2021, I have undergone a full training rotation across the business, commencing the application engineer / external representative position from 2022. 
It was a major relief to be able to focus on my thesis in my honour's year of engineering during the tail end of 2020, without needing to worry about hunting for a job anymore that would be related to my degree. During my time as a Cadet, I was embracing my interest in polymers to the fullest as I grew passionate about my study in spider silk as a bio polymer, that I was running experiments on regenerating through a web shooter design. Resultantly, I was not as stressed as my cohort during this time, and perhaps was lost in passion which I did not regret – 2020 shaped me.
Could someone with a different background do your job?
Yes – The communication skills are key but only if you are willing to exhibit this in conjunction with a strong willingness to building technical knowledge on Engineering Polymers and their behaviour in real world applications.
Another characteristic that would help in this job is to work autonomously and proactively. 
What's the coolest thing about your job?
The aspect I love the most about my job is the freedom of independence to be trusted with representing the company with integrity and technical expertise. The task that is most enjoyable is attending breakdown situations across various industries due to component concerns of part failures that a client needs to be consulted on. This helps me build friendships along the way.
During the moments where the job is tiring, I find the greatest moments that boost my morale is the quality of my team and their tendency to always offer help where I need coaching.
What are the limitations of your job?
A willingness to learn from industry experts on uncanny realities of what works and what doesn't work, which at times contradicts what you may had expected of the real-world during university. In this sense, you need to be dynamic and flexible as an External Engineering Representative, such that you acknowledge that the work isn't always just 9-5 as it actually revolves according to clients' needs at times. You also need to treat yourself as a consultant and this is unfortunately something only experience can teach you. Therefore, a career that shapes your skillset as you progress could mean uncertainty as to whether you'll enjoy it before commencing it. Thus, responsibility to also be patient with your learning is needed.
3 pieces of advice for yourself when you were a student...
Don't make myself wrong for all the stress I didn't take – Uni is just one chapter; your character is the defining factor.
Achieve balance in mind, body, socialisation, creativity, and determination when studying during Uni years.
Don't be afraid to jump into the unknown and get out of your comfort zone. Even if it means taking actions that are unconventional to your peers if you feel it's the right thing to do. Uni is a ground to learn about the kind of person you want to be.
---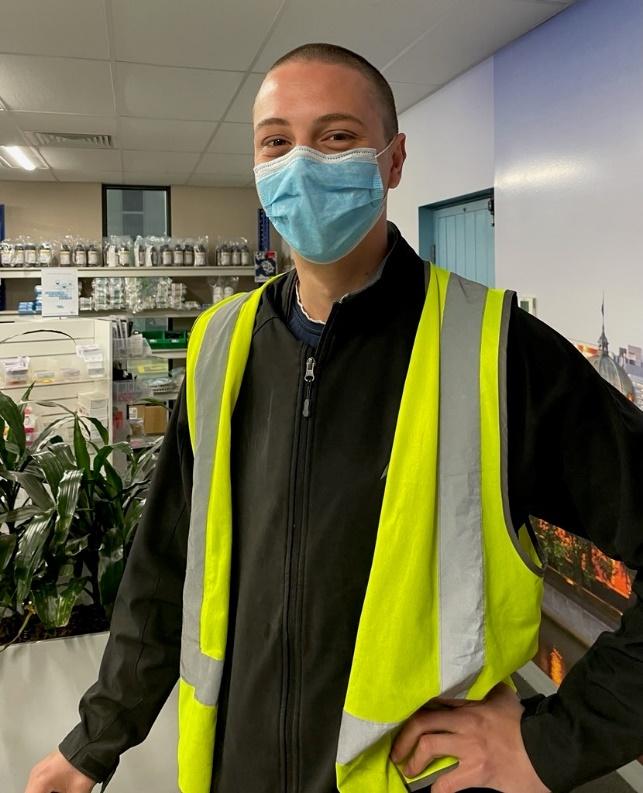 Your Name: Joshua Broadley
Your Job Title: Sales Cadet
University Attended: University of Melbourne
Degree qualification: Bachelor of Science (BSc)
Year of graduation: 2019
What's your job about?
Graphic Art Mart is a supplier of signage materials and equipment (mainly self-adhesive vinyl), basically we supply the people who make big stickers.  
My day starts off by seeing customers and making sure they are happy/trying to find other areas that we can win more business. I might see a couple of big customers in the morning which are a great way to start the day because they love talking to you and telling you all the issues they are facing (hopefully with other suppliers). Then I will try and hit some of the smaller customers who might not be as talkative unless it is to do with the price of your products. After I have visited an acceptable amount of customers, I will come back to the office to tie up any loose ends or do some of my more long term work which mostly involves equipment leads (printers) and getting forms done. My days are very flexible, and I can do sales for a whole day and then get called into the warehouse or customer service as needed. 
What's your background?
I grew up in Bayside in Melbourne and went to Xavier for school. I went to uni straight out of school with no plan except that I enjoyed science. Tried all different things such as veterinary science (had to do a lot of dissections), biochemistry (was really boring) and pharmacology (was the last thing that I did so hence became my major). Then my plan was to go travelling, I went to Vietnam, Thailand and Japan.  Halfway through my trip a virus was circulating in Wuhan that my mum was really worried about. Suffice to say 2020 was a year that I spent a lot of time at home thinking about how much nothing I was doing, started applying for millions of sales jobs, then got one at Graphic Art Mart, I was so excited to start leaving the house. I've been working with Graphic Art Mart for the past year and a half, starting in the warehouse (for longer than I was expecting), then helped out in Customer Service for a couple of months, then started going out on the road, then got pulled back in by lockdown. It was a wholistic education of the workplace and the business, as you can probably tell I was a blank slate going in, so actually touching the products whilst I was learning about them and talking people through using them was a great way to learn. I ended up winning employee of the year and intrabranch employee of the year last year. There definitely was some voter fatigue involved.
Could someone with a different background do your job?
Yes, most definitely. I had no background information or experience that was relevant to this job. I think the most important thing is a willingness to learn rather than experience, you can teach someone anything if they are willing to care about it. As long as you can be passionate, you can fulfill any role. 
What's the coolest thing about your job?
Definitely convincing a customer to start buying off you. It takes time building rapport, being patient, and waiting for them to get sick of their current supplier, then all your patience pays off and they start buying off you. It takes finesse, and its rare that it happens, but it is worth pursuing every time. It feels great that you have built a relationship to the point where they trust you enough to buy off you.
What are the limitations of your job?
Being able to be flexible, the job sometimes asks things of you that aren't in your job description, and if you aren't malleable, you will eventually break. It is important to be able to shift gears constantly.  
3 pieces of advice for yourself when you were a student...
Travel as much as you can – you don't know when the next pandemic will hit.  Don't try and force yourself to do anything, things have a way of sorting themselves out, you will grow, and you will change. Use your personality to make your job work, there's no set way to do things.  
---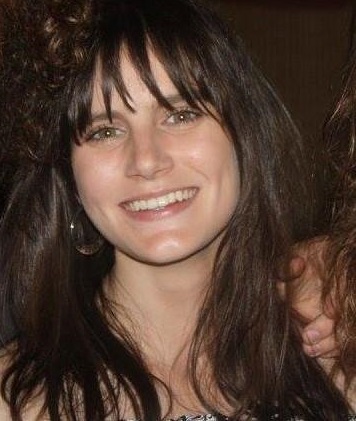 Your Name: Rachael Meredith
Your Job Title: Victorian Hub Manager/Purchasing
University Attended: Swinburne University of Technology
Degree qualification: Bachelor Business/Bachelor Communications
Majors: Entrepreneurship & Innovation/Public Relations
Year of graduation: 2017
What's your job about?
Graphic Art Mart is one of the leading national suppliers of signage, digital & display solutions. When I started with GAM as a cadet in 2018, I worked predominantly with the customer service team & sales reps to learn about the products we sell and the applications that are possible (there are a lot!).
Fast forward a few years, I am now working on the supply chain team and recently took on the role of Hub Warehouse Manager for Victoria. Mixing the two roles keeps me extremely busy. On the purchasing side I am analysing data for procurement & forecasting purposes to ensure we are getting in the right stock at the right times to maximise sales & service. Managing the hub, I can see the results of what is achieved through the supply chain team. Imports & local stock arrives, is unpacked & then distributed across our branches nationally.
What's your background?
I grew up in a lovely town in the South-East suburbs of Melbourne where I also attended Beaconhills Christian College. From there I went on to study a double degree in Business & Communications at Swinburne University of Technology. It was at uni, probably in my final year that I really started to love the idea of how a business works and what kind of dynamic makes a successful business. When I finished uni and started applying for jobs, the cadetship at Graphic Art Mart stood out to me as it promised a lot of things.
Throughout my 4 years with the company, I have worked in many different roles and been given plenty of opportunities to try something new which is something I find I need for my personality type. Within each role I have learned new skills which I have been able to carry with me into the next, which has really helped me develop a robust variety of skill and knowledge I can apply to not just work, but also my personal life. 
For me, a workplace or job should challenge you. If you find you are not challenged enough, then you will become bored and end up resenting what you do. Although I find my work schedule quite full majority of the time, I love that it keeps me busy and there are new problems to solve every day.
Could someone with a different background do your job?
Yes, I believe every team should be made up with individuals with diverse backgrounds. Most jobs & workplaces require collaboration at some level. I think all you need to succeed in this job is a good attitude and an eagerness to learn & problem solve. Fortunately, this is the type of business that hires people from different backgrounds, whether that be academically, socially, culturally or experience based. This contributes to the value of the company as is allows people to work together and bring their different skill sets, ideas and perspectives to the table, which ultimately helps to create more efficient & successful solutions.
What's the coolest thing about your job?
Recently moving into a management role, I have had the experience of leading a small team which has by far been the best experience I have had at Graphic Art Mart thus far. I had two new staff members come on just as I was starting in this role. The journey from first meeting each other to teaching them work processes & practices to now has been amazing. Not only to see how far we have come in terms of improving our efficiency & accuracy in the day-to-day warehouse tasks, but also the friendship that we have forged together. We all have a common goal which is to perform to the best of our ability, and this makes each day a great day for us.
What are the limitations of your job?
Juggling two roles has been challenging and (more often than not) has me working longer hours than I would like. I am still in the process of trying to improve my own workflow processes to make sure I can get the job done within my working hours, however at this point, time is the biggest limitation of my job. I need to be available for my warehouse team if they need me, but I also need to keep on top of my purchasing duties, so I don't let down my other team. This has been the most difficult part for me to navigate. I have had to hone in on my organisational skills and really prioritize my tasks to make sure everything gets completed.
3 pieces of advice for yourself when you were a student...
If I could give my younger self three pieces of advice, it would be:
Be fearless! Don't be afraid to ask questions & don't be intimidated by what anyone else thinks or says.
Take every opportunity you are offered; you never know what it will lead to next.
Make sure you keep moving, if you feel you are becoming stagnant, look for a new challenge. This could be at work or a new hobby.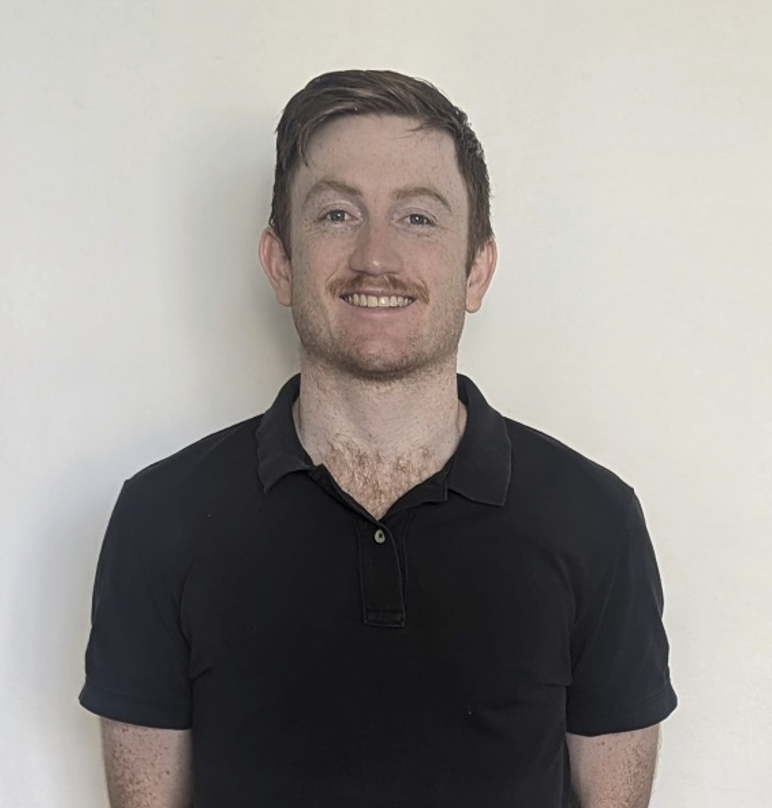 Tim Keily
Business Support Analyst
5am – alarm for gym starts. Next stop is the kitchen to re-hydrate and sustain with a bottle of water and a snack.
5:15am – pop into home office to check for any support issues that have occurred overnight or over in NZ which starts a little earlier due to time zone difference.
5:45am – drive to gym. Brisbane traffic at this time is always quiet and the city is very pretty as the sun rises.
7am – Drive home from gym. Traffic is a little heavier, but compared to Sydney or Melbourne, it's a dream.
7:15am – get back home and have breakfast. Prepare to head into which ever office requires assistance.
7:45am - Today there is nowhere in particular that is having issues, so I'll go to my closest office, which is in the suburb of Hendra. From home, this trip takes a whopping 15-20 minutes… amazing.
8:05am – arrive at desk and settle in for the day – there is no one else in this morning from management so I'm all on my lonesome!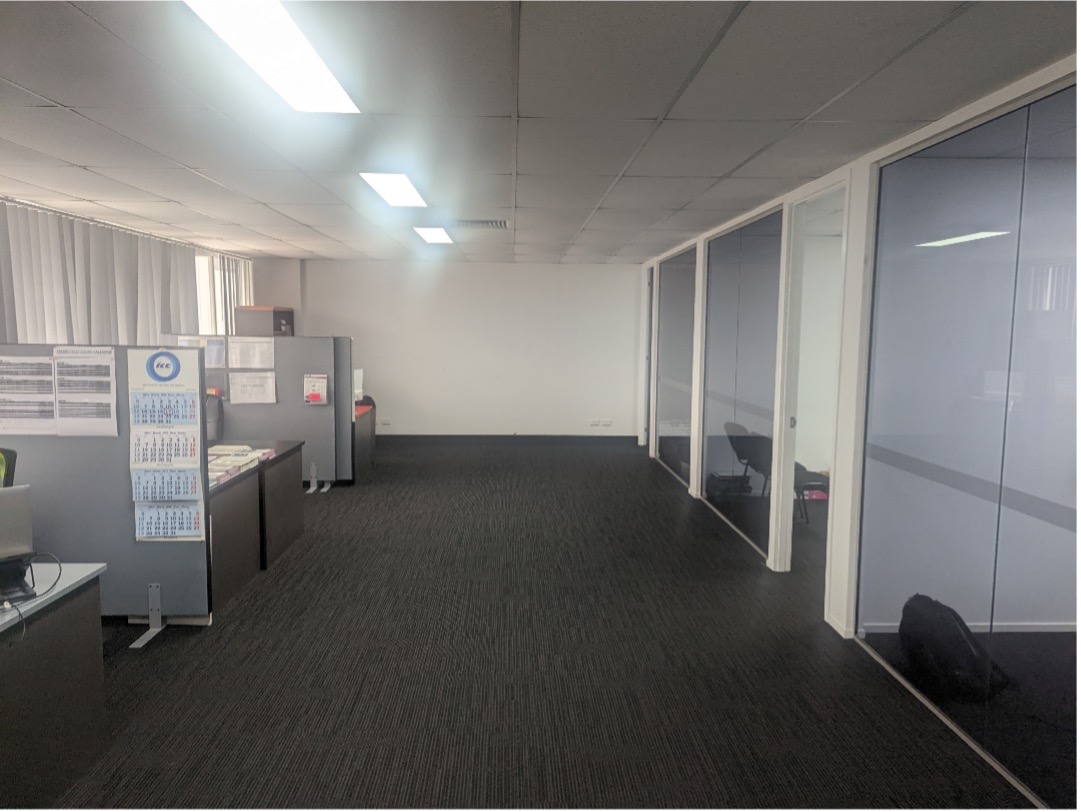 8:15am – Once I'm settled in and ready to go for the day – I'll filter through our support channels for any issues. This will continue intermittently throughout the day.
9:20am – received a call from accounts payable regarding an issue with a credit. Unfortunately, user error has created another error! Problem solved with help from our user manuals.
12pm – after multiple support calls with varying parts of the business (managers, warehouse workers) I've taken 30 mins to stop into the canteen in our building complex for a cheese and ham toasty. Yum!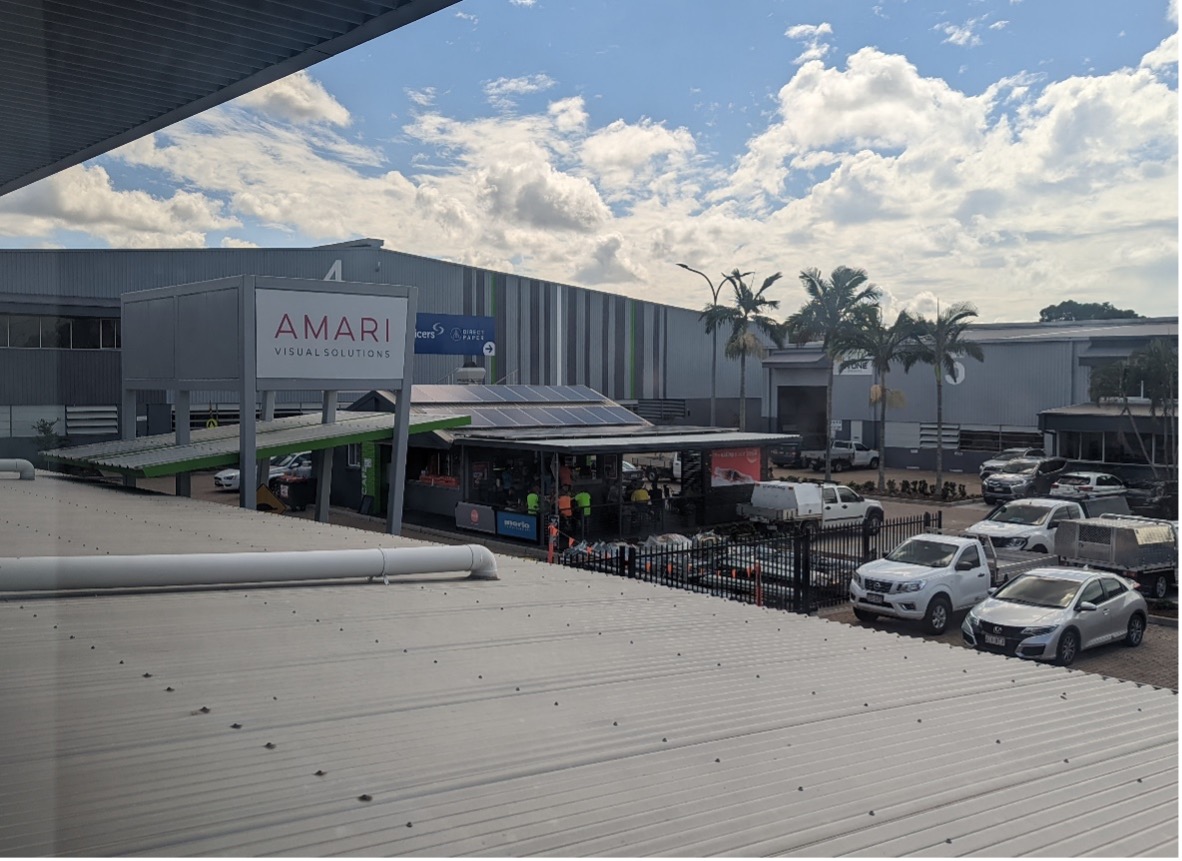 3pm – Yawn! My day at the office is almost done as today I have an out of hours update to the ERP that will take some time this evening.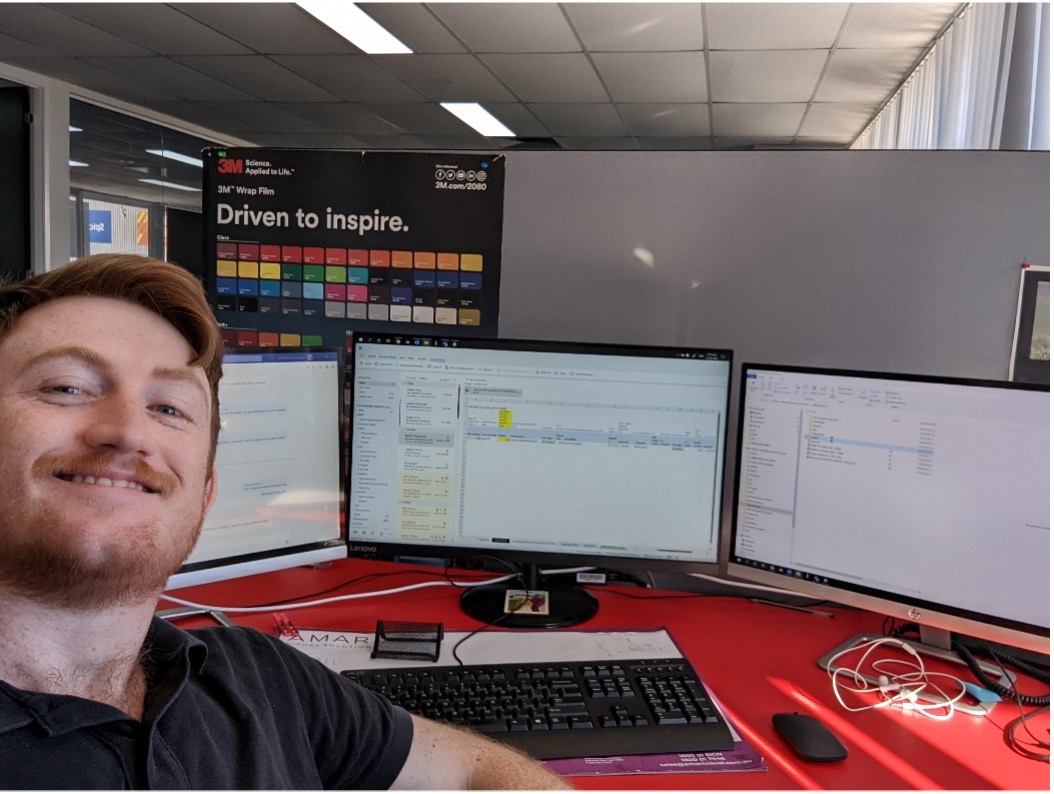 3:30pm – Head back home. Again, traffic is a dream.
4pm – Take a break. Usually preparing for tea or whatever chores I have for the next 24 hrs.
5:30pm – Sunset from home is beautiful (The trains are noisy though!)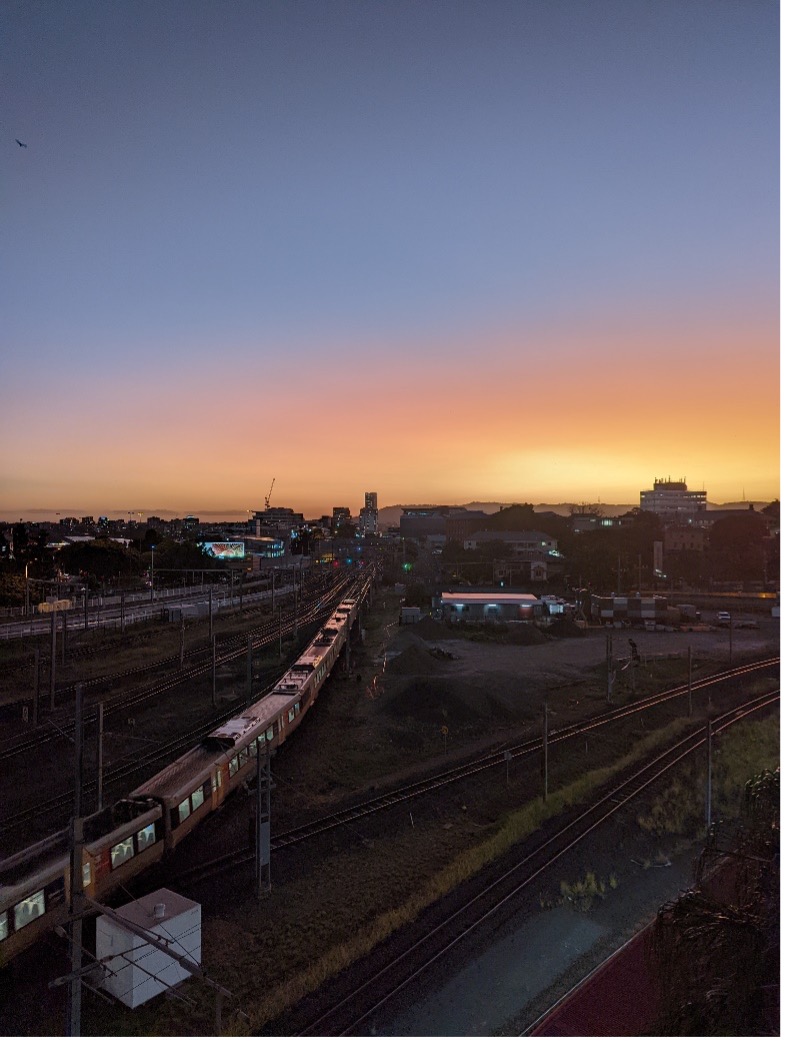 7:30pm – Load up a Purchase Price file for AVS purchasing dept – they have a price update going live soon which we can't change in Business Central until everyone has gone home for the day, to not disrupt business with incorrect margins etc. While I'm waiting I check on progress of any other support issues.
8:30pm – Load done – time to finish for the day and relax!
9pm – Bedtime….