DevelopHer - Scholarship & Graduate Program - July 2022

We are MYOB
MYOB is a business platform. Our purpose is to help more businesses in Australia and New Zealand start, survive and succeed. Our team is continually growing, inventing and disrupting conventions. To make all this happen, we are dedicated in creating an exceptional flexible employee experience for all team members and offer a culture where you can be yourself. We don't want you to simply 'fit' into our already established culture, we want you to come and add to it, and make it even better. 
MYOB's commitment in making the technological future more equitable starts with increasing more women and those who identify as female of all ages, backgrounds and skillsets - to launch their careers into software development.
DevelopHer does just this! MYOB offers a paid scholarship with our wonderful tertiary partner RMIT, a paid salary while you learn and a permanent role as a Protégé Developer in our graduate program, The Future Makers Academy. It's a one of a kind opportunity with all the perks to help women begin their immersion into a career as a software developer. Let's face it, we need more women building software.
With supportive mentors and a learning environment that will help women thrive, it's a great beginning to a long lasting career.
We have 6 scholarships this year across Auckland, Sydney and Melbourne. 
What to expect in the DevelopHer program
In your first initial week of being a DevelopHer, you will be paired with an MYOB mentor who will support you through your learning journey at RMIT. You will meet your DevelopHer peers as well as get to know your RMIT cohorts who will be learning with you as you begin to adopt various practices and concepts of application development.
At RMIT, you will be exposed to a bootcamp and studio model of learning. This means that it will be a blend of both onsite and virtual learning with practices that will make you industry ready. This is guided by qualified teachers, professors and tutors who will support you along the way, with continual support from MYOB.
After the 6 month completion with RMIT, you will enter into our graduate program and become a permanent member in The Future Makers Academy as a Protégé Developer. This is where you will unpack your learning and be guided by passionate mentors and learn to work in teams with the aim to progress into an Associate Developer.
What you will bring
Your curious nature
A passion to solve problems
An interest in understanding patterns
Resilience and grit
Desire to learn and grow
You're a good communicator and enjoy working in a team
Applications close midnight, Monday 18th April 2022
Benefits 
Embedded great flexible working environment, Flexperience! We want you to do your best work in a way that suits you and your life and we'll support you from flexibility to your WFH set up
Collaborative culture that has customer at the centre of everything 
Supportive parental leave policy for both primary and secondary carers
Access to wellness and mindfulness programs
MYOB Volunteer Leave Program, giving you the opportunity to give back to your community
Drive your own learning, attend conferences of your choice, do in-house training, and learn from the leaders around you, ensuring you progress and grow your career in a diverse and inclusive environment. 
If you want to work and collaborate where opinions are valued, and your ideas can make a difference, you need to work at MYOB, a place where Your Work Matters. 
We are an equal opportunity employer and value diversity at our company.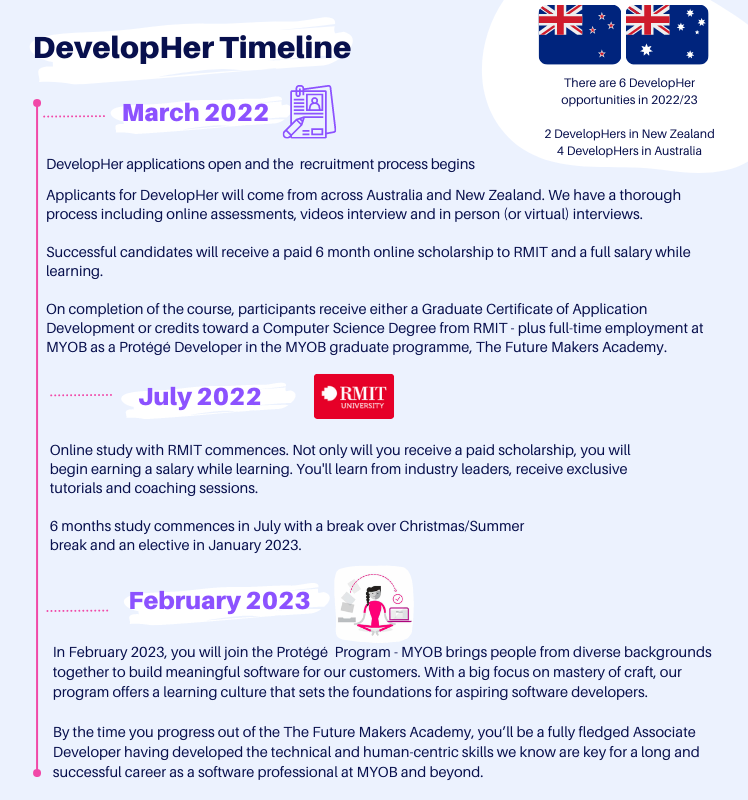 04-03-2022
Job type:Graduate Jobs
Disciplines:

Computer Science, Engineering Software, Information Systems,

...

Work rights:

Australian Permanent Resident, Australian Working

...

Work from home:

Hybrid remote

Hybrid remote

Employees are allowed to work remotely some of the time but most of the work is done at the company's physical office. Remote work is considered a perk or a privilege. For example, an employee may work from home for 1-2 days per week.

Locations:

SALARY

$60,000-$71,000

VACANCIES

6

POSITION START DATE

Jul 2022 (approx)

Closing Date:7th Mar 2022, 4:22 am
Search
Enter an employer or university you want to find in our search bar.