MYOB Protégé Developer – Melbourne 2022 and 2023 Intakes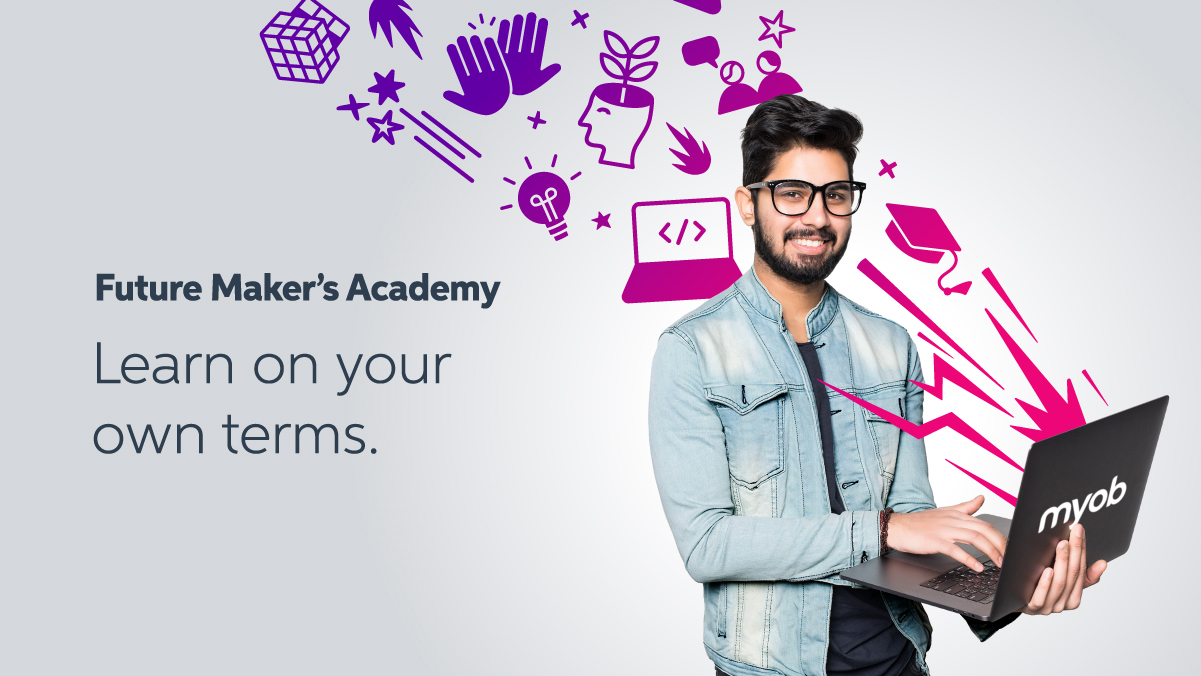 We are MYOB
MYOB is a business platform. Our purpose is to help more businesses in Australia and New Zealand start, survive and succeed. Our team is continually growing, inventing and disrupting conventions. To make all this happen, we are dedicated in creating an exceptional flexible employee experience for all team members and offer a culture where you can be yourself. We don't want you to simply 'fit' into our already established culture, we want you to come and add to it, and make it even better. 
MYOB's Graduate Program – The Future Maker's Academy
We're looking for our next generation of software developers to join us in Melbourne in August 2022 and February 2023. Join us as a full-time permanent employee, compensated at a market related salary. **please select the intake your interested in, in your application form
Our program is all about bringing people from diverse backgrounds together to build meaningful software for our customers. With a big focus on mastery of craft, our program offers a learning culture that sets the foundations for aspiring software developers. Plus, it's not only about writing code, it's about having a growth mindset, collaboration and your inquisitive nature to adopt, develop and grow.
Start in our Future Maker's Academy on a guided learning journey where you'll be supported by a dedicated mentor and learning buddy, with the purpose of accelerating your coding capability at a foundational level. Under their guidance, you'll work through a series of complex problems designed to identify and stretch your core skills. This will be followed by working in tech teams (rotations) solving real problems for our customers.
By the time you progress out of the academy, you'll be a fully fledged Associate Developer. Having developed the technical and human-centric skills we know are key for a long and successful career as a software professional at MYOB and beyond.
Who are you - what are we looking for?
Passionate problem solvers.
Curious minds and those who want to know why things work the way they do.
You are a humble, supportive individual who is hungry to learn.
You've coded! (University Computer Science Degree or alike, Coding Boot Camp or self-taught to a semi-professional level).
Benefits 
Embedded great flexible working environment, Flexperience! We want you to do your best work in a way that suits you and your life and we'll support you from flexibility to your WFH set up
Collaborative culture that has customer at the centre of everything 
Supportive parental leave policy for both primary and secondary carers
Access to wellness and mindfulness programs
MYOB Volunteer Leave Program, giving you the opportunity to give back to your community
Drive your own learning, attend conferences of your choice, do in-house training, and learn from the leaders around you, ensuring you progress and grow your career in a diverse and inclusive environment.
Applications close midnight, Monday 18th April 2022. 
If you want to work and collaborate where opinions are valued, and your ideas can make a difference, you need to work at MYOB, a place where Your Work Matters. 
We are an equal opportunity employer and value diversity at our company.
07-03-2022
Job type:Graduate Jobs
Disciplines:

Computer Science, Engineering Software, Information Systems,

...

Work rights:

Australian Permanent Resident, Australian Working

...

Work from home:

Hybrid remote

Hybrid remote

Employees are allowed to work remotely some of the time but most of the work is done at the company's physical office. Remote work is considered a perk or a privilege. For example, an employee may work from home for 1-2 days per week.

Locations:

Salary

$71,000

VACANCIES

10

Position start Date

August 2022 and February 2023

Closing Date:17th Mar 2022, 10:42 pm
Search
Enter an employer or university you want to find in our search bar.