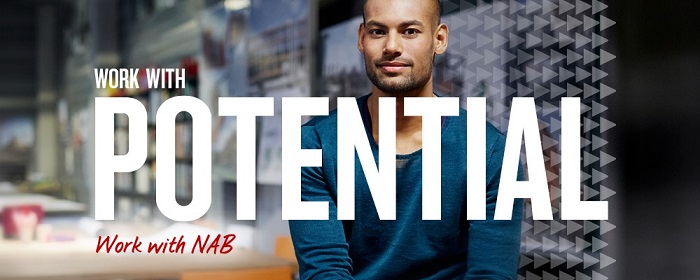 You've studied hard and you're ready to take the next step. We understand that once you graduate, it's not always easy to find your way. We can help you develop the skills, knowledge and network with which to build an exciting and inspiring career.
Everyone's career path is unique. That's why we offer various career options and development opportunities that fit with your study and aspirations. We'll support you every step of the way to help you find a role that you're passionate about.
We're passionate about making a difference to our community, creating value and exceeding our customers' expectations.
We're looking for graduates who feel the same way - people who look for opportunities to find better and simpler ways of doing things. If you have resolve and commitment to be top talent in your field, the NAB Graduate Program can help you.
The benefits of working for NAB 
Flexible work options, so you can balance your work and personal life.
Competitive remuneration packages.
Access to Work Life NAB, our employee benefits program: discounts on product and services including home loans, credit cards, insurance, gym membership, travel and more.
Sixteen hours paid leave each year to volunteer in the community.
Find out more about the benefits of working at NAB.
A strong graduate cohort
As a grad, you'll build valuable networks and make new friends - many of whom you'll work with in the years to come.
There's a strong focus on our graduate community. Our graduates run a committee which provides social gatherings, networking events and opportunities for community liaison and volunteering. Our graduates also have regular opportunities to showcase their knowledge and skills within our organization and the wider community.