Diversity & Inclusion

nbn
---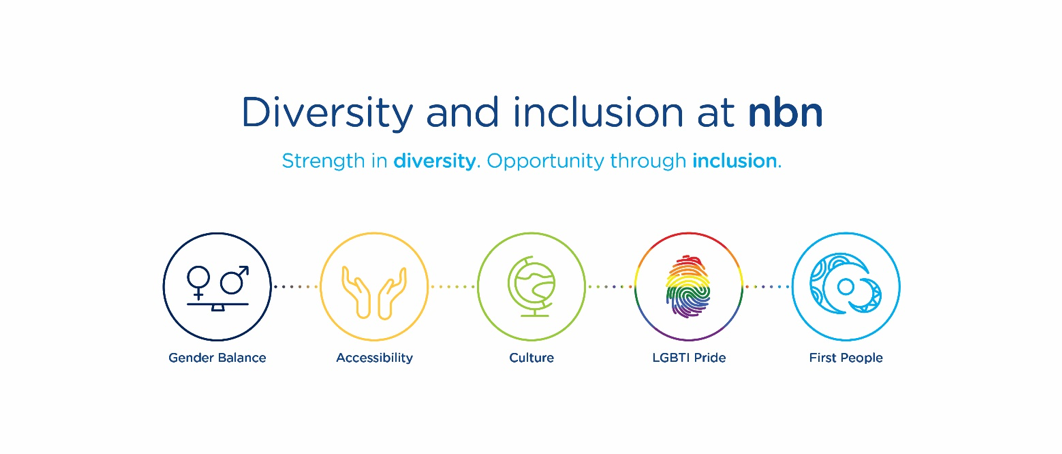 Ours is a continuously evolving culture that seeks and celebrates diversity. We understand the value of a truly inclusive workplace in which everyone can feel encouraged to contribute and reach their full potential. From customers to employees, we believe in supporting and inspiring each member of our nbn™ community.
Employee networks
We have visible and active employee networks to connect and support our staff across all areas of the organisation. Specific networks exist for Gender Equality, Culture, LGBTI Pride, First Peoples and Accessibility. Our networks aim to inspire and engage our people and promote inclusion across nbn.
Gender Equality
Our goal is to ensure equality of opportunity for both women and men to flourish and succeed. By proactively breaking down barriers, challenging bias, and focusing on a culture of inclusion we're constantly working to ensure all employees at nbn have equal access to career advancement and leadership opportunities. We are focused on increasing the representation of women across the business. This is supported by organisation-wide initiatives including: 
Clear gender targets with ongoing performance of these targets published in our annual report
Identifying and developing emerging female leaders and high-potential talent across all business areas
Women's career development, mentoring and sponsorship programs
Women's networking forums 
Strong focus on achieving and maintaining Gender Pay Equity
Opportunities for flexible working arrangements for all employees
Unconscious bias and inclusion training for all employees
Ensuring gender balanced recruitment shortlists and interview panels when hiring new employees
Culture
We're creating a workplace in which all employees are given the opportunity to comfortably explore, express and celebrate their culture and identity, and that of their colleagues. We regularly come together to celebrate days of cultural significance including Harmony Day and Diwali and seek other opportunities to share and celebrate stories across nbn about the rich cultural diversity of our people. Respect for different cultures is a cornerstone of fostering our inclusive workplace.
LGBTI Pride
Ours is a workplace that strives to connect, support and celebrate awareness of Lesbian, Gay, Bisexual, Transgender, Intersex (LGBTI) employees and their allies.
We are actively building a culture that ensures everyone feels safe and comfortable to be their true and authentic selves at work each day. We are doing this through LGBTI inclusive people policies, our LGBTI inclusion eLearning module and celebrating days of significance such as International Day Against Homophobia, Biphobia & Transphobia (IDAHOBIT).
We have an active and growing [email protected] network to connect and support our staff. Our LGBTI inclusion efforts were recognised at the Australian Workplace Equality Index Awards 2019 where we received Silver Employer Status.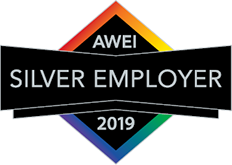 First Peoples
At nbn we are proud to have created our third Reconciliation Action Plan (2018 – 2020) with Reconciliation Australia. This is a key element in our continued desire to incorporate the appropriate recognition and respect of Aboriginal and Torres Strait Islander Peoples and their cultures into the way we operate each day.
Our vision for reconciliation is to connect communities across Australia where Aboriginal and Torres Strait Islander Peoples share equal access in the benefits of the nbn™ broadband access network.
We have launched our Liakukana ("lee-ah-kooh-kâh-nah") community to bring together our First Peoples representatives and our diverse members who are helping deliver our Reconciliation Action Plan for 2018-2020 (focused on improving our community engagement and innovative solutions to deliver the nbn™ access network to First Peoples communities).
We are also supporting First Peoples staff and communities through a Reconciliation Awareness eLearning module. This online training is delivering Cyber Safety awareness to First Peoples schools and through our Delivery Partners who are focused on hiring First Peoples staff and using indigenous suppliers.
First Peoples Initiative and Reconciliation Action Plan
Our third RAP, which was introduced in October 2018, has an increasing emphasis on community engagement, building and encouraging collaboration, increasing employment and increasing procurement opportunities. This will involve:
Continuing to communicate the nbn™ message across rural and regional areas using our Sky Muster™ trucks and the nbn™ local Community Engagement Teams. 
Visiting more First Peoples communities to understand their needs. In doing so we will look to develop technical and product solutions to help meet those needs.
Reviewing our traineeship, graduate programs and scholarship initiatives to facilitate First Peoples' participation.
Developing more internal training modules to ensure that reconciliation remains front of mind across the organisation. We will also communicate more widely regarding special events throughout NRW and NAIDOC Week.
Ensuring our systems are capable of capturing our First Peoples' employee information so that we can understand their needs while using that knowledge to better retain, support and engage our First Peoples.
Involve as many of our First Peoples and non-First Peoples employees in RAP initiatives as possible. Doing so will help us better realise our reconciliation vision and develop cultural competency and empathy throughout the organisation. 
These initiatives allow us to continue our reconciliation journey as we complete the rollout of our network across the nation.
Accessibility
At nbn, we are committed to creating an inclusive and accessible workplace, which strives to support and enable employees with disabilities.
nbn has launched its Accessibility and Inclusion Plan 2019-2021. This Plan is designed to ensure that people with disability feel valued, supported and included in our organisation.
A key part of our commitment is our partnership with the Australian Network on Disability. Through this partnership with expert advisors, and through and listening to our employees we are continually striving to understand the needs of our people and to improve the accessibility of our workplace for all. We are currently creating an Accessibility Inclusion Plan and regularly review our disability policy to ensure it aligns with best practice and industry standards.