Nexia Australia Graduate Programs & Entry Level Jobs
The Nexia Australia network, supported by global links to Nexia International provides a full-service solution to a diverse range of clients from large corporate organisations to privately owned businesses as well as high net worth individuals. 
Nexia Australia currently has 0 opportunities.
Select the following options:
Past Nexia Australia Graduate Hiring Statistics
If you're interested in working at Nexia Australia, understanding when they have opened up applications for their graduate programs, graduate jobs and internships is helpful knowledge to have so you know when you might need to apply. Use the below information to see when Nexia Australia hires graduates, but more importantly what graduate degree's and other student attributes they target for their jobs.
---
Job types
Graduate Jobs (60%),

Entry Level Jobs (40%),
Work rights
Australian Citizen (100%),

Australian Permanent Resident (100%),

New Zealand Citizen (100%),
Past Nexia Australia Graduate Programs & Entry Level Jobs
Check out some of Nexia Australia's past jobs they have posted on GradConnection over the last 12 months. Understanding the details about what a graduate employer is looking for well before applications have opened can sometimes be the edge you need to secure your first graduate program.
---
Nexia Australia are currently looking for an entry-level Junior Administration Assistant to join our Financial Services team.
Start your Tax Consulting career with an opportunity in our growing team!
We are now open for graduate applications to join our Assurance Services (External Audit) & Business Services Team in Adelaide.
Nexia are looking for motivated and enthusiastic university graduates, wanting to kick start their exciting career in our Business Advisory team.
Nexia are looking for motivated and enthusiastic university graduates, wanting to kick start their exciting Accounting career.
Nexia exists to help people and enable them to grow and become successful.  That's why we partner with our people and clients to provide innovative solutions that support their journey to success.  We are a firm that is sustainable, diverse and proactive, with an awesome culture: this is Nexia for You.
The Sydney office is based in Sydney's CBD with 27 directors and 170 staff.
As a graduate at Nexia, you will experience an individual approach to accommodating your career and personal goals and objectives. For us, lifestyle is about a balanced approach to everything we do. You will enjoy working on varied and challenging assignments in an environment that is fun and supportive of having a life outside the office. We appreciate that our people are our greatest asset, and therefore provide a vast array of benefits in to improve our people's quality of life in and outside the office.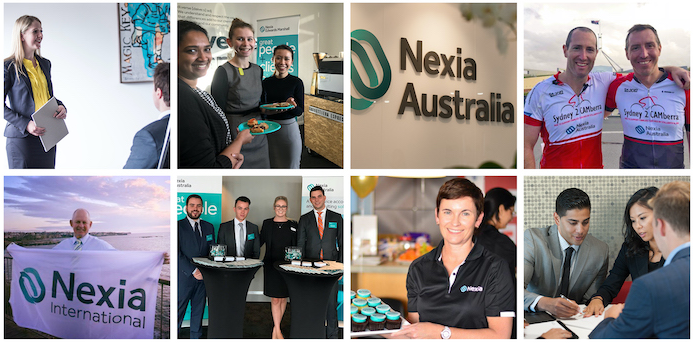 Who is Nexia?
Nexia Australia
---
Nexia represents a network of solution focused accountancy and consulting firms in Australia and New Zealand supported by global links to Nexia International. We offer a full service accounting solution with experienced partners and an enthusiastic team. The Sydney office is based in Sydney's CBD with 15 partners and 120 staff.
Our Mission
Through our Great People, providing innovative solutions to our Great Clients, Nexia will be recognised as a Great Professional Services Firm.
Our Culture
Agile:  We pride ourselves on having the skills and experience to deliver effective solutions to all our clients and their changing business needs.
Accessible:  We make our advice easy to understand and back it up with one on one contact, with partners always within reach.
Advancing:  We continue to evolve to find the next solution and stay well advanced in today's ever changing landscape.
Social
Nexia Australia firms promote a vibrant and social atmosphere with a wide range of events that fill the calendar. This includes trivia nights, end of financial year parties and regular drinks nights. We are also heavily involved in sports and our firms participate in mixed soccer, mixed basketball, City to Surf, corporate triathlon's, Institute of Chartered Accountants touch football days and firm golf days to name but a few.
Services
At Nexia we provide a full service accounting solution with experts in the following areas:

Nexia is proud to be a part of the Australian Financial Review & Grad Connection Top 100 Graduate Employers.
Why Join Us?
Nexia Australia
---
Our philosophy is simple: great people + great clients = great firm.  We appreciate that our people are our greatest asset and therefore provide a vast array of benefits in to improve our people's quality of life in and outside the office, including but not limited to:
Hybrid working arrangements including working from home and access to our flexible work policy;
Learning and development to support your career at Nexia including mentoring programs, study and membership support;
Paid parental leave benefits;
Comprehensive wellbeing program including Employee Assistance Program, flu vaccinations and health care insurance discounts, income protection services;
Financial wellbeing support including novated leasing, financial planning services and access to exclusive discounts and vouchers from leading retailers
Convenient office location near Town Hall station with Darling Harbour views;
Secondment opportunities with Nexia National/International offices;
Additional leave days;
CSR activities and events;
Wear what makes you comfortable and dress for your day; and
Sporting events and tournaments (CAANZ);
Graduate opportunities
Nexia Australia
---
Sydney
In Sydney we recruit 4-5 graduates each April to start the following year in February. These graduates predominantly start in the Audit & Assurance team however there are options to move around internally into one of our other service lines. Graduates have exposure to a wide range of clients from multiple industries with constant client contact from week 1. We have a low partner to staff ratio so a partner is always within reach to provide ongoing support in this highly team orientated environment. Discover for yourself why working for Nexia Australia is a rewarding career decision with opportunities that lead to both professional and personal satisfaction.
Continual Professional Development for Graduates
Nexia Australia practices stand united to link our local strengths together to provide personalised and tailored solutions that open up opportunities for our graduates to grow. This is an important part of who we are at Nexia as our people are our most valuable asset. Both our Melbourne and Sydney firms support the CA Program in a variety of ways. This includes the payment of module fees, additional external study support and three paid study days (including the exam day) per module. Nexia Sydney and Melbourne also participate in the Nexia Australia national mock exam initiative which includes exam feedback and an intensive Q&A session with a CA qualified professional from within the network. Both firms also encourage an active mentor program that provides another source of internal support for CA candidates.
Candice
"Since starting at Nexia over 5 years ago, I have been overwhelmed with the dynamic and supportive culture at the Sydney office. I was immediately welcomed in and provided with support and mentoring. Having a firm with such diverse people and divisions, has allowed me to grow my skills and progress from Undergraduate to Supervisor. Nexia has provided me with the opportunity to improve on my presentation and networking skills at a variety of events such as internal training, CO-OP training and the Next Leaders training. During my time here, I've had the opportunity to access a variety of support networks such as Next Connect and the Next Generation of Thinking. The exposure to these events has not only increased my skills but has also provided me with the confidence that Nexia will support my long term goals. Nexia isn't just a job it's a lifelong career."
Graduate Program
Nexia Australia
---
By choosing Nexia, you can be confident you are getting the support, development opportunities and hands-on experience necessary to build on your studies and sustain a successful career in accounting; all while having fun and building a network of friends.
Nexia offers a comprehensive graduate program, including:
Support through the completion of the CA programme – including financial funding of CA subjects, additional study support through PLS, and paid study and exam days;
Mentoring and buddy systems;
Lifelong learning, from on the job training to attending tailored workshops and seminars; and
Continuous promotion opportunities and career guidance.
The inside buzz
Nexia Australia
---
This year we asked our graduates a series of questions on matters such as culture, hours, career progression, training, study support and career satisfaction to get the inside buzz on what life is really like as a graduate at Nexia Australia.
Nexia Australia graduates are much more than just accountants, they are problem solvers with fresh and innovative ideas.
Get the inside buzz from our next generation of leaders...
Jacob
"I started at Nexia as an undergraduate who simply wanted to learn more about business. I am passionate about small businesses and Australia's innovative business culture and it was awesome to find a firm who shared the same views. Working in a mid tier firm like Nexia, ensures you will get the end to end technical experience with clients ranging from smaller individuals to larger multinationals. Whilst at Nexia I have had the opportunity to work on some amazing projects utilising my soft skills such as, the CA Speakers Program, The Next Generation of Thinking, running team culture sessions, participating in networking nights and Innovation Olympics.
Ellen
"Starting at Nexia as a graduate in Audit & Assurance has allowed me to gain a wide range of experience in multiple areas of accounting due to the vast number of clients we service across a broad range of industries. Everyone has been incredibly welcoming and is always happy to help me learn and develop, and I have made some great life-long friends."
Other Opportunities
Nexia Australia
---
Being part of Nexia, cadets receive the opportunity to work directly with a wide group of professionals who mentor and provide guidance throughout their career, both technically and socially.
Cadets can also expect to be working with a diverse range of clients in a variety of industries, gaining valuable exposure to business disciplines before the completion of their University degree. These include:
Taxation
Accounting
Auditing
Financial reporting
Superannuation
Become a part of the next solution
Nexia Australia
---
Applications must be submitted via the Nexia Australia online job board http://jobboards.adlogic.com.au/nexia/
Simply select the firm and opportunity you are wishing to apply for and complete your application by the specified closing date.
Note that all applications must be accompanied by an appropriate cover letter, CV and academic transcript.
Please refer to the Nexia website www.nexia.com.au for further information regarding the application process.
The Recruitment Process
All applications are screened with the top applicants invited to a first interview with the firm. Those applicants that are successful in their first interview will be invited back by the firm for a second interview with a Partner. Offers are made shortly after the completion of the second interview stage. No testing is involved throughout the recruitment process.
The major determining factor in Nexia Australia's recruitment is culture fit. We look for people who demonstrate ambition, accountability and positivity. People who are helpful and solution driven with a focus on team work.
Eligibility
To be eligible to apply for a graduate position with Nexia Australia you will be in your final year or have recently completed a Commerce/ Business degree majoring in Accounting. Applicants should also ensure they have completed all subjects that will enable them to commence the CA Program upon joining a firm.
International students are not eligible to apply.
Further Information
For any further information please visit our website www.nexia.com.au
Rebecca
"When I started at Nexia as a graduate in Audit & Assurance I didn't really know what to expect. My colleagues were extremely welcoming and have always been ready to help me in my learning. Since starting I have broadened my knowledge and experience in accounting, and have had the opportunity to develop my skills through various training methods provided by the firm."