Norman Disney & Young Graduate Programs & Internships
As a global engineering consultancy, we are passionate about providing solutions that improve the value, reliability and efficiency of our clients' projects, and the broader built environment.
At Norman Disney & Young, our people are key to our success. It takes a dedicated and leading team to achieve sixty years in business and our longevity and growth as a leading consultancy is testament to our people and our reputation in the market.
Our collaborative design appr…
View more Norman Disney & Young has no active opportunities at the moment.
See who's currently hiring with our Job Search!
Search for jobs
As a global engineering consultancy, we are passionate about providing solutions that improve the value, reliability and efficiency of our clients' projects, and the broader built environment.
At Norman Disney & Young, our people are key to our success. It takes a dedicated and leading team to achieve sixty years in business and our longevity and growth as a leading consultancy is testament to our people and our reputation in the market.
Our collaborative design approach takes into account commercial, environmental and technical considerations to achieve the desired outcomes. Our core engineering services are enhanced by specialist consulting services including ICT, electronic security, BMS (Building Management System), performance based fire engineering, hydraulics, acoustics and architectural creative lighting. Our consultants are industry thought leaders and provide our clients with the most current methodologies.
Whilst our technical, documentation and consulting abilities are first class, we embrace our role as an innovator, and not a follower of trends. We fund research and development activities in all key NDY services and support our people on the journey of continual professional development.
Working alongside industry thought leaders, our technical excellence, and our industry-leading approach to corporate social responsibility, makes NDY a beacon for top tier talent.
We are guided by our vision and values and these are at the core of Norman Disney & Young's Purpose:
Our Values
Excellence: do it once, do it well
Leadership: lead in our profession, industry and the community
Integrity: treat others as we wish to be treated
Collaboration: listen, share and contribute
Accountability & Ownership: understand the impact of our actions and own the outcomes
Innovation: inspired creativity to challenge the norm
Our Vision 
To enhance the lives of others, by engineering outstanding projects, mindful that every project matters.
To sustain deep and trusting relationships with our clients, through solving their problems and serving them with utmost reliability, and 
To engage our people with meaningful, rewarding and inspiring opportunities.
At NDY we will guide and support you as you develop the skills, knowledge and network to build an exciting and inspiring career. With us, you will live your purpose and make a difference in the communities around you. Diversity is about valuing our individual differences and acknowledging the unique blend of knowledge, skills and perspectives people bring to the workplace.
Our goal is to reflect the diverse community we serve and create a great place for you to work!
At NDY we achieve that by creating an inclusive culture, where everyone feels valued, respected and empowered to fully contribute and succeed.
Our Diversity and Inclusion, Equal Opportunity and Workplace Behaviour policies ensure that all NDY employees receive equal, merit-based treatment, without discrimination.
NDY also offers a range of benefits like:
5 weeks of annual leave for each completed year of service.
The choice to purchase extra 4 weeks annual leave
Flexible work arrangements
Competitive remuneration packages.
Employee Assistance Program
Dress for your Day Policy
The opportunity to give back to the community though Charitable Contributions Policy.
Global Health and Wellbeing Program
David Norman Young Engineers Awards
Salary Continuance Protection
Learning and Development Opportunities 
And Global Career opportunities
At NDY we offer a competitive salary, career development, an amazing corporate culture, work-life balance and the chance to make an impact to our communities.
As an NDY graduate, we offer you a comprehensive two-year development program. Focused development activities will give you an opportunity to build the skills and knowledge essential for a successful career as a consultant engineer.
Watch the following video to see some of current graduates:
When you join Norman, Disney & Young, you become part of a unique, talented team of engineers, that strive to improve and make a significant impact to the societies we live in.
NDY offers a family-like culture where everyone feels the freedom to be who they are, trusted to work autonomously and take initiative, comfortable to express their opinions and ideas and have a sense of belonging.
As a graduate you can work with a team that design landmark developments, propose to international panels of construction practitioners and work on-site with a team of engineers, contractors and tradespeople.
At NDY we celebrate individuality and we want to fully equip you as a graduate engineer with the knowledge and skills to build your career by offering you a comprehensive two-year development program.
You will experience a program that offers:
Structured development workshops
Rotations through various engineering disciplines
Potential international rotations
Internal Development Opportunities
Support by an Online Learning Platform
The opportunity to lead community projects supporting various charities
The support of exceptional coaches, mentors and leaders.
The foundations of your development journey are designed to support you throughout the Graduate Program to build your expertise to become an established consultant engineer.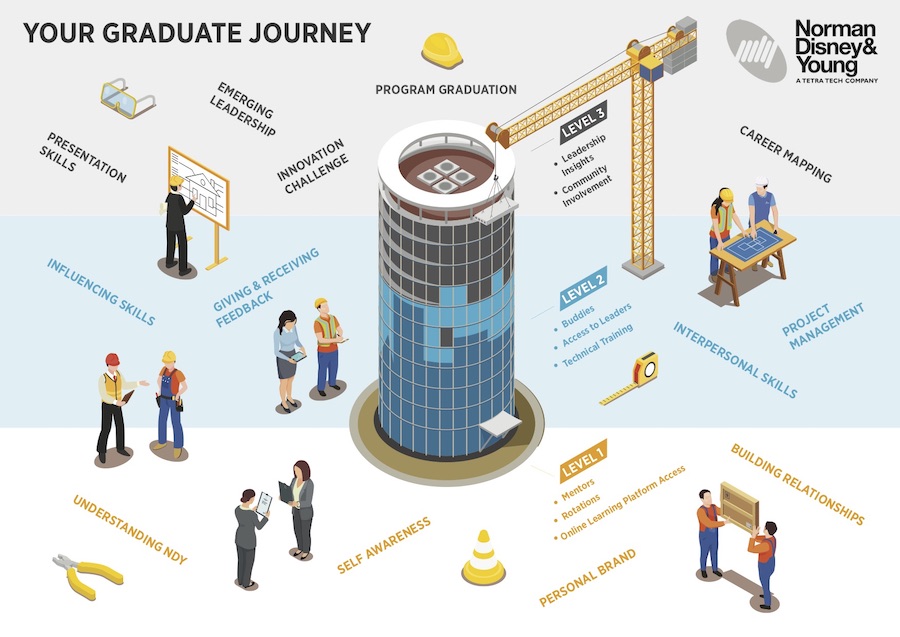 By developing multi-faceted skills, you will have the opportunity to become a respected member of a team of consultants who are focused on providing our clients with professional service and technical excellence while meeting project deliverables.
You will have the opportunity to network and be exposed to leading industry experts to help further your career in the Engineering profession including;
Project managers 
Architects
Engineers
Contractors
Regulatory authorities
NDY aims to build sustainability into everything we do, to positively impact our clients, people, communities and the environments where we live and work. NDY are driving social impact through NDY Charitable Trust workplace giving, volunteering with Engineers Without Borders and supporting Indigenous success to help create stronger communities.
NDY's Environmental and Social Sustainability priorities are:
Reducing Our Environmental Impact & Continually Improving Business

This is essential for our business and aligns with industry, customer and community efforts.

Supporting the Health, Safety & Wellbeing of our People

Our talented people are the foundation of our long-standing success. We strive to provide our staff with the career defining opportunities, mentoring and support, and lasting connections to help them navigate through their personal and professional journey in life.

Supporting Our Communities & Supply Chain

NDY values our role in creating thriving communities in the locations we operate and beyond. We partner with industry leading businesses and peak bodies to achieve our common goals. We support community groups to improve culture of place and a sense of belonging for our people and stakeholders. We also support vulnerable communities through our charitable giving and are focused on increasing the representation of Indigenous and female owned and operated businesses in our supply chain as part of our Reconciliation Action Plan and Gender Action Plan.

Leading by Example – Conducting Ethical & Sustainable Business Practices

We strive to be ethically, environmentally, and socially responsible in all we do. Our core values shape the way we do business – sustainably, with integrity, and with client satisfaction at the heart of our project engagements.

Delivering Leading, Innovative & Sustainable Projects For Our Clients

Our clients' benefit from our dedication to reliable service and responsible business practice – financial, environmental and social sustainability is embedded in everything we do. Sustainable solutions and the design of energy efficient systems provide further benefit to our clients' projects.
NDY Women in Engineering

NDY is a proud Employer of Choice for Gender Equality by The Workplace Gender Equality Agency. The WGEA promotes and improves gender equality in employment and in the workplace, supports employers to remove gender bias, helps with elimination of discrimination based of gender and proactively drives a positive gender equality outcome. Their Vision is for women and men to be equally represented, valued and rewarded in the workplace.

Danielle Bird
Project Engineer
What attracted you to a career in Lighting engineering?
I've always been very interested in the impact our spatial environments have on the people who inhabit them.
Throughout my time at university I came to appreciate the influential role of lighting, within this realm.
I loved the idea of working with innovative lighting technologies, that allow us to improve spatial experience in the everyday.
In your career to date, what achievements are you most proud of?
That's a tough question! There have been lots of small achievements along the journey.
Here are my top 3 right now:
1. The first time I attended a client meeting without NDY backup! It was a great feeling to know the right solution and have confidence in my advice to the client.
2. Seeing the finished result of my first project I worked on at NDY. 
3. Finishing the entire concept and design documentation for NAB, a monster project, that was designed and documented in a really short time frame.
What does being a successful engineer mean to you?
For me it would mean a lifetime of contributing to a range of inspiring projects, that become iconic and treasured within the fabric of the city where they exist.
What advice would you give to young women considering a career in engineering?
To not be intimidated by preconceived ideas of the industry. Being from a design background, I wasn't sure how I would fit within a engineering company. It's okay not to know the answer. There's is plenty of time to learn and lot's knowledgeable people to learn from. All you need is a can-do attitude!