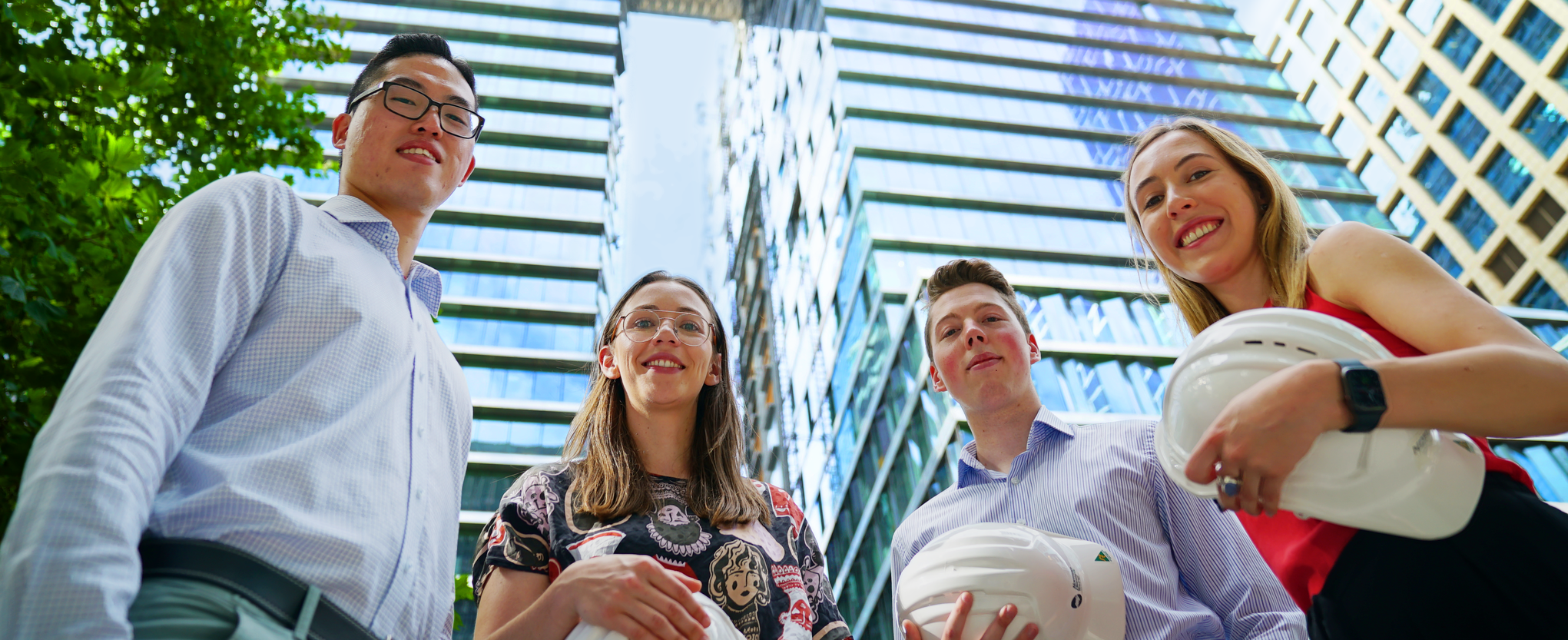 2023 Norman Disney & Young Graduate Program – Electrical Engineering
When you join Norman, Disney & Young, you become part of a unique, talented team of engineers, that strive to improve and make a significant impact to the societies we live in.
As a graduate you can work with a team that design landmark developments, propose to international panels of construction practitioners and work on-site with a team of engineers, contractors and tradespeople. 
At NDY we celebrate individuality and we want to fully equip you as a graduate engineer with the knowledge and skills to build your career by offering you a comprehensive two-year development program. 
You will experience a program that offers:
Structured development workshops
Rotations through various engineering disciplines
Potential international rotations
Support by an Online Learning Platform
The opportunity to lead community projects supporting various charities
The support of exceptional coaches, mentors and leaders.
In 2023, the Electrical stream has opportunities in Brisbane, Melbourne, Perth, Sydney. 
You will have completed a degree or major in Electrical Engineering, Core Electrical, Comms.  
As a graduate in the Electrical stream, you will be involved in developing the electrical design for a project. The projects can be from various market sectors like, Transport such as train stations, Commercial sector including Office buildings or spaces or even Mission critical locations like Data centres. 
Each sector leans on different requirements and has emphasis on different aspects of design. For example, Mission Critical requires having a lot of backup infrastructure ensuring the data on site is hardly ever offline.
You will gain experience in Maximum Demand Calculations which determine the amount of "power" required for a project. This is the basis for determining our electrical infrastructure, such as cable sizes and circuit breaker sizes. 
Another aspect is Lighting Calculations that determine the illuminance levels required for a project. This is the basis for selecting luminaires and understanding the lighting control philosophy.
Also reviewing documentation such as existing power drawings and Single Line Diagrams and assessing them against requirements, standards and codes. 
You will have the chance to work on a variety of different projects & with different clients which means you will also need to go out to site and see your design come to life which gives you the opportunity to express yourself through your design. 
Applying for our Graduate Programs
Applications for our 2023 Graduate Program are now open. Before applying for the program, please ensure you meet our eligibility requirements. You must be:  
An Australian Citizen, Australian Permanent Resident, New Zealand Citizen or New Zealand Permanent Resident at the time of submitting this application
You must have completed your undergraduate or postgraduate degree within the last three years of the program start date (ie 2020, 2021, 2022 or January 2023)
You must be eligible to commence full time employment in February 2023
You must be willing to relocate to the role location you are applying to
Have a credit or above GPA
There are typically five stages to making an application:
Complete the application form. This includes academic achievement, personal information, career motivation, employment history, extenuating circumstances, language skills, extra-curricular activities and interests.
Cognitive ability assessments that are designed to test verbal, numerical and logical reasoning skills.
Behavioural assessments that help us to understand your work style preferences and areas for development.
Video Interview where you will have the opportunity to tell us a bit more about yourself.
Assessment Centre and Interviews: Graduates progressing to this stage will be invited to attend a virtual assessment centre. The virtual assessment centre will consist of a series of group activities and individual activities where members of the NDY team will assess performance.
Applications close 9.59AM (AEST) Monday 1st August 2022.  
For more information on NDY and the services we offer, head to https://ndy.com/services.
15-06-2022
Job type:Graduate Jobs
Disciplines:

Engineering, Engineering Electrical

Work rights:

Australian Permanent Resident, New Zealand

...

Locations:

Sydney, Brisbane, Melbourne,

...

Program Duration

12 Months

Closing Date:12th Jul 2022, 12:13 am
Search
Enter an employer or university you want to find in our search bar.