Novartis Graduate Programs
At Novartis, we reimagine medicine to improve and extend people's lives. We use innovative science and technology to address some of society's most challenging healthcare issues. We discover and develop breakthrough treatments and find new ways to deliver them to as many people as possible.
Novartis currently has 0 opportunities.
Select the following options:
Past Novartis Graduate Hiring Statistics
If you're interested in working at Novartis, understanding when they have opened up applications for their graduate programs, graduate jobs and internships is helpful knowledge to have so you know when you might need to apply. Use the below information to see when Novartis hires graduates, but more importantly what graduate degree's and other student attributes they target for their jobs.
---
Disciplines
Business and Commerce (80%),

Data Science and Analytics (10%),

Human Resources (10%),

Information Technology (30%),

Medical and Biomedical Science (40%),
Locations
Sydney (100%),

Auckland (45%),

Christchurch (10%),

Wellington (10%),

Hobart (5%),
Work rights
Australian Citizen (100%),

Australian Permanent Resident (100%),

New Zealand Citizen (100%),
Novartis is reimagining medicine to improve and extend people's lives. As a leading global medicines company, we use innovative science and digital technologies to create transformative treatments in areas of great medical need. In our quest to find new medicines, we consistently rank among the world's top companies investing in research and development.
Our products reach nearly 799 million people globally and we are finding innovative ways to expand access to our latest treatments. We have around 108,000 associates, of more than 140 nationalities, working at Novartis around the world. Novartis has more than 60 years' history in Australia and employs around 600 associates across its two divisions here locally.
Novartis is where you can be a high performing professional, armed with the knowledge that we are improving the quality of life for patients through breakthrough science and innovation. 
It is time to reimagine medicine.
Novartis
Headquartered in Basel, Switzerland, Novartis is one of the world's largest companies and a global business with a history going back more than 150 years.  We are here to serve people, communities and patients. By reimagining medicine, we will continue to transform the lives of millions. It is our purpose that drives us; that inspires us; that challenges us. That is why we will never give up.
In Australia, we focus on where our skills can best help address the greatest patient needs. These areas are currently:
Oncology
Cardiovascular-metabolic
Ophthalmology
Respiratory
Neuroscience
Immunology and Dermatology
Gene Therapies
Our divisions
The Novartis Group of companies has three divisions: Novartis Pharmaceuticals, Novartis Oncology and Sandoz, as well as Corporate activities.
Our Purpose and Culture
Novartis
---
Our Mission
Our Mission is to discover new ways to improve and extend people's lives. As a leading healthcare company, we use the power of science, digital technology and big data to create innovative treatments in areas of great medical need and deliver them to people worldwide. Our Vision is to be a trusted and respected leader in changing the practice of medicine.
Our Culture
Our culture is defined by our values. They help guide the choices we make every day; they define our culture, together with our high ethical standards, and help us execute the Novartis strategy.
Innovation: Experiment.  Be bold and focus externally.
Quality: Focus on what matters.  Learn from failure to continuously improve.
Collaboration: Be open minded to diverse ideas.  Ask for feedback.  Put team before self.
Performance: Take smart risks.  Step outside of your comfort zone.  Make things simple.
Courage: Challenge the status quo.  Stand up for what we believe.  Dare to be great, not perfect.
Integrity: Care about patients and customers.  Taker accountability for high ethics and keep commitments.  Be humble and compassionate.
We are passionate about what we do and the impact we have on patients and associates. 
We are Novartis and we are reimagining medicine.
Novartis Graduate Program
Novartis
---
799 million.
That's how many lives our products touched last year. And while we're proud of that, in this world of digital and technological transformation, we must also ask ourselves this:
How can we continue to improve and extend even more people's lives? We believe the answers are found when curious, courageous and collaborative people are empowered to ask new questions, make bolder decisions and take smarter risks.
Join our Novartis Graduate Program and help us reimagine medicine.
The Novartis Graduate Program will challenge you to be the best version of yourself from the outset of your career, we value your diversity of thought, and trust your ability to make things happen. We believe that when you don't have to compromise who you are, you will dedicate your energies to reimagining medicine.
You will have exposure to our leaders from across the business, and access to a structured support community that will include buddies, mentors and coaches.
You will discover different areas of the business through a minimum of two rotations over the 18-month program and will embark on a Development Journey designed to challenge you both professionally and personally.
At Novartis, every department in our organisation embraces new technologies and this will be no different on your Graduate Development Journey. Your development is important to us and your blended learning journey will include face-to-face workshops as well as access to an online learning platform (Grad Passport) and other development initiatives that will help to embed your learnings into your roles as you progress through the program.
You will also undertake an innovative project that will forge the skills required to be a successful leader in the ever-changing world of work and provide you with further exposure to our business and our leaders.
Here is a snap shot of what your 18-month Journey at Novartis will look like, commencing in July 2021: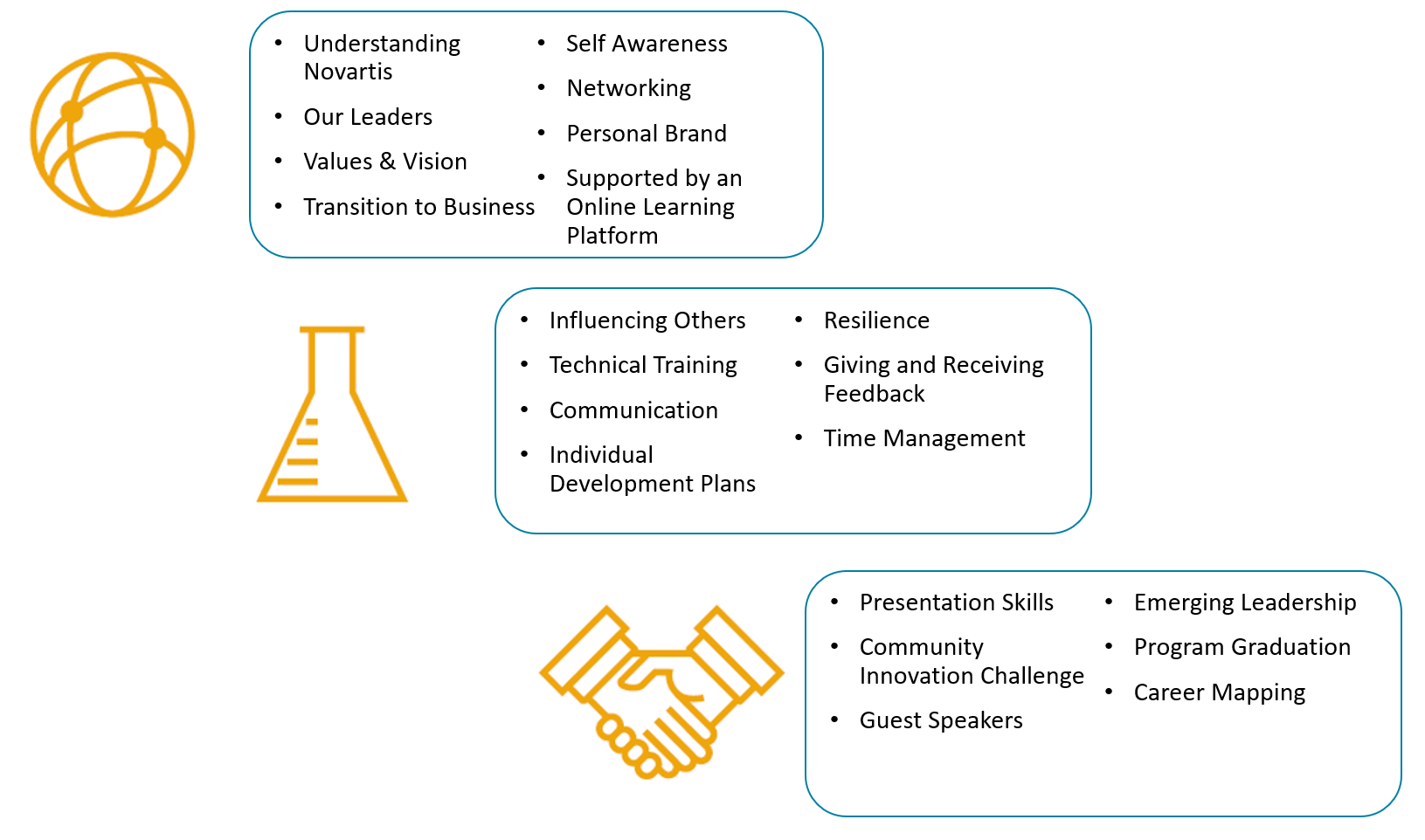 Our Opportunities
Novartis
---
To be successful, you will be an individual who is inspired by our purpose and feels empowered every day to be your best self. You will be an individual who is agile, unapologetically courageous and tenacious in your pursuit for greatness. We are seeking graduates who are driven and who are genuinely curious about driving innovative ideas to produce better outcomes for our patients.
You will embrace operational excellence each day, understanding that the combination of innovation and excellence in commercial operations is at the core of what we do and allows us to make a difference for our society.
At Novartis, we are fundamentally guided by our values. As a part of our Graduate Program, it is integral that your values align with ours and these form the backbone or your career. You will be supported to achieve your professional and personal goals and prepare yourself to be a leader who can enable their own team to reach their full potential.
Our roles will commence in July 2021 and we are seeking graduates whose experience, knowledge and passion align to the following streams:
Australia
Commercial
As a Commercial Graduate, you will work on real-life projects and gain exposure into how Marketing and Sales has significant impact on how our products are brought to the patients who need them. As a successful Graduate, you will be a great communicator, readily able to collaborate with cross-divisional colleagues, demonstrate curiosity and agility.
Novartis has a strong emphasis on digital engagement, so as a graduate in this stream you will have the opportunity to create innovative campaigns that boost and sustain the product lifecycle.
To apply for our Commercial stream, you will require a degree or discipline in either Commercial, Marketing, Digital Marketing, Business or related field. It is highly desirable to have a background in Science but not necessary.
Medical
Novartis is passionate about leveraging science that leads to innovative strategies. As a Graduate in the Medical stream, you will be involved in implementing these strategies to maximise the positive impact on patients' lives.  A successful graduate will have a strong passion for science, technical and operational excellence, and bring an open and curious mind to our teams. Whether it's patented medicines, generic medicines or gene therapies, Medical Graduates will be able to make a real difference to the health of millions. 
To apply for our Medical stream, you will require a tertiary qualification in a relevant field such as Medicine, Pharmacy, Sciences, Biomedical Sciences, Clinical Research or Nursing. An advanced degree (MD, MSci, PhD), is also advantageous. 
Data & Digital
We have embarked on an ambitious transformation to become the leading medicines company powered by data science and digital technologies. As a Graduate in this stream, you will be able to dig deep into the data, synthesising this information into insights allowing the business to harness the power of digital solutions for the benefit of patients. You will successfully build effective relationships with internal and external stakeholders, having the confidence to work autonomously on the execution of projects for the business, have a great attention to detail and a creative mind.
To apply for our Data & Digital stream, you will require a degree or discipline in either; Data Science, Analytics, Commerce, Digital or related field.
People & Organisation
As a Graduate in our People & Organisation team, you will be able to contribute fresh ideas to drive culture change and improve the experience for Novartis associates across the organisation. You will work in a cross-functional team aligned with our Novartis P&O model of shared services, subject matter experts, and business partners. You will be responsible for building an environment that supports collaboration and performance of our associates. Graduates in this stream will have exposure to developing our processes and policies; manage technical systems, data and files.
To apply for our People & Organisation stream, you will require a degree or discipline in either; Human Resources, Commerce, Business or Psychology.
Communications
Graduates in the Communication stream will work across a range of projects in a variety of streams including Internal Communications, Corporate Communications and Patient Advocacy. As a Graduate, you will be able to broaden your network, ultimately upholding the Novartis reputation and keeping associates abreast of local and global changes.  A successful Graduate will have the ability to build effective partnerships with key stakeholders, have outstanding written and verbal communication skills and a strength of character in order to take calculated risks where required. 
To apply for our Communication stream, you will require a degree in Communications, Media studies, Journalism, Creative Writing or related field.
New Zealand
Finance & Operations
We are looking for Gradates who are open to new thinking and ready to embrace the opportunity to create an impact. Working with cross-functional stakeholders and third party suppliers, across business-partnering, operational excellence, procurement and market analytics, a successful Graduate will be able to delve into the competitor landscape, providing sound advice and relevant insights to the business in order to streamline processes and identify opportunities for innovation and realignment.  
To apply for our Finance stream, you will require a degree in Finance, Business or Commerce or related field. 
Marketing
We welcome fresh ideas from in and outside of our company, and we are looking for tech-savvy, customer-oriented Graduates to join us in our marketing graduate program. Agile, with the ability to work across a variety of therapy areas, you are passionate about simplifying processes to give patients access to medicines faster. Successful graduates will be able to successfully manage omnichannel marketing projects, branded advertising and use their digital prowess to bring projects to life. 
To apply for our Marketing stream, you will require a degree or discipline in Marketing, Digital Marketing or Business. It is highly desirable to have a background in Science but not necessary.
Our Commitment (Corporate Responsibility)
Novartis
---
Our Corporate Responsibility Strategy
Novartis has a sound strategy to navigate a world with a growing, aging population and continuously evolving healthcare needs. Our strategy supports the Novartis purpose and is centered around four key areas: holding ourselves to the highest ethical standards, being part of the solution on pricing and access to medicines, helping tackle global health challenges and being a responsible citizen.
To learn more (https://www.novartis.com.au/about-us/corporate-responsibility)
Expanding Access to Healthcare
We are committed to bringing more of our medicines to more people, no matter where they are. To expand access to healthcare, we pursue a variety of approaches. This will be a key measure of success for our leaders and employees.
Being transparent and holding ourselves to the highest ethical standards
We aspire, as part of our vision, to be a trusted leader in changing the practice of medicine. To realize this vision, we need to earn and maintain the trust of patients, associates, healthcare partners, shareholders and the society we serve. We are committed to creating a culture of integrity and trust through strict adherence to the Novartis Code of Ethics. We also aim to be transparent about the results, impact, challenges and key learnings from our access-to-medicine programs.
Environmental Sustainability
Our ambition is to be a catalyst for positive change and a leader in environmental sustainability. We aim to drive sustainability through our own operations, as well as those of our suppliers, and we have set ambitious targets to minimize our impacts on climate, waste and water. We have already made significant progress. While Novartis Group sales have increased in the past 10 years, our consumption of energy and water, as well as our greenhouse gas emissions, have declined.
Community Engagement
We are guided by a purpose of reimagining medicine and, now more than ever, are focused on returning more to society than we take. Actively supporting the local communities where we live and work is a key component of this commitment.
Our largest global volunteer activity takes the form of our Community Partnership Day. This initiative is replicated by Novartis Group company sites around the world every year. Each year our employees engage in Community Partnership Day and various fundraising events throughout the year focusing on raising awareness of medical conditions and giving back to the community.
The Novartis global Malaria Initiative is one of the industry's largest access-to-medicines programs, providing 500 million treatments without profit to more than 60 malaria endemic countries, including Papua New Guinea and the Solomon Islands.
As part of your graduate experience, we are excited to learn about your ideas on giving back to society.