Origin Graduate Programs & Internships
Origin Energy Limited (Origin) is an Australian-owned ASX listed company which employs more than 5,000 people across Australia. Origin sells electricity, natural gas, and renewable energy solutions to residential, business and wholesale customers in Australia, as well as being a major producer of gas through our 37.5 per cent interest in Australia Pacific LNG. Origin has no active opportunities at the moment.
See who's currently hiring with our Job Search!
Search for jobs
Every year, Origin runs a Graduate program for recent university graduates. Applications for our 2022 intake are now open.
About the program 
We mentor and challenge high potential graduates to help solve the complex issues facing Australia's energy future – from day one. With on-the-job experiences, skills training and access to mentoring, these programs will help candidates develop skills, knowledge and behaviours that will provide a platform to launch their careers.
The Origin Graduate Program is a truly integrated experience, combining on-the-job learning, role rotations, professional and technical training, mentoring and development opportunities that will stretch you inside and outside of your core discipline.
Benefits
At Origin, you'll experience a learning journey like no other, working across a range of disciplines, experiences, and projects. As a permanent employee, you can enjoy a range of benefits that will enhance your life inside and outside of work. These include flexible work options, wellbeing initiatives, and financial rewards.
Rotation options
Our graduates are empowered to work across a variety of roles and disciplines across the business, including:
Geosciences
Drilling and completions
Operations engineering    
Petroleum engineering
Commercial
Digital
In addition to your rotations, you'll have access to our new and innovative approach to learning – experience maps. These showcase real, on-the-job learning experiences that also increase your breadth and depth of skills.
Keen to apply for our 2022 Graduates intake? Applications are now open at https://au.gradconnection.com/employers/origin/
Vacation program Students are usually in their penultimate year of undergraduate studies within the geoscience, engineering and other related disciplines. Students may seek opportunities to attend and participate in our Graduate Program. Throughout the Vacation Program, students are afforded the opportunity to learn and develop in various ways from professional development training through to on-the-job experiences and project work. Students will network within a large company and work on real time projects to understand exactly what it's like to work at Origin. You are also provided a mentor and buddy as a support network. Winter Program opportunities might also be available however. Check our online careers page for updates.
https://careers.originenergy.com.au/search/?createNewAlert=false&q=&locationsearch=&optionsFacetsDD_department=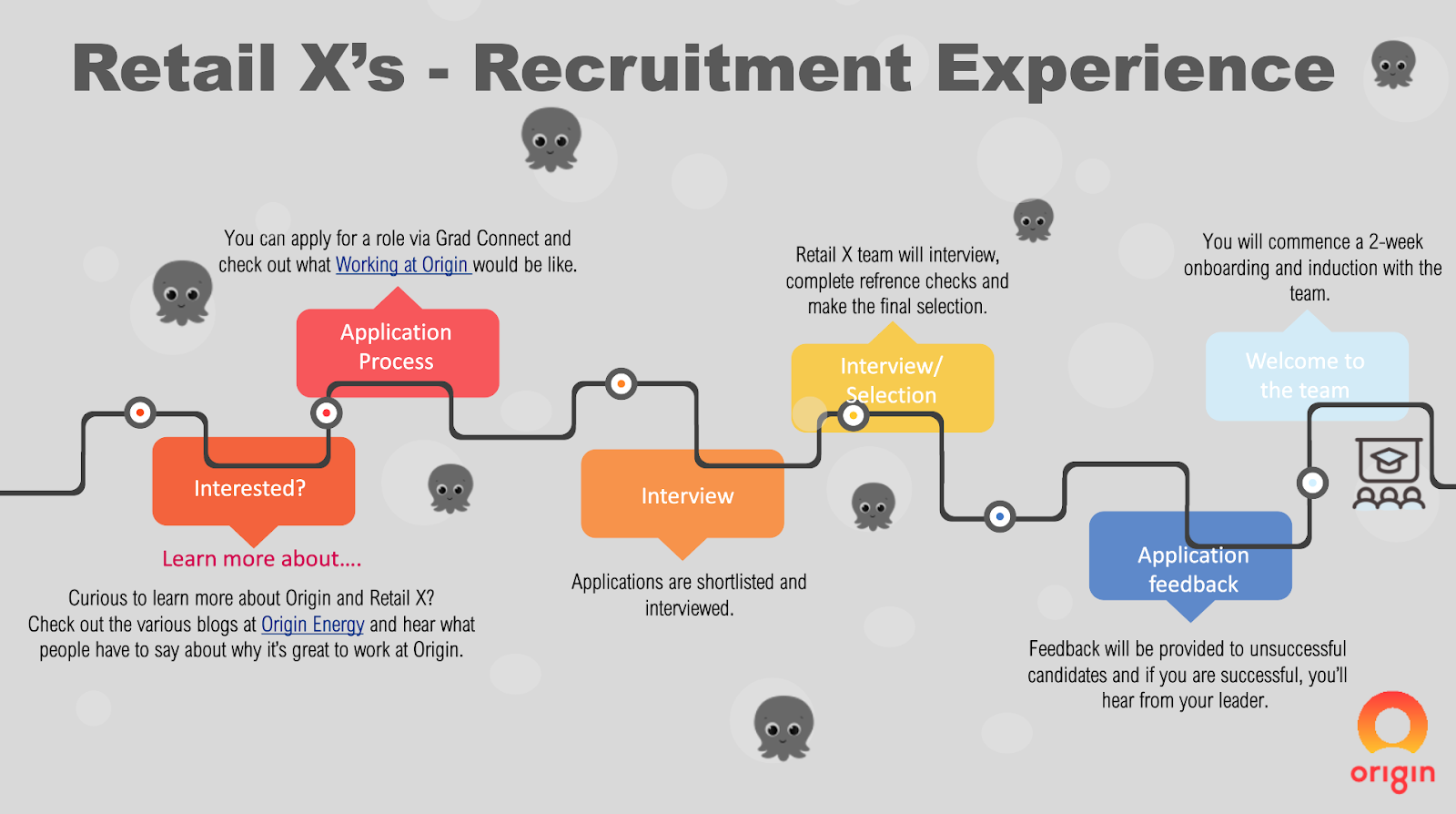 About Retail X
Retail X is the strategic partnership with Octopus Energy that we announced in May 2020 Partnership-with-Octopus. Through this partnership, we will empower our people to deliver outstanding customer service and propositions that embrace a smarter, cleaner energy future. 
We will do this by adopting the Octopus technology platform, Kraken, and by replicating their customer centric operating model which is built around creating autonomous teams, a culture of customer and employee trust, and puts the energy specialist at the centre of everything they do.
There is great alignment between the Octopus approach and our Origin values and retail strategy. The partnership will enable us to further accelerate the execution of our retail strategy. We are excited to share this unique opportunity where people can contribute to the future of the retail business. The challenge ahead of us is substantial. The opportunity, even bigger. Come be part of something truly transformational.
What you'll do...
Talk to customers over the phone or via email, engaging with industry stakeholders, and highlighting inefficiencies all form part of the day-to-day role. Working in Retail X, you'll be at the heart of everything we do - working with customers. Taking full responsibility for all issues that you come across, you'll be delivering end to end customer service. You'll be fully trained in every aspect of the customer experience and be able to help with any problem. Every day, we come across problems not seen before, and those in Retail X are tasked with bringing about awesome solutions while keeping up with rapid fire change as we grow. Expect the unexpected.
The types of people we would love to hear from are those that are...
Excited to help customers - Customers are at the centre of everything we do. Everyone across the business deals with customers. In Retail X, we're at the forefront and the main point of contact for all our customers and it will be your core responsibility to go to the ends of the earth to keep our customers impressed and excited about Origin Energy being their energy supplier.
Open minded - We're a large and continuously growing company, which means sometimes things go wrong, and we don't shy away from this. We take everything as a learning curve and expect you to as well, being proactive in spotting weak areas and suggesting solutions and improvements to the customer's experience.
Approachable - Everything we do in Retail X, and across Origin, is built around teamwork. People in our teams are always there to support and help each other and we expect everyone to be a team player.
Inclusive - We are looking to continue building our wonderful, inclusive culture full of enthusiastic and unique people from all backgrounds as we grow and continue to change the industry.
Dedicated to sustainability - As an energy supplier, those who are a part of our team are also deeply committed to helping in any way they can in making a positive impact in getting energy right for our planet.
Committed to improvement - Our Energy Specialists are the main point of contact for our customers and their input hugely shapes the customer journey. We are looking for people who will actively look for ways in which we can improve customer experience and not be afraid to speak up.
A strong work ethic - A role in Retail X is very fast paced and can be challenging at times. We're looking for people who can deal with challenging situations and who are responsible for their own future by working extremely hard to achieve their goals.
If this sounds like you, we would love to hear from you as we are currently looking for Energy Specialists to join our team. Energy Specialist Opportunities are now open at https://au.gradconnection.com/employers/origin/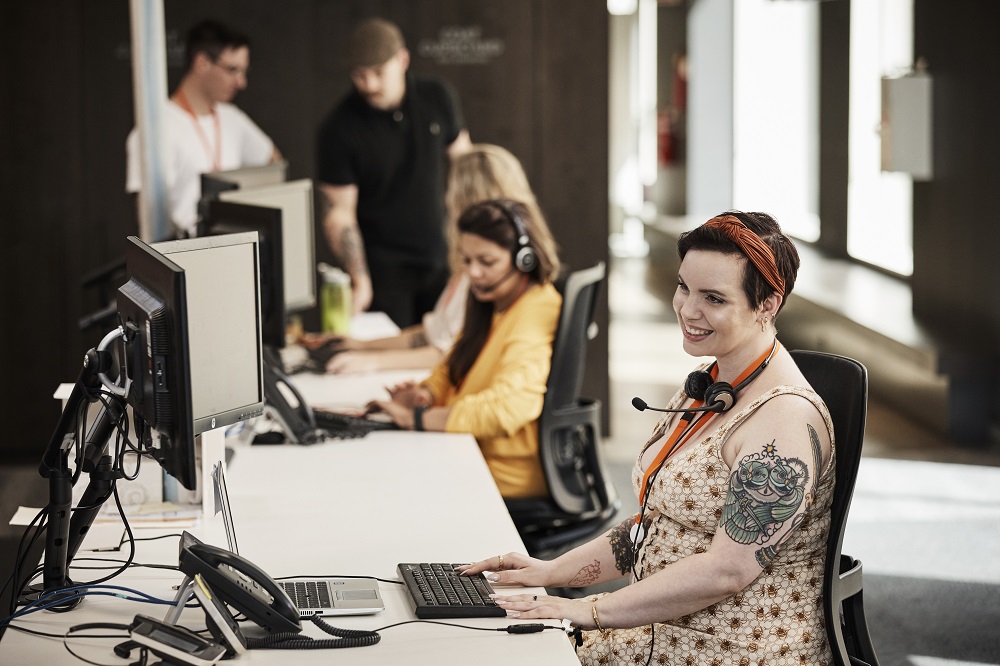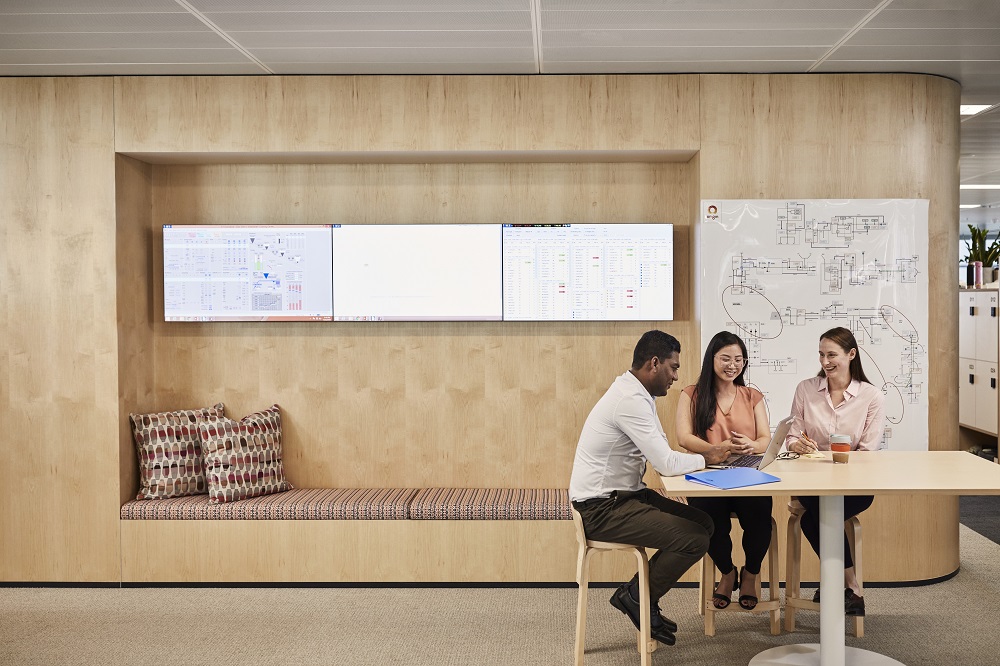 "When the opportunity for Retail X came around, I wasn't sure I would even be a suitable candidate for the role. I had only been at Origin for 4 months, started in a virtual environment and never met any of my co-workers in person or stepped in the office. I asked my team leader about it and she said go for it, as this was going to be the future of Origin and she could really see me succeeding in this role and being an influence in the business. I am so glad I took that risk. 
Retail X has been nothing short of one big adventure. Early on, Retail X was a constant state of change, with things changing almost by the hour. We would go home at 6pm and then at 8am, everything would be different. It was fun, exciting and it always kept you on your toes. Eventually we saw the need to form ourselves into working groups, offering support to the streams of the business who are developing our processes, and I found myself leading the Life Support working group!
Life support is a heavily regulated area of the industry and has led me along an incredible path. From working through our processes, to being the lead on an external audit by the Australian Energy Regulator to make sure we're doing things right. The audit has brought me exposure amongst the executive management, skills and knowledge I never thought I would have, and an entirely new appreciation of what it takes to build a process. It's been amazing!
Outside of the working groups, I am an active member in my team and in the Retail X community. I co-founded our monthly newsletter, organised charity events, and hosted virtual trivia nights during lockdown. This has all been within a year of being at Origin, and just goes to show that when you have the mindset that you can do anything, you will be able to do anything!"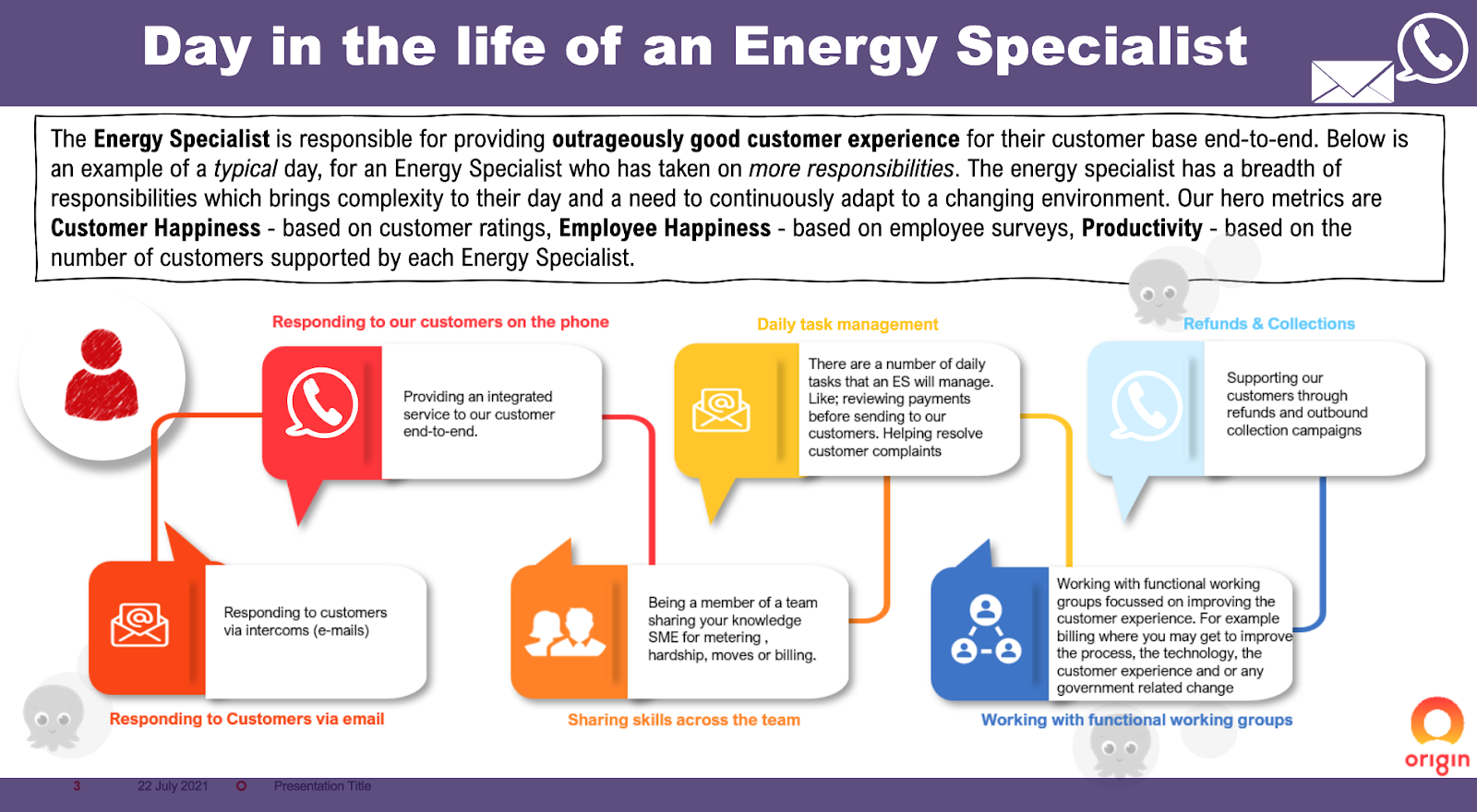 Employee benefits
We offer a range of benefits to support our teams. We'll let you know what benefits are available and best suit your situation.
Flexible work
With many varied roles across Origin, we understand not everyone can work 9 to 5. When you start with us, have a chat with your manager about what we can do to support your needs.
Career breaks of 3-12 months
Have the freedom to achieve personal goals without needing to take leave or resign.
All roles flex
Whether you work in an office, in an operational role or in a remote location, our policy challenges both employees and managers to find the flexibility in any role and we give our people the tools to support this. 
Job sharing
Two employees can work together to share one full-time position.
Part-time work
If agreed with your manager, you can work less than a standard week.
Purchase extra leave
You can purchase up to four weeks extra leave each year.
Embracing inclusion
It's about creating a place where everyone feels comfortable and safe to bring their whole selves to work, every day. We encourage diversity of thought and the expression of ideas and opinions. We also make a commitment to foster equality of opportunity as part of creating a rewarding workplace for you.
Gender affirming support
We want to ensure that Origin remains a safe workplace for diverse genders, sexes and sexualities. For those going through the process of affirming their gender, we have a range of support measures in place including 6-weeks paid leave (or 12-weeks at half pay) for those undertaking a medical affirmation.
Parental leave
We offer leading parental leave benefits plus a range of support tools for working parents. Benefits include 20-weeks paid leave for primary carers without any qualifying time period, part-time return to work options, and "pass the baton" leave options to split leave between primary and secondary caregivers. These measures also extend to surrogacy and permanent fostering.
Wellbeing
It's really important that our teams and their families are supported. 
Care and assurance plan
If you're no longer able to work due to serious illness or injury, our care and assurance plan may help keep you covered.
Employee assistance program
You and your immediate family all have access to free, professional and confidential counselling - as well as a range of other services - as part of our employee assistance program.
Eldercare
Our online Eldercare Information Kit provides a range of useful resources to help if you're caring for an older person.
Working parents program
This includes Working Parents Toolkit, Parental Leave Discussion Checklist, Care for Kids and Breastfeeding Friendly Workplace Accreditation.
Financial benefits
As well as your remuneration package, we offer financial rewards based on your role and your contribution. For being part of the Origin team, we offer our employees a great deal on electricity and natural gas.
Remuneration and incentive payments
Your package will consist of fixed remuneration, and in some cases variable remuneration where incentive payments may depend on company and individual targets being achieved.
Employee share plan
If we meet our annual company safety goals, eligible employees could receive up to $1,000 worth of fully paid ordinary shares in Origin Energy Ltd.
Salary sacrifice
You can choose to sacrifice some of your pre-tax salary towards additional personal superannuation contributions or additional Origin employee death/disablement insurance cover for yourself or your partner.
Employee referral program
You may be eligible for payment if you refer someone to Origin and that person is successful in gaining a position. We'll also match this with a donation to your chosen Origin Energy Foundation partner.
Diversity & Inclusion

Diversity at Origin
Better balance creates good energy
At Origin, diversity and inclusion are central to the way we work. We know diverse workplaces create good energy, by allowing our people to bring their whole selves to work. We also know that diversity fosters better ideas, collaboration, decision making and helps us better understand our customers. And diverse companies are more likely to outperform the competition.
We're building a workplace that supports flexible work arrangements to encourage more people to choose a career with Origin. They're just a few of the reasons we're a LinkedIn Australian Top Company and recognised as an Employer of Choice for Gender Equality from the Workplace Gender Equality Agency (WGEA).
Gender Equality

We're always looking for talented women to join our team
We're clear about what gender diversity looks like at Origin and report our performance against our annual targets in our sustainability and annual reports, as well as to agencies such as WGEA. 
First Nations

Aboriginal and Torres Strait Islander Cadetships
Inviting all Australian Aboriginal and Torres Strait Islander students in their last year of university studies to get your application in. 
Get on-the-job experience with our flexible 12-month cadetship program – at the same time you complete your course. And the best bit? You could find an ongoing role at Origin after the program. We're behind you 100% of the way, to help you learn all the skills you need in your new career.
What you need to know about your cadetship with us:
While you're studying:
We'll pay for your last year of uni fees while you do the cadetship
Access up to $1,000 to spend on resources to help you with your studies
You'll have a paid flexible 12-month role while you're studying, that is designed around you – putting your study and family commitments first
After completing your university course and cadetship you'll have:
The chance to get a role in one of our teams at Origin
An Origin mentor to help guide you in your role
A connection into our Indigenous Employee Network for support
$1,000 allowance for work related purchases
How to apply
To apply for our cadetship program, you'll need to:
Be an Australian Citizen 
Be a student studying your second last year at university
Identify as Aboriginal and Torres Strait Islander
Have a grade point average (GPA) of 4 and above
Cadetship applications closing 30 July - apply today!
https://careers.originenergy.com.au/job/Brisbane-Origin-Indigenous-Cadetship-Program-QLD-4000/747490800/
https://www.originenergy.com.au/about/community/reconciliation-action-plan.html