Origin Graduate Programs and Jobs
Origin has a rich heritage in energy exploration, production, power generation and retailing. Today, we're a leading provider of energy to homes and businesses throughout Australia, getting energy right for our customers, communities and planet.
Origin currently has 0 opportunities.
Select the following options:
Origin Energy: About Us
Origin
---
Origin Energy has a rich heritage in energy exploration, production, power generation and retailing. Today, we're a leading provider of energy to homes and businesses throughout Australia.
Our purpose is 'Getting energy right for our customers, communities and planet', ultimately defining our business strategy, our company values and our brand.
We play a key role in Australia's energy supply chain, with our offices, generation sites, exploration acreages and production facilities across Australia, Papua New Guinea and the South Pacific.
We're a proud member of the 'We Mean Business' coalition, which is dedicated to accelerating corporate action on climate change. In 2015, we became the first energy company in the world to sign up to seven commitments.
We want people to know us by the way we bring a little bit of good energy to our customer, communities, people and shareholders. It's our focus, and so are you.
What we do: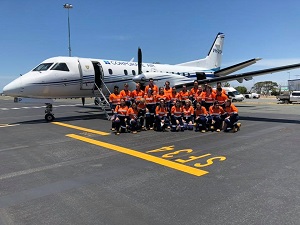 A lot of energy goes into energy! From where energy comes from to how it gets to your house - we're key players in Australia's energy supply chain.
Energy Sales- We're one of Australia's leading energy retailers, working every day to make energy more affordable, more sustainable, smarter and easier. We supply our customers with electricity, natural gas, LPG and solar.
Renewable energy- We provide a range of renewable energy options to thousands of Australians. Our growing Australian and international portfolio includes wind, solar and storage technologies.
Gas exploration and production- We explore looking for natural gas reserves to develop as a future energy source. We're a leading gas producer for Australian and international markets.
Power generation- We use a range of energy sources to make electricity, from traditional fuels like coal and natural gas, to renewables like the wind and the sun.
Our Graduate Program
Origin
---
Origin Energy's Graduate Program endeavors to mentor and challenge graduates with high potential to help solve the complex issues facing Australia's energy future. With on-the-job experiences, skills training and access to mentoring, these programs will help candidates develop skills, knowledge and behaviours that will provide a platform to launch their careers.
The Program ensures a warm welcome into the business; encouraging you to have the confidence to ask questions at every opportunity, test our way of thinking and contribute to the business' growth from day one.
Our Graduates are truly involved in an integrated experience; combining on-the-job learning, role rotations, professional and technical training, mentoring and development opportunities that will stretch you inside and outside of your core discipline.
We approach your professional progression from a holistic view. The unique development opportunities across business with Origin will ensure at the end of your three year program, you will be ready to 'hit the ground running'.
Our Graduate opportunities include: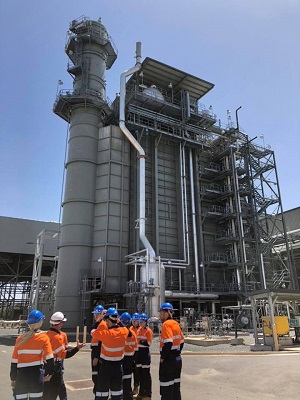 Graduate Petroleum Engineer: includes reservoir engineering (optimising production of oil and gas via proper well placement, production forecasting and development planning) and production engineering (managing the interface between the reservoir and the well, and select surface equipment that separates the produced fluids).
Graduate Drilling and Completions Engineer: manages the drilling, completion, stimulation and workover lifecycles of oil and gas wells.
Graduate Operations Engineer: supports the reliability, availability and integrity of Origin assets including wells and well facilities, gathering networks, gas processing and water treatment facilities and pipelines. An Operations Engineer will also solve problems that arise in addition to looking for opportunities to optimise and improve systems, processes and equipment while maintaining a strong focus on safety and compliance.
Graduate Telecommunications Engineer: supports the reliability, availability and integrity of Origin assets by enhancing our telecommunication systems. Graduate Geoscientist: includes elements of sedimentology, stratigraphy, structural geology, geochemistry, petrophysics and geophysics; applied to characterise all elements of a petroleum system using a variety of tools.
Digital Technology Graduate: working within a highly engaged and active group which manages rapid value delivery by harnessing new digital technology approaches for Origin.
Commercial Graduate: Manages the physical scheduling and trading of commodity portfolio, assists with developing long term contracts, analyses markets, and develops relationships to generate shareholder value.
Working at Origin will give you the opportunity to learn, develop and contribute to projects using innovative technologies and techniques. Ideas on how to do things differently are welcomed at Origin – we are always on the lookout for ways to enhance value.
During your program, you will receive hands-on experience, mentoring and a structured professional development plan. You will have access to a wide range of learning and development opportunities which include:
Welcome week, field trip and induction program
Discipline-specific rotations 
Professional development, mentoring and technical training
Opportunities to get involved in continuous improvement projects and technology trials.
Our successful graduates are motivated with strong communication and problem-solving skills. They have the ability to work with a diverse range of stakeholders across both office and site locations with a genuine passion for the energy sector. A practical attitude and results-driven approach contributes to the success of our program.
The graduates in our program will be high performing 2019 final year undergraduate or postgraduate student, or have recently graduated within the past two years. They will also have the ability to adapt to change, have a focus on continuous improvement and efficiency, effective interpersonal skills and ideally have exposure to leadership through extra-curricular activities.
Hear from our previous Graduates:
Hear from Oliver on Onsite Experience
Hear from Rashi on People & Relationships
Our Student Program
Origin
---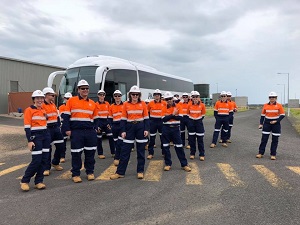 The Origin summer Student Program provides paid work experience over a 12 week period from late November until early February each year. Students work on real time projects to understand exactly what it's like to work at Origin, and can be considered for our Graduate Program.
Throughout the program students are afforded the opportunity to learn and develop through professional development training and on-the-job experiences. They are also provided a technical mentor and a buddy as a support network.
Students are usually in their penultimate year of undergraduate studies and would be pursuing degrees in one of the following disciplines:
Petroleum Engineering
Mechanical/Mechatronic Engineering
Chemical Engineering
Electrical/ Instrumentation & Controls Engineering
Civil Engineering
Environmental Science
Geoscience
IT/ Digital Technology/ Data Science/ Telecommunications
Commercial/ Finance/ Accounting/ Law
For more information please visit www.originenergy.com.au/about/careers.html
Indigenous Participation

Origin
---
We recognise Aboriginal and Torres Strait Islander peoples as the traditional custodians of country throughout Australia; and we pay our respects to elders past, present and future.
Origin's first RAP marks the commencement of a very important journey for us - one where our focus is to more thoughtfully and meaningfully work with Aboriginal and Torres Strait Islander peoples.
For some time, we've been working towards building employee cultural awareness; celebrating NAIDOC Week; scrutinising employment and procurement practises; piloting initiatives to enhance Aboriginal and Torres Strait Islander participation; and through our Foundation, create support programs that use education to help break the cycle of disadvantage and empower young Australians to reach their potential.
Our inaugural RAP now commits us to further practical actions we will take to enhance our contribution to reconciliation in Australia.
Visit our website for more Information: www.originenergy.com.au/about/community/reconciliation-action- plan.html
Joining Origin's three year graduate program will give you the opportunity to learn from respected professionals in the industry, who can offer you a different point of view.
You will be introduced to Origin employees and support them in delivering today's energy needs and also search and innovate to create tomorrow's energy solutions.
We embrace cultural and gender diversity, as having a workforce that is representative of all Australians is key to our success.
You will be given invaluable exposure to energy retailing and the renewables sector, as well as experiences beyond the day-to-day that will benefit your career and personal development in all sorts of ways.
Get started with us and apply for an exceptional and integrated experience that will set you up to hit the ground running.
We also offer a range of benefits to support our teams:
Flexible work
With many varied roles across Origin, we understand not everyone can work 9 to 5. When you start with us, have a chat with your manager about what we can do to support your needs:
All roles flex
Career breaks of 3-12 months
Job sharing and part time work
Parental leave
Purchased extra leave
Wellbeing
It's important that our teams and our families are supported:
Care and assurance plan
Working parents program 
Employee assistance program
Eldercare Financial benefits
As well as your remuneration package, we offer financial rewards based on your role and your contribution. 
Remuneration and incentive payments
Employee share plan
Employee referral program 
Salary sacrifice
https://www.originenergy.com.au/about/careers/benefits.html