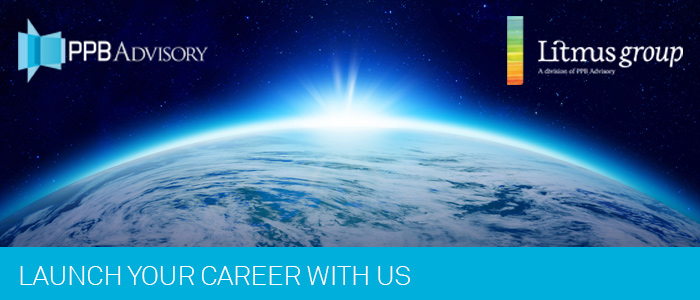 Graduate opportunities & career progression
PPB Advisory
---
Begin your professional journey in 2019 with a leading advisory firm
You're on the verge of completing a remarkable investment in your future. Such an undertaking demands a decisive first stride in your professional career.
It's time to join the team at PPB Advisory.
Become a member of our leading advisory firm and you will partner and work with Australia's leading organisations on high profile engagements. Learn from and grow under the tutelage of well-credentialed and highly respected professionals.
As a PPB Advisory graduate, your career is limitless. You will develop your commercial acumen and skills by working on engagements across corporate advisory, restructuring and turnarounds, valuations, forensic and insolvency services, and/or management consulting. Please visit our website for further information on each service line.
In joining us, you're making our firm more valuable. In return, we'll make you more valuable. We offer:
A structured development program with ongoing support, and learning and development throughout your career.
Practical and financial assistance to complete professional qualifications such as the CA, ARITA and CFA.
Partner and work closely with prominent organisations across a spectrum of industries.
Opportunities to travel whilst working on a variety of client engagements.
An open and supportive team environment; one that truly places it's people at the epicentre in everything we do.
An active collective culture which includes team sports, social functions and investment in charity fundraising.
The chance to contribute and make a real difference in local communities.
Secondment opportunities across service lines or other PPB Advisory offices across Australia and Singapore.
Our structured 12-month graduate development program provides you with the tools and support you need to progress your career, and meet your individual needs and career aspirations. The program includes structured internal training, further education, on-the-job experiences, coaching and mentoring opportunities.
"Be challenged by the unexpected." – Hamish Graham, Consultant – Restructuring
What makes a successful PPB Advisory graduate?
We require talented, motivated and results-driven individuals, who thrive to work in and contribute to a high performing, entrepreneurial environment. An approachable and engaging nature coupled with a natural ability to build rapport with both colleagues and clients through effective and honest communication. Combined with the support of the firm, you will have the tools to carve out a successful and rewarding career with us.
"I am provided with exceptional opportunities I wouldn't receive elsewhere, and encouraged to pursue my own aspirations." – Brodie Tebbutt, Consultant – Restructuring
Your career with PPB Advisory is limitless
At PPB Advisory, you're in charge of your own career.
We'll provide you with the tools and support to assist you in meeting the firm's goals as well as your own career aspirations.
A clear career path provides you with an understanding of the skills and expectations required at each level as you progress through the firm.
Graduate
As a Graduate in our business, you will work closely as part of a team to assist on a variety of engagements enabling you to learn the technical aspects of Restructuring, Advisory and Consulting whilst developing your analytical skills. You will be provided the support, guidance and training you need early on in your career.
Consultant
As you continue to build on your skills and experience, we expect you to take charge of your own development by being proactive in identifying additional learning opportunities. You will continue to gain experience across a broad scope of work across all types of engagements.
Senior Consultant
As a Senior Consultant, you will take on more responsibility as you take the next step in your career. Your technical skills will enable you to make sound commercial decisions as you build on your solid foundations.
Assistant Manager
As an Assistant Manager, you will begin to take a leading role on engagements and work closely with team leaders in the supervision and development of staff. You will be encouraged and supported to build strong relationships with clients.
Manager
Working closely with experienced senior staff, you will manage assignments and be involved in the mentoring and development of a team. Your experience will enable you to identify opportunities in the market as you continue to foster your client relationships. You will also be expected to demonstrate greater innovation and breakthrough thinking.
Senior Manager
As a Senior Manager you will be responsible for the delivery and co-ordination of engagements and have a pivotal role in major matters. You will manage and develop your team through effective delegation, feedback and support and work closely with Directors and Partners in making commercially savvy decisions. You will continue to demonstrate your potential to progress within PPB Advisory.
Director
Demonstrating a commitment to a team result, you see the bigger picture for the firm and drive towards meeting our strategic goals. You will be responsible for managing the competing challenges of the firm while delivering consistently high quality service through your staff.
Partner
As a partner of PPB Advisory, you will lead the strategic direction of the firm. You will be integral in building the PPB Advisory brand and culture and demonstrate thought leadership and the ability to mentor and lead strong teams. You will also be expected to drive business development activities and be responsible for key client relationships.