Project Everest Ventures Internships
We believe that tackling global challenges will not be achieved by doing what has always been done before.
At Project Everest Ventures we create socially beneficial and affordable products and services that are tailored to solving social issues in local communities across the developing world.
Accounting
and 66 others
Hires applicants with degrees in
Data Science and Analytics
Design and User Experience
Engineering Aerospace Aeronautical
Engineering Chemical Processing
Engineering Civil Structural
Engineering Environmental
Fast Moving Consumer Goods
Hospitality Sports and Tourism
Logistics and Supply Chain
Secure practical skills whilst tackling the UN's Sustainable Development goals with an industry partner...without even leaving your home.
Accounting
and 66 others
Hires applicants with degrees in
Data Science and Analytics
Design and User Experience
Engineering Aerospace Aeronautical
Engineering Chemical Processing
Engineering Civil Structural
Engineering Environmental
Fast Moving Consumer Goods
Hospitality Sports and Tourism
Logistics and Supply Chain
Gain real world, international work experience, empowering local developing communities and making a sustainable, positive impact in the world.
Accounting
and 66 others
Hires applicants with degrees in
Data Science and Analytics
Design and User Experience
Engineering Aerospace Aeronautical
Engineering Chemical Processing
Engineering Civil Structural
Engineering Environmental
Fast Moving Consumer Goods
Hospitality Sports and Tourism
Logistics and Supply Chain
Apply social entrepreneurship in collaboration with cutting-edge tech companies, to create positive impact in rural communities across Australia.
Past Project Everest Ventures Graduate Hiring Statistics
If you're interested in working at Project Everest Ventures, understanding when they have opened up applications for their graduate programs, graduate jobs and internships is helpful knowledge to have so you know when you might need to apply. Use the below information to see when Project Everest Ventures hires graduates, but more importantly what graduate degree's and other student attributes they target for their jobs.
---
Disciplines
Accounting (100%),

Actuary (100%),

Administration (100%),

Agriculture (100%),

Architecture (100%),
Locations
Adelaide (100%),

Darwin (100%),

Melbourne (100%),

Perth (100%),

Sydney (100%),
Work rights
Australian Bridging Visa (100%),

Australian Citizen (100%),

Australian Permanent Resident (100%),

Australian Skilled Migration Visa (485) (100%),

Australian Student Visa (100%),

Australian Working Visa (100%),

New Zealand Citizen (100%),
Who Are We?
Project Everest Ventures
---
We believe that tackling global challenges will not be achieved by doing what has always been done before.
At Project Everest Ventures, our purpose is to solve the world's social issues through the creation and implementation of sustainable solutions for communities who need it the most. Our projects are aligned to achieve the UN's Sustainable Development Goals, with the aim of enabling 1 billion people and creating a significant social impact, internationally, within Australia, and even via the internet.
We are currently operating across Malawi, India, Fiji, Timor-Leste, and within remote Australian communities. Our ventures cover a huge range of social challenges including environmental sustainability and renewables; healthcare and female sanitation; food security and agriculture; and microfinance and access to capital. Working in collaboration with our Impact Partners, our projects develop alongside some of the best start-ups and impact-driven tech in the industry. Undertaking an internship with Project Everest Ventures exposes you to the experience of building a social enterprise from a grassroots level, and a taste of consulting and international development you won't gain anywhere else.
Project Everest Ventures is a relatively young organisation, however over just 5 years we have exponentially expanded to facilitate training, impact internships, and leadership and management certifications for students and graduates across four continents and a range of disciplines. Even with this huge breadth, we highly value the passionate, talented, committed, and close-knit community we have built both in Australia and beyond.
We're big advocates for breaking the mould, putting existing skills to the test whilst learning new ones, building leaders and enabling growth, and experiencing the impact that can be achieved by a group of committed social entrepreneurs.
Our Projects
Project Everest Ventures
---
We believe in democratising development across the globe; enabling empowerment, choice and opportunity, and promoting long-term, sustainable economic change.
At Project Everest Ventures we create long-term social change using the power of social enterprise. This ensures that sustainable, scaleable, and genuine impact is being achieved for real people with real needs. Currently we're operating in a range of different communities, including those in rural Australia, to ensure ongoing value is being delivered through socially beneficial products and services. As part of a Social Impact Internship, you'll be collaborating with a team of other passionate students and grads, dedicated to the development of one of these projects that makes a genuine impact.
Solar Solutions
One of our projects is Solar Solutions, which addresses the pressing need for a sustainable, safe and cost-effective light and power source in Malawi. Approximately 90% of Malawians do not have access to a reliable source of power, which means simple tasks such as charging a mobile phone, cooking or studying after dark can be a significant challenge. By aiming to power lives through renewable technologies, the Solar Solutions project is empowering communities in Malawi to access greater control over their daily lives and futures.
Female Hygiene & Sanitation
An estimated 500 million women across the globe are unable to access adequate menstrual hygiene management facilities and materials. Our Female Hygiene and Sanitation projects operating in both Timor-Leste and Malawi recognise the importance of access to safe and affordable menstrual hygiene management, as menstruation should not be something that sets a woman or girl back from their full potential. Through menstrual products in forms of reusable cups and pads, the Female Hygiene and Sanitation projects aim to empower girls and women by allowing them to freely attend school, work and everyday life without the shame or worry related to having their period.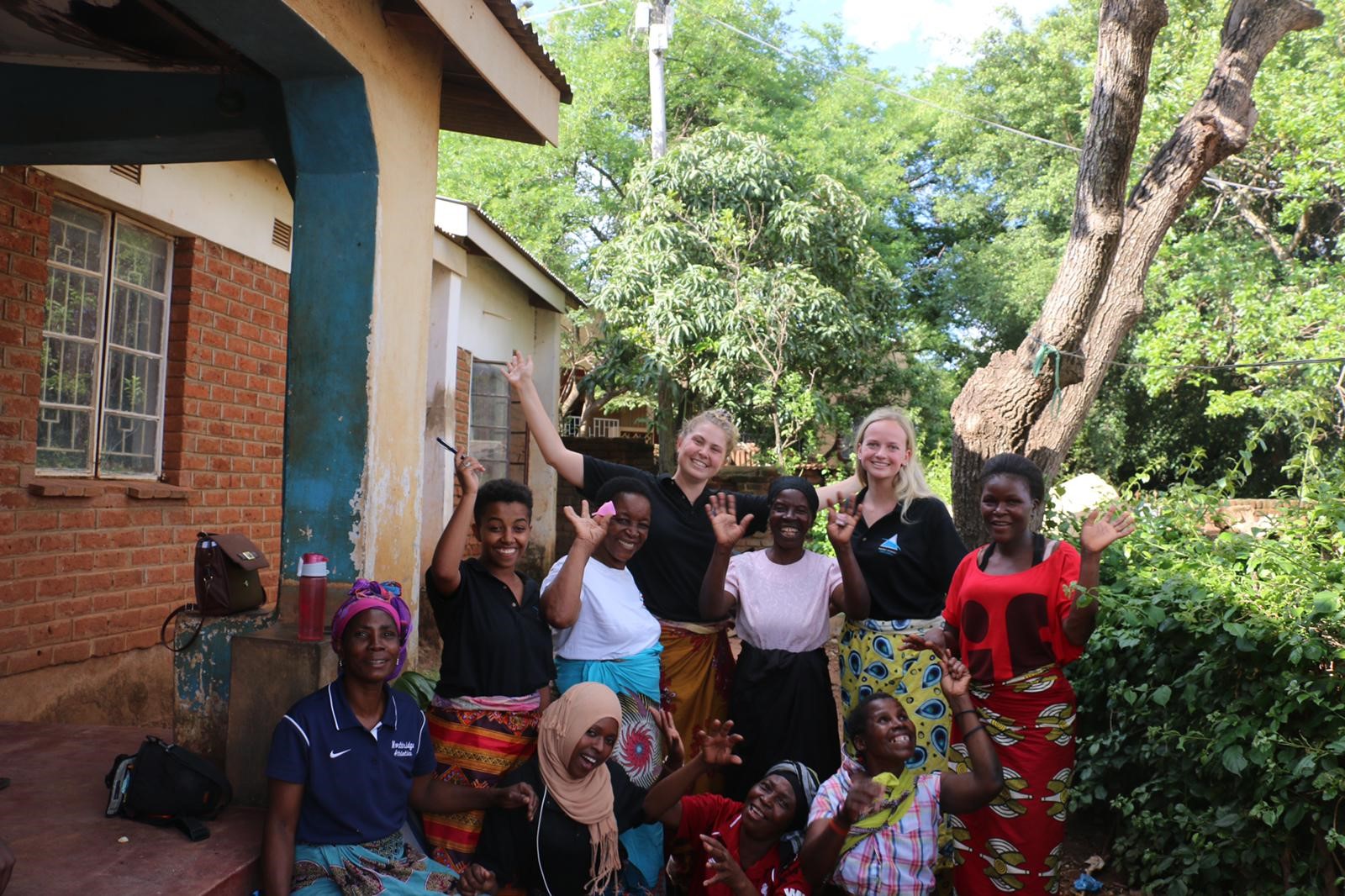 Microfinance & Social Consulting
Globally only 33% of adults are financially literate, and at Project Everest Ventures we recognise the power that enabling communities financially can have towards creating long-term sustainable development. The Micro-finance and Social Consulting projects aim to open up more opportunities for financial empowerment and economic independence to those without access to formal banking, capital and social assets. Whether it's enabling micro-loan systems in Malawi, or providing affordable finance and business advice in Fiji, the Microfinance and Social Consulting projects aim to build a system that allows communities to have access to these financial resources and create economic empowerment and growth from the bottom up.
Our Impact
Project Everest Ventures
---
At Project Everest Ventures our mission is to democratise development, putting economic power and choice into the hands of developing communities worldwide. As a result, ensuring we are creating sustainable, positive impact is a crucial focus of everything we do. As an organisation, we are a B Corporation and a certified social enterprise. Being a part of these communities and earning these certifications are pretty important to us, but actually making the change happen through our collaboration with Impact Partner organisations and the development of our own projects is where our real focus ends up.
We are partnered with global game-changers, innovative startups, and entrepreneurs with life-changing tech, who are driving positive impact in ways that are more sustainable, accessible and exponential than ever before, meaning we are creating even more impactful positive development for those who need it the most.
Day-in-the-Life of an Intern
Project Everest Ventures
---
Meet Nelson Connelly who is currently studying a Masters of Engineering (Civil with Business). Nelson completed our Global Impact Internship in Summer 2019-2020. Here's his recount of a day spent as an Impact Intern on the Energy Infrastructure project in India .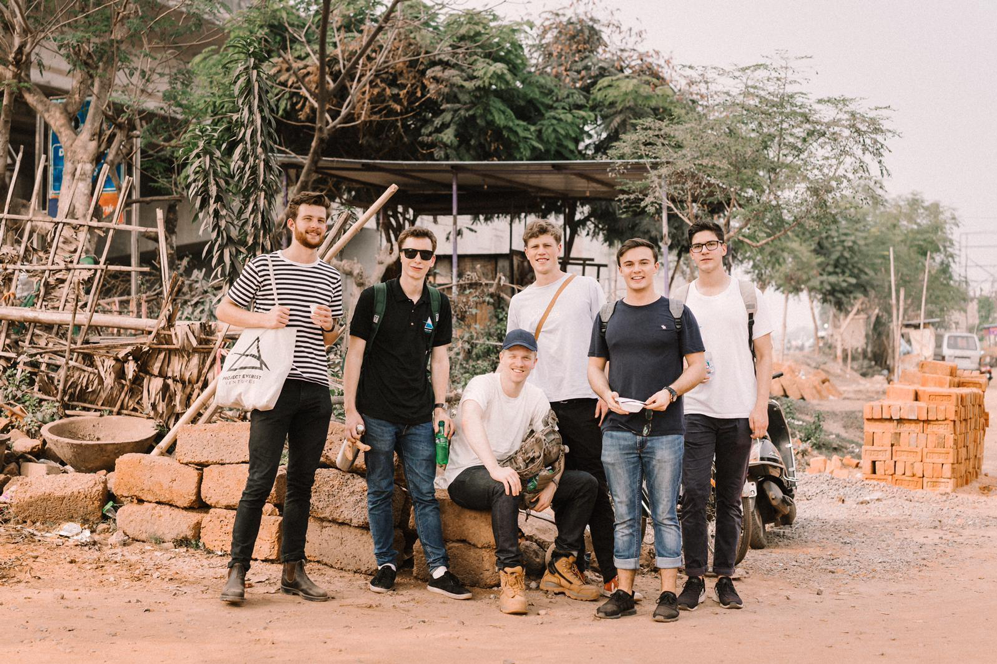 05:45 – Another day waking up in India, in a small village called Phulnakhara. The birds are chirping, the horns are honking and it's time to roll out of bed and get ready for morning exercise. I try to stay in bed but 'Stronger' by Kanye urges me out.
06:00 – l leave on a run through the village and neighbouring villages. The suns up but it's quite foggy most mornings and the smell of the canal is intense, reminding me I'm in India.
06:25 – Returning from the run I prepare to brace the cold shower that awaits me. Today is a big day. I am the Team Leader (TL) for the day and it's Thoughtful Thursday (TT) - more on this later.
06:45 – I'm also the breaky bandit, so myself and a fellow trekker and our Group Leader prep the eggs, porridge and breakfast condiments for the team.
07:20 – It's breaky time, everyone comes and goes as they get ready for the day but there's always someone to converse with.
07:40 – Breaky bandit resumes and we quickly pack everything up and prepare for the day.
08:15 – TL meeting commences with a chorus of good mornings and a positive energy in the air. We're on the roof of our three-story house that fits all 21 trekkers and leaders. The TL meeting covers our most important tasks (MITs) for the day and anything the other teams could assist us with. I'm on the Energy team; there's also fuel and agriculture but today the teams are working independently. Today's MITs are going to a new area and surveying the local community about their energy reliability; next is adding to our solutions spreadsheet and exploring some alternatives like floating solar, a hybrid solar-wind solution and a microgrid and finally beginning our handover document for the next group of trekkers. Cost competitiveness has become key now as the current energy although unreliable is heavily subsidised and cost is very important for the local community.
08:36 – Team meeting commences at 08:36 sharp, you cannot be late because for every minute you're late the team loses seven. We discuss our health data; mental and physical (out of five) and Bristol stool (a solid to liquid scale of 1 to 7 with 4 being optimal). Today I'm a solid 5,5,4 and most of the team is feeling good too. We also discuss our MITs and divide the tasks as well as who is going out surveying.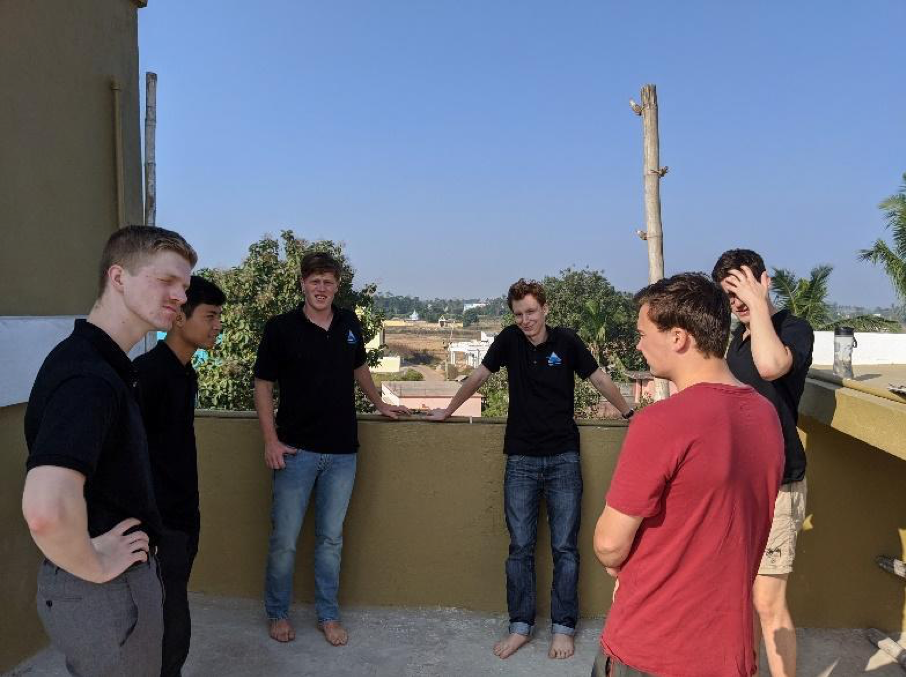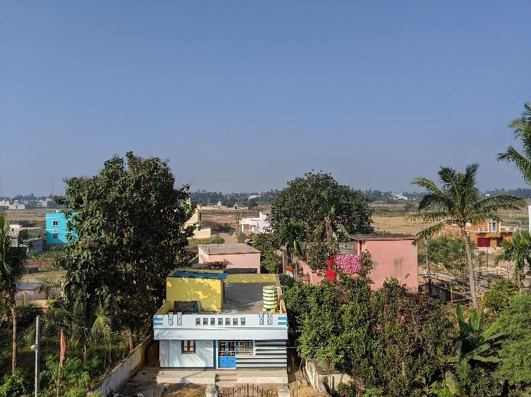 08:45 – We set up our desk for the day and crack into our work. I quickly choose a location to survey and ask Anwar (another team member) to look more into it.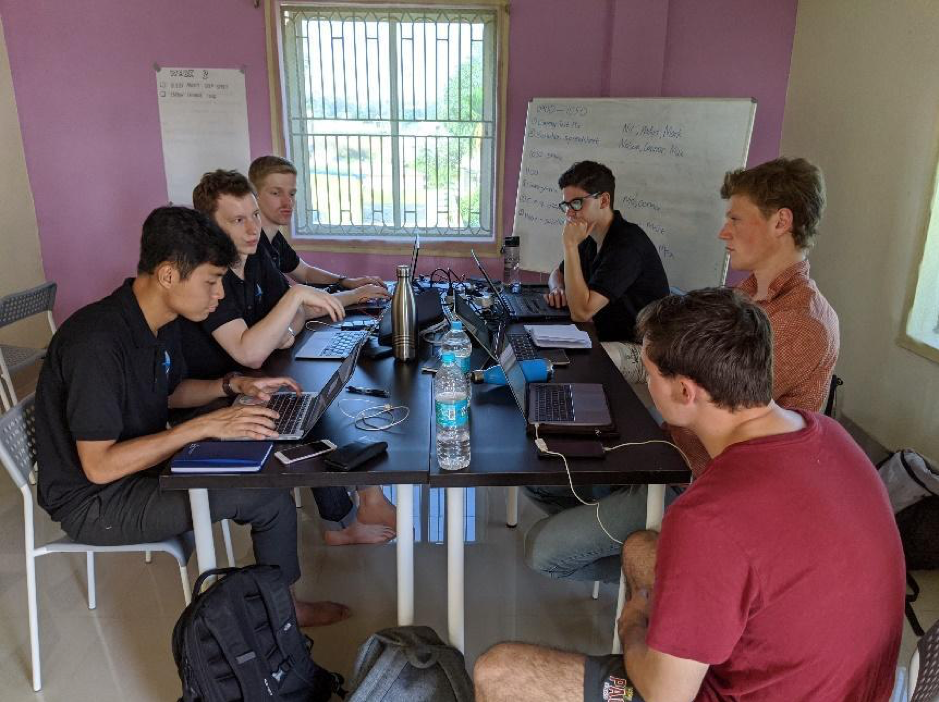 09:00 – I join in on a meeting with Fi, the Head of Commercialisation back in Australia. Myself and our usual TL Max discuss how our project is tracking.
09:15 – I quickly organise my "Thoughtful Thursday". Every Wednesday night we pull a name out of a hat and on Thursday you do nice things for them. I have Eva who does a lot of yoga (a lot of the trekkers do) so I've bought her a book called Happy Yoga with some vegan Oreos. I've also become a yoga fanatic.
09:20 – Back into work and I need to organise a back-brief to the group leader to approve the new area and a SMEAC (Situation, Mission, Execution, Administration and Logistics, and Communication Plan) for the team going out to survey and empathise. Luckily Anwar is the master of both of these reports and there's very little to do when I get back. After presenting the back brief to the group leader everything is good to go for a 1200 departure.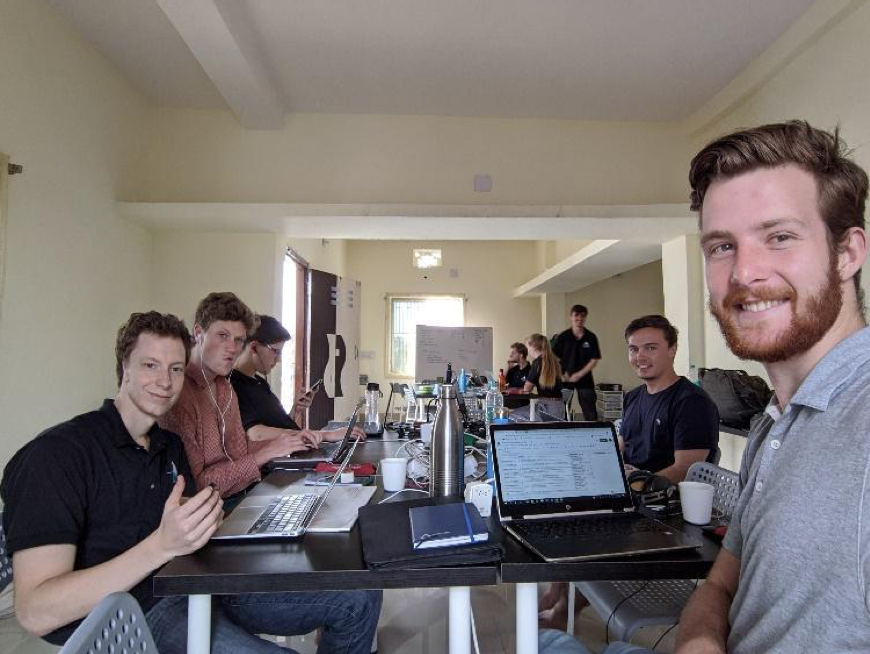 11:00 – After working on the solutions during the morning it's now time to get organised for our trip to Saleswar and cook lunch before we leave at 12:00.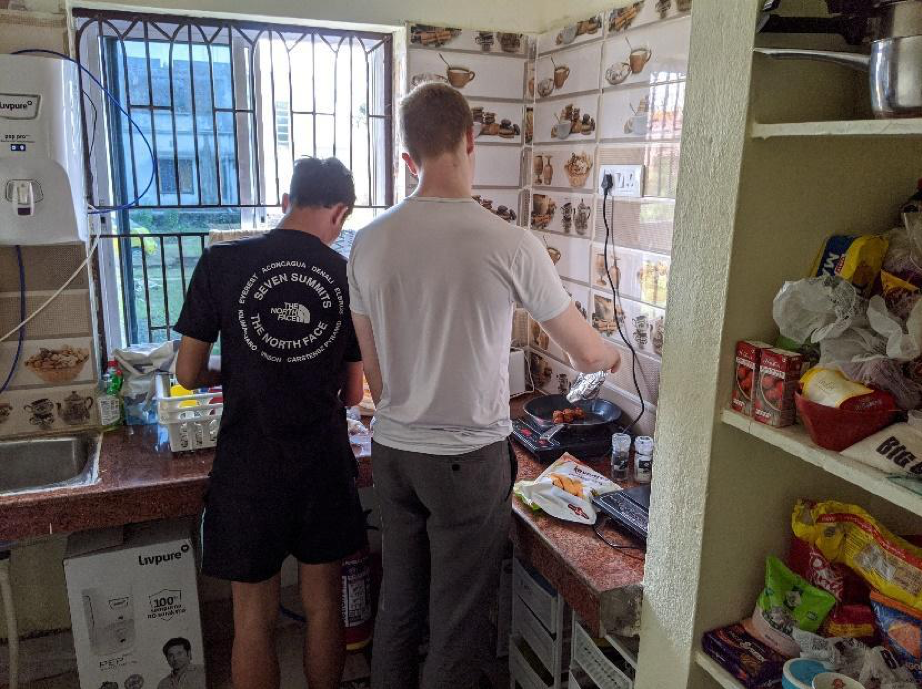 11:50 – SMEAC is presented to ensure we are all prepared, understand what are going to do, and have contingency plans for a variety of situations including media encounters, cultural sensitivity, medical emergencies and a lack of people to survey.
12:00 – We head off to Phulnakhara which is the main village surrounded by many smaller villages to meet our local translator/intern named Sonee.
12:15 – We hear from Sonee that she's running late so we have some chai and wait for her at the bus stop.
13:00 – Sonee arrives and we jump in a Tuk Tuk to Saleswar, about a 10 minute drive away.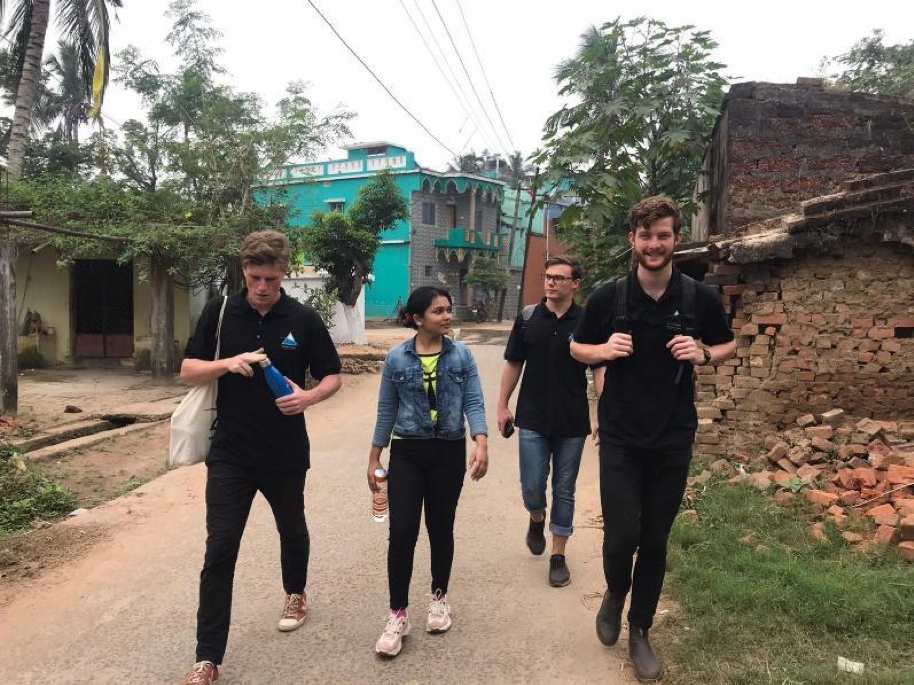 13:10 – After arriving in Saleswar we begin surveying the local area. At the moment we're doing an offer test, which involves empathising with the community, especially about issues with energy and their negative effects. Blackouts can lead to sleeping outside when it's hot, an inability for children to study and a loss of income for small businesses. We ask a series of demographic questions and collect data on energy reliability, power bills and income as well as exploring potential solutions, such as solar to gauge interest. It's important to explain we are a business as many think we're associated with the government, a charity or a simply going to give them a solution.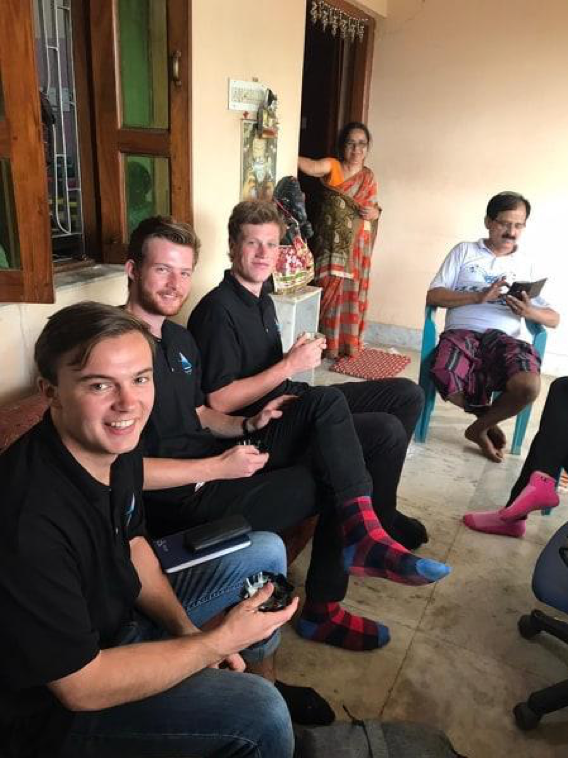 13:40 – The day is going well collecting data: we're exploring a new area and it seems that half the village is connected to one city's grid, which is reliable, and the other half is connected to the other side, which is not. We meet a very nice man named Mr. Paresh who invites us in, gives us some drinks and sweets and lets us ask lots of questions, including questions about how the government works and what he thinks the causes of unreliability are.
16:30 – We arrive home after a long day, getting back via Tuk Tuk to the house and saying goodbye to Sonee. The rest of the work day is spent inputting the data we've received and planning our MITs for the next day.
17:15 – Evening briefing. It's the end of the day and we Review and Recap (RnR) so the rest of the team knows what we got up to and what we learnt. As it's a quickly evolving project and new information can change the direction of the project, it's important to stay up to date with everyone's progress. Finally we go through our "improves" and "sustains"; basically what we as individual and as a group could improve on the next day, and what went well and we need to maintain.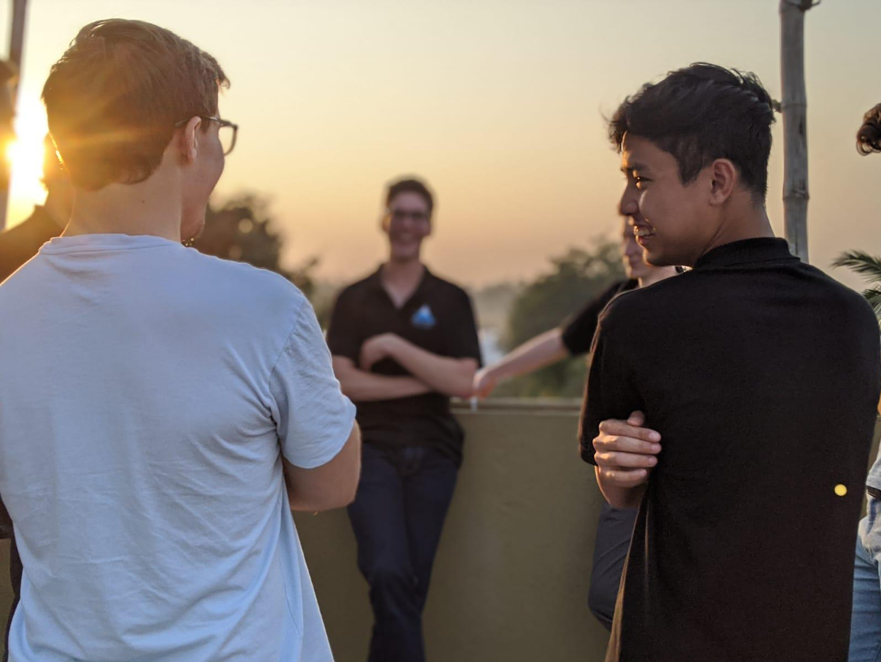 17:45 – Weekend debrief is next. Each weekend we travel and explore something new but we have to prepare an itinerary by Wednesday evening every week and our Group Leader gives us a risk debrief the following evening. 18:00 – Because I'm still TL for the day, I attend the TL meeting where we discuss what went well, what could be improved, what our MITs were and if we achieved them as well as team morale. Today went quite well and despite a mix up with the translators the morale was high. We usually lose energy in the afternoon but today everyone worked very consistently and got a lot done - so overall it was a pretty good day.
18:15 – The work day is finally over. The evenings are usually filled with card games, reading or hanging out with the other trekkers and leaders.
19:00 – Dinner time. Tonight is chickpea curry with rice and roti; the chef is amazing and the curries are always delicious.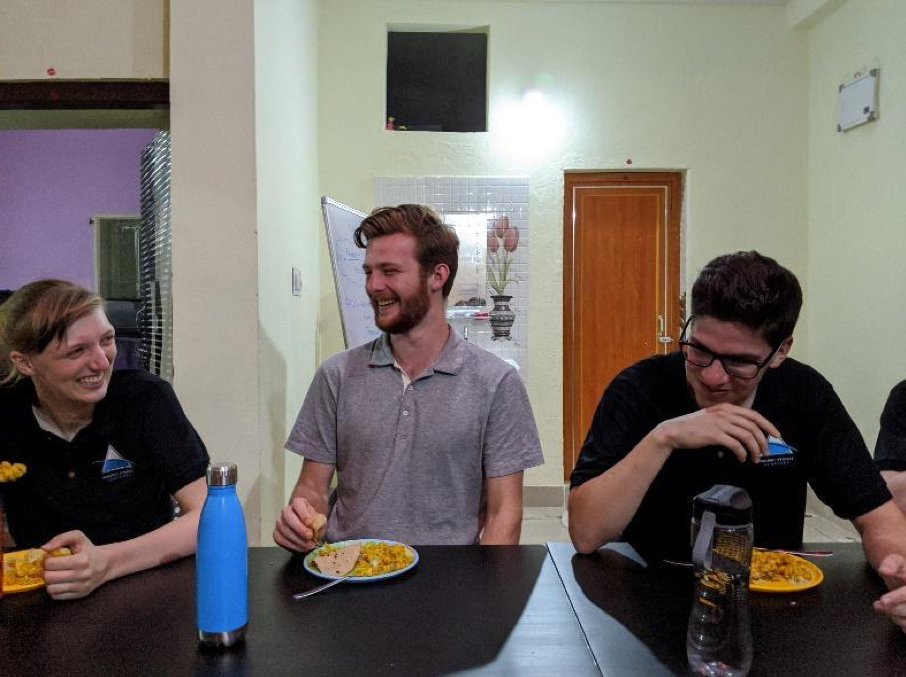 19:45 – After dinner we have daily announcements, mostly just reminders to keep the house clean or any activities that are coming up for the whole group. This is usually followed by a very confusing riddle but by now I am getting better. The rest of the evening is our own, but usually consists of more cards, reading and chatting. It's great to live in such a big house because there's always someone to hang out with but you can find a quiet space if you need.
22:00 – Lights out. It's another early wake up to 'Stronger' and the days are long, so I crash.
What Our Students Say
Project Everest Ventures
---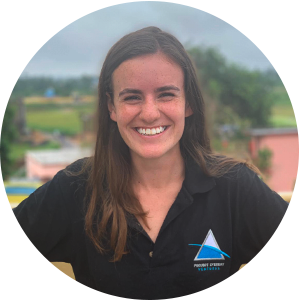 My month spent trekking in India has been fantastic for both my professional and personal growth. PEV's business model of solving world issues through social enterprise is an incredible approach, and I am grateful to have been a part of it.
Jess Cooper | B Arts, B Advanced Studies (Politics and International Relations)


---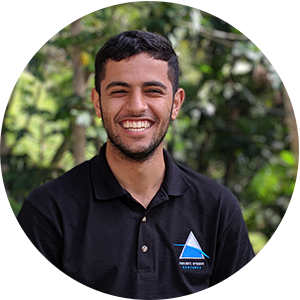 PEV in simple terms, had enable me and everyone else to work on soft skills that can not be taught by sitting in workshops.
Bahaa Fayoumi | B Engineering (Honours), B Aviation


---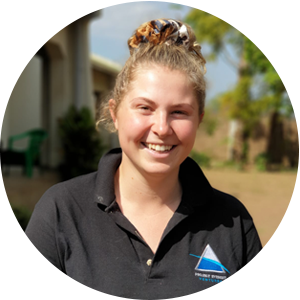 Project Everest believes and invests in the teams that runs the organisation. They facilitate this by providing specialised training to encourage growth and provide feedback. By building leaders, I believe that PEV will make a huge impact within the world and I feel very fortunate to have worked with them.
Olivia Dressler-Smith | B Commerce


---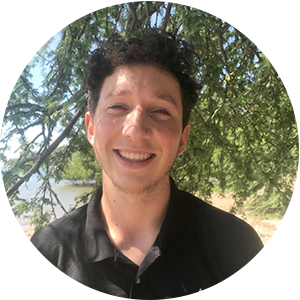 I had been looking for practical experience in the field of International Development and my month in Timor-Leste with Project Everest has provided me with exactly that. Not only has it counted toward one of my uni subjects but I've come away from the experience with a whole new tool kit of skills I can use to my advantage in future professional endeavours.
Gabriello White | B Law, B Development


---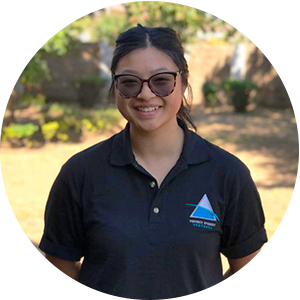 The people that you trek with are the most extraordinary group of individuals that you will ever be surrounded by, the experiences that you make with these people during project days as well as non-project days are memories that you can't help but smile when you think of them, and the impact of the work you do while in-country is the most rewarding work that some people will ever do in their lifetime.
Karli Chan | B Accounting


---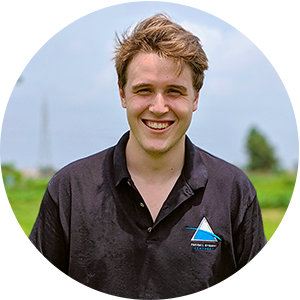 World class professional experience and training in a unique environment. If you take part in their internships you will improve your skills dramatically and make life long friends with like minded people all over Australia.
Lochlan Gilling | B Electrical Engineering, B Commerce


---
This trip has opened up a whole new gateway to me in terms of the direction I want to take myself and my personal and professional development. Being involved with Project Everest gave me an eye-opening glimpse into another culture and the different challenges it faces.
Shelley Robson | B Engineering (Honours)


---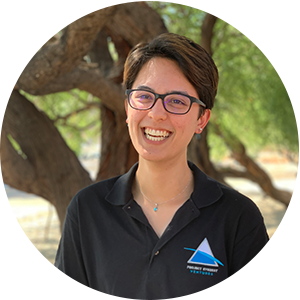 Being thrown into the deep end of running a startup was difficult but also immensely rewarding, and knowing that the business was socially beneficial kept me motivated to ensure the project succeeded.
Christopher Pianca | B Commerce


Study at University? Credit and Funding Opportunities
Project Everest Ventures
---
Please be aware that this is a fee-paying internship opportunity. This said, we are proud to be partnered with numerous tertiary institutions in Australia and Singapore in order to offer students the best possible integration of our internships with their degree. This not only allows some students to access academic credit, scholarships and grants, but enables you to see how your discipline can be
For our Virtual Impact Program, transferable credit is available through Griffith University, eligibility for this will depend on your individual course progression circumstances. All academic credit is subject to approval by each university. Please contact the relevant faculty to apply for academic credit which may be applicable across our three different Impact Programs.
To find out if you can access academic credit, scholarships or grants, please click here.
FAQs
Project Everest Ventures
---
How much does an Internship cost?
Please note that this is a fee-paying internship.
The costs per month for our Global Impact Program are as follows:
4 Weeks - AU $4,980
8 Weeks - AU $7,890
12 Weeks - AU $9,850
The cost for our Virtual Impact Program is as follows:
The cost for our Australian Impact Program is as follows:
Click here to find more about fee inclusions and exclusions.
Where do internships run?
Our projects run in Malawi, India, Fiji, Timor-Leste and within remote Australian communities with the Global and Australian Programs giving you the opportunity to intern directly in these areas. The Virtual Impact Program allows you to have a real impact within these areas while working remotely from home.
When do internships run?
We currently run our internships across January, February, June, July, November and December. *
*Dependent on availability and program type.
How do I apply?
Start by applying through the GradConnection 'Apply Now' link. This will take you to the Project Everest Ventures application webpage where you can fill in your details. Once this is submitted it will take you to a call booking page, please book in a call time that suits your schedule. This call, with one of our recruitment team members, will be to assess your suitability and for you to find out more information too.
If you're successful on this call, we will progress you through to an online group interview. If we think you are the right fit for one of our project teams (and us for you), you'll receive a placement offer within 7 days of your interview.
Will it get in the way of my degree?
Our internships run in university semester & trimester breaks. If you are currently studying in Australia, you may be eligible to access course credit and financial support when you undertake an internship with us. To find out more, click here.
Is it safe?
Yes, we pride ourselves on doing everything in our power to ensure the safety and wellbeing of all our students and leaders. Our staff and leaders are highly trained in crisis and risk management protocols, and we are partnered with International SOS who are the leaders in global medical and security support. If you have any concerns about the safety standards in each of the countries we operate, we would be happy to step you through our risk management processes.
Is Project Everest Ventures an NFP or FP?
We are a for-profit organisation and all our profits are reinvested into ensuring we can continue to implement long-term and scalable impact. Our profits go towards business operations and providing excellent service to local communities, students, and leaders, and as a certified social enterprise, it means that making a real impact is inherent in everything that we do.
I'm no longer studying, can I still undertake an internship?
Absolutely! As long as you are passionate, ready to work hard, and available during the project periods, you are eligible to apply for any of our internships. Didn't answer your question? Read our full FAQ list here.