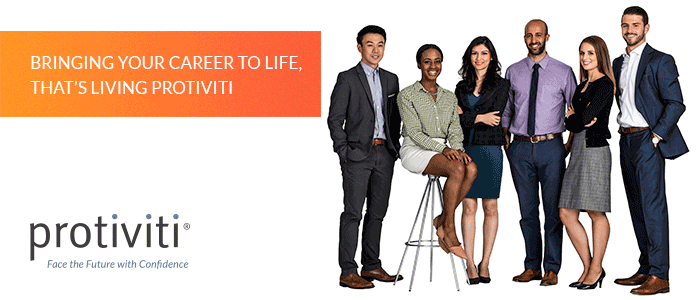 Protiviti Graduate Program
Protiviti
At Protiviti, we believe that a career is about more than just working, providing deliverables, and being compensated for your efforts. A Protiviti Career is about opportunities to lead, learn, grow, and make a difference.
We strive to recruit and hire the best talent. But it doesn't stop there. Once you join us, we build your career through exceptional work experiences, a culture focused on learning and development, and a commitment to the things that matter to you.
If you want to bring your career to life, you've come to the right place.
Job Description
We require Consultants in Brisbane, Sydney, Canberra and Melbourne to commence work in 2018. If you are successful, there is an option to join us in July 2017 for an orientation conference to meet your fellow colleagues and learn what makes Protiviti such a great place to work.
Consultants work in dynamic, team-oriented environments where they define technology system or business process issues, compile information and analyse data in order to present solutions to our clients. Consultants develop an understanding of business processes, build technical skills in general risk areas, and help our clients review, document, evaluate and test controls, remediate and develop or implement action plans to improve efficiency and effectiveness of business processes.
Protiviti's Consultants will work on a variety of projects, and solution offerings partnering with executives to ensure their organisations are successful, while providing our Consultants with a broad range of experiences. The opportunities for entry-level Consultants include :
Internal Audit
Financial Advisory
IT Consulting
Risk and Compliance
As Consultants progress in their careers, the focus shifts from gaining transferable experience to specialising in an industry or solution.
Qualifications and Experience
Degree: Candidates pursuing a bachelor's degree, MBA or master's degree in a relevant discipline (e.g., Business, Accounting, Finance, Economics, MIS or Computer Science).
Visa Status: Must be a citizen or Permanent Resident of Australia
Graduate Status: Must be in the final year of a university course
Skill Requirements
Must work well in a team-oriented environment, as well as independently
Must work creatively and analytically in a problem-solving environment
Must possess excellent leadership, communication and interpersonal skills
Must have a desire to learn and a receptiveness to feedback and mentoring
Must have an interest in finance and accounting processes as they relate to the overall business environment
Ability to Travel: The position requires travel to client sites. Out-of- town travel also may be required.