Quantium Graduate Programs & Internships
Quantium is a global leader in the application of data analytics and engineering, helping our clients solve their most important problems using data.
Power your possibilities at Quantium
Quantium is a global leader in the application of data analytics and engineering, helping our clients solve their most important problems using data. We have a track record of innovation and combining the best of human and artificial intelligence to power possibilities for individuals, organisations and society and we're proud of it!
What makes us special?
At Quantium, you'll join a diverse global and local team of experts that spans actuaries, statisticians, data scientists, product leaders, strategy consultants, software engineers, delivery managers, industry experts, designers, and futurists - all dedicated to harnessing the power of data to drive transformational outcomes.
Our Values = Quantium DNA
Our Quantium DNA is who we are and it is embedded in everything we do.
Our Culture
Ways of working
We are proud supporters of flexible working and encourage a hybrid approach, where some days you might come to the office and other days you'd be working from home. This gives the best of both worlds and helps you connect with others socially in the office, at lunch or over drinks after work.
Diversity & Inclusion
D&I at Quantium is about making sure everyone feels that sense of belonging we all strive for. We have four Communities; Women, LGBTIQ+, Culture and Wellbeing. These Communities partner with decision makers and policy writers in our business to raise awareness, bring teams together through events and ensure we're doing everything we can to support our global workforce.
Culture, Growth and Social Stuff
Work is more than just your time behind a computer. We want to make the Quantium experience exceptional, and our Sparq program is all about continually evolving our culture and fueling connection. There are lots of regular events, experiences, opportunities to collaborate, foster wellbeing and balance and build exceptional careers.
What's in store for 2022 and 2023?
Leadership and learning programs, events, knowledge shares, classes (like cooking, poker and painting!), new career development pathways, and the ability to move within Quantium to ensure you never stop growing. Plus, we have three annual events on our annual calendar we all look forward to: our 'Quantium Day' birthday which is a two-day celebration away all together; our annual Strategy Day to celebrate our achievements and set the next years; strategy, and our family friendly Christmas Party.
Power your potential
If you're anything like us , you want to work at a place which is going to challenge you, expand your thinking, expose you to new ideas and approaches, and give you opportunities to step up, grow and make an impact.
As a world leading data analytics and engineering employer, there are so many partnership opportunities coming our way all the time, and a normal year sees us signing new Joint Ventures, opening new offices around the world, and innovating new and improved ways the industries we serve can operate. Growth and change at our pace is exciting and compelling (and can be challenging too), so we look for team members who think they can learn to be comfortable with our type of workplace. If you've got the interest, we've got the knowhow to onboard and upskill you. We've won tonnes of awards for our graduate and internship programs, so we're a safe bet.
We've got work for all types of grads and interns, from joining Joint Venture in banking, retail, health and government, or telco where you'll be helping to build the foundations; to joining more established industries and teams. There is client-facing work, back-end teams who own and distribute our incoming data, and product teams who deploy it at scale. If you're interested in building a diverse technical skill set and mastering your craft in a way where you can work in any industry around the world, this place just might be for you.
Why join Quantium as a graduate?
Data is everywhere. From tracking your steps, to the ads you see online. It is used to personalise your shopping experience, to optimise your time, and to help you make better financial decisions. It's everywhere, it's all the time and it's one of the fastest growing industries in the world because its dynamic and transformational.
For the companies and individuals at the forefront of this growing data industry, we have a responsibility to apply an inclusive lens, to ensure products and projects leveraging data are ethically sound and fair. Quantium partners with clients in almost all other industries and so the people at the fore, and the work we deliver needs to be on point. It means that our industry needs you.
Working at Quantium gives you the space to learn Analytics or Engineering as a craft, instead of jumping into a specialisation before you've even set foot in your career. We have teams across the business in almost every major commercial industry, so when we bring you in to build up your skills, you're setting yourself up to be able to have a flexible career.
For our Analytics graduates, you will get to play a role in shaping the ever-changing data analytics landscape as a whole, not just an industry. For our Engineering graduates, we'll deploy you onto both front end and back end so you can get a taste of each before specialising, or you can remain qualified across the full stack.
We are a world leading data analytics and engineering company and we seek to build strong talent from grads up. We are changing the data analytics industry not just in Australia but globally.
How?
We focus on giving you exposure, experience and education to ensure your career is set up for success in your craft. We will help you to build your knowledge and skills through hands on experiences while being guided by leaders, mentors and technical communities.
Our aim is to find you and more grads like you from broad educational disciplines and backgrounds who will continue to innovate, ideate and inspire how businesses do business in our world.
Our multi-award winning Graduate Academy is how we'll get you there. It's wax-on, wax-off through to the big leagues.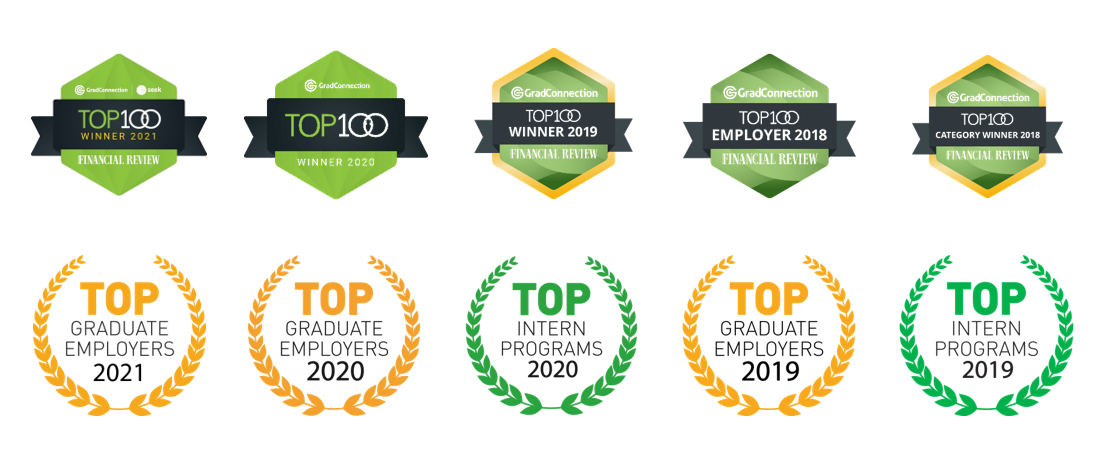 Advance @ Quantium
Quantium
---
Quantium's Advance Program is a multi-year learning and development program designed to foster performance of Grads and beyond. It means you'll join as a grad, but your growth won't stop when you get promoted at the end of the Graduate Academy. Instead, you'll move into a program with even more support and opportunity, and heaps of learning and development to ensure you keep progressing.
Alongside the Advance Program, we also have an Analytics Community and an Engineering Community to ensure your technical skills remain sharp. We have DataJam hackathons, technical leadership training and much more.
Our Analytics Community
Our Analytics Community fosters thought leadership, technical excellence and the development of individuals. This is done through building strong connections within our community of over 400 analysts globally, continual professional development and best practice processes that maintain and broaden our leading data analytics reputation. The community draw upon the analytical experience around the business to lead and deliver workstreams that deliver against our goals.
As a graduate you will have the opportunity to both participate in the benefits (e.g. technical training such as R, Dash, GIT or GBM modelling), or join hobby clubs such as modelling club etc., or volunteer to support a work-stream (e.g. writing content, running a knowledge share etc.)
Our Engineering Community
Our Engineering Community is about sharing knowledge, encouraging engagement and enabling professional growth in the craft, and influencing decisions relevant to the craft. These communities are key drivers for technical standards, L&D and shared projects across the business. Because many people are skilled in more than one discipline, many people are part of more than one community so there are lots of ways for you to get involved.
Communities are often formed around technologies, job types or roles. At Quantium we build them around the same skill areas we use to align on recruiting, performance and the graduate proficiency checklist. Specifically
this means design, front end development, back end development, and data development.
Check out our Graduate Academy.
Our Graduate Academy
Quantium
---
What is the Graduate Academy?
Quantium's Graduate Academy is a core pillar within our broader learning and development and progression framework. It's a 12-month accelerator to take you from a university graduate to a valued, high performing team member ASAP. You'll work with real clients on value-adding work right from the start. Getting you ready for promotion at the end of your Academy is a journey.. To get you there, you'll have monthly training, coaching from our technical communities, ample leadership support, events, competitions and lots of social stuff. Our goal is to promote you after 12 months.
Once you finish the Graduate Academy, the learning and growth doesn't stop. You'll move straight into our next level of Learning and Development, and after that there's another promotion!
Your learning will span technical, commercial, people, personal and leadership pillars. You will rotate through more than one industry and have the skills to navigate the direction of your own career.
What does it take to get into the Graduate Academy?
Submit your application. We know COVID has taken a toll, and in the interest of seeing how you perform on merit, we won't actually review your transcript or CV (beyond double-checking eligibility). We'll still seek a copy of both so we can perform a future study on job performance by background and uni performance but it's not part of our hiring decision.
From there, you'll be invited to complete an online quiz. If you pass, it's an interview with the Graduate Academy team. If you pass that too, it's a case study interview with a technical assessor. That's it! Pass those three stages and you'll get an offer to kick start the rest of your life.
We have only two eligibility criteria:

That you are due to complete your tertiary education (i.e. are in your final year of study) or have completed your studies in the 18 months prior to your Academy start date, and
You have work rights. We are looking for Australian and NZ citizens, Australian Permanent Residents, and eligible visa holders.
Not quite ready to graduate? No problem! Check out our Summer internship program.
Sachin Sundaravadivel Award
This award recognises individuals from the last two years of graduate cohorts, who have excelled beyond expectations, not just academically or in capability, but also in their adaptation and contribution to the 'Quantium way'. We celebrate this achievement in memory of Sachin, who joined us as a graduate in February 2015 and sadly passed away in 2019.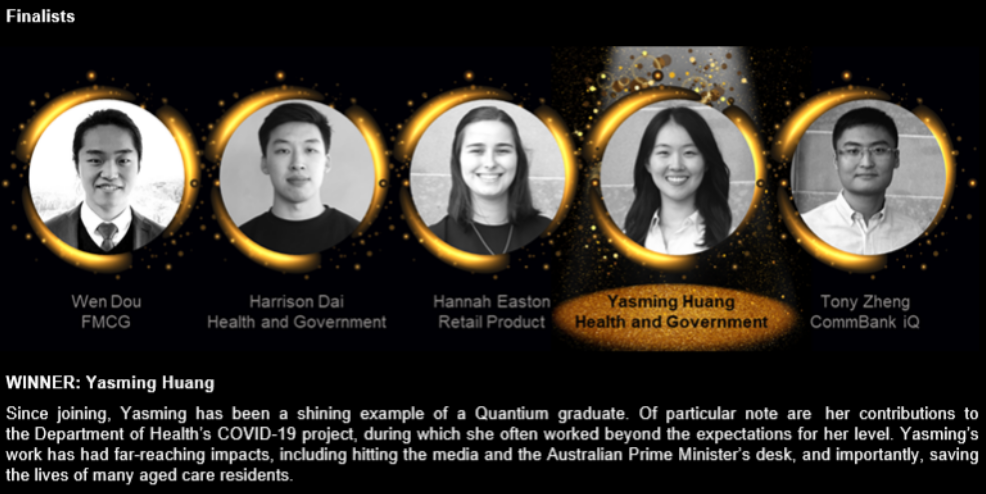 Our Internship Academy
Quantium
---
Quantium Internship Academy
Our Quantium internships are our idea of "try before you buy", where you get the opportunity to explore the new and emerging world of data science. It's a 9-week program commencing annually in December and running through to February (yes, it works for your trimesters UNSW - we got you!).
Following a multi-day induction covering more about who we are, what we do and how we do it, you'll get stuck into it, with lots of ongoing on-the-job training. You'll work alongside our technical experts on solving interesting problems. You'll get the opportunity to be immersed in Quantium culture, build your network, and experience the transformative work done for Quantium clients. Plus, if you're a superstar, we'll offer you a Graduate position after you graduate!
What's in it for you?
Work on real-life graduate-style work with client impacts.
Learn on the job from some of the industry's best and brightest.
Experience life as part of one of our various industry verticals (i.e. Health, Government, Retail, Property, FMCG, Insurance, Banking and Wealth, Consumer Services).
Regular 'Lunch n learns' with different members of our team to network and get to know the people in the business - from recent graduates to our co-founders and executive team.
Access tonnes of technical training courses.
Mini sports competitions (Ping pong, pool etc) and end of internship celebrations!
Requirements
You need to be an Australian or New Zealand citizen or an Australian permanent resident to be eligible for this program.
If you have applied for our graduate program earlier this year and were unsuccessful, then you are ineligible to apply for our Summer Internship, but you can try again next year!
Recruitment Process
Quantium
---
We like to be transparent about our process.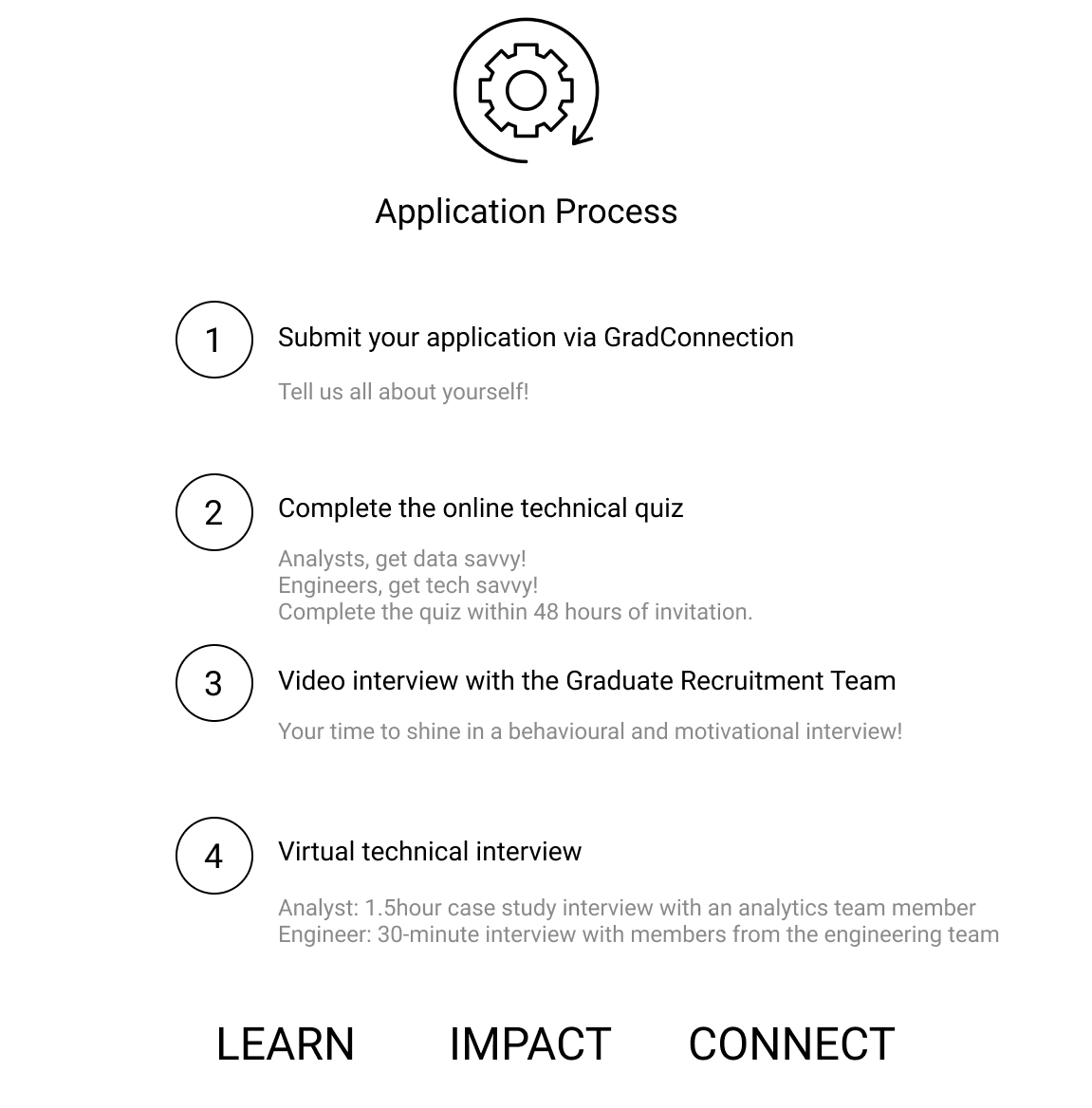 Here are Gloria's tips and tricks:
Submitting your application

Make sure to put which month and year you anticipate you'll complete your studies - this helps us identify if you're eligible for the program
Make sure to proof read your cover letter and ask someone else to read it too. We've seen many cover letters who have spelt Quantium incorrectly (or have a completely different organisation name altogether)

Online quiz

Please check your spam. We do use a third party tool to send you a link to the quiz, and sometimes it ends up in your spam.
Read the questions carefully
For analysts - use a calculator if you need
It's multiple choice

Video Interview

Do your research into Quantium, what we do and who we work with
Understand the STAR methodology and apply it to the relevant questions asked
Be yourself, be genuine

Final interview

This is a technical interview but you will not be required to code on the spot. Explain to us how you got to your solution. Tell us what you're thinking and your reasoning. We want to know how you problem solve.