QLD Government 2023 Graduate Program Talent Pool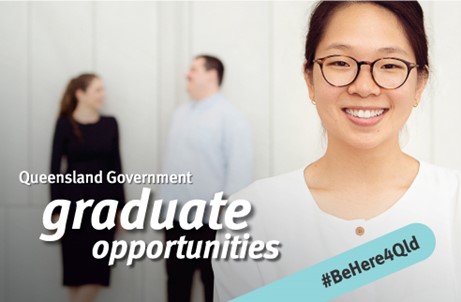 Join the largest and most diverse employee in Queensland. We have over 238,000 employees providing essential public services across 4000+ locations, from the Torres Strait to the Gold Coast and Mount Isa to Brisbane. 
We are passionate about making Queensland better through what we do and supporting our employees to create the career and life that is right for them. We work together to deliver public services, including health, education, transport, infrastructure, police and emergency services, environment and science, tourism, and community services. 
We are looking for passionate and innovative graduates with the skills to make Queensland better. Our graduate programs provide valuable learning and development opportunities to fast track your career and make a positive difference to the big issues across Queensland. Be a part of an inclusive culture that promotes the skills and insights of our people irrespective of gender, ethnicity, generation, sexual orientation or ability. Submit your interest to join a workplace where your diversity and individuality are valued.  
The Queensland Government graduate talent pool allows recent graduates to submit one application to be considered by a wide range of Queensland Government agency graduate programs. There's no need to submit a new one each time you want to apply for a program, you're already in the talent pool! Our program coordinators will contact you if your application profile matches the needs of their graduate program. 
Disciplines we accept
All of them! We encourage people of different backgrounds, experiences and abilities to apply.
Eligibility requirements
To apply for our graduate programs, you must meet the following eligibility requirements: 
hold Australian citizenship, or reside in Australia and have permission, under a Commonwealth law, to work in Australia 
have completed your university degree in 2021, be due to graduate in 2022 or due to graduate before February 2023 
have a university undergraduate or postgraduate degree in a relevant discipline. 
How to submit your interest in the talent pool
Click apply to register and begin completing your application through Smartjobs. 
Visit the QLD Government graduate portal to find out more about the stages of recruitment for our programs. 
Include any support and accessibility requirements in your application. You can contact graduate program coordinators at any point in the application process to talk about support and accessibility needs. 
Contact info
Visit the QLD Government graduate portal for more information.
01-08-2022
Job type:Graduate Jobs
Disciplines:

Accounting, Actuary, Administration, Agriculture, Architecture, Arts

...

Work rights:

Australian Student Visa, Australian Bridging

...

Locations:

Brisbane, Regional Queensland

SALARY

$66,540-$74,195

VACANCIES

100

POSITION START DATE

Feb 2023 (approx)

Program Duration

1-2 Years

Closing Date:30th Aug 2022, 12:59 pm
Search
Enter an employer or university you want to find in our search bar.