Queensland Rail Graduate Programs and Jobs
Queensland Rail recognises that its employees are its greatest assets. We are committed to ensuring our workplace is a safe, inclusive and enjoyable environment where our people work together to help achieve its strategic and operational objectives.
Queensland Rail currently has 0 opportunities.
Select the following options:
Why Queensland Rail
Queensland Rail
---
Queensland Rail's purpose is to provide a safe, reliable, on-time, value for money and customer focussed rail service that benefits the community, supports industry and is integrated with the public transport system.
Queensland Rail's network extends more than 6,600 kilometres across the state. The business operates the following three core services across multiple customer markets:
Citytrain
Travel and Tourism
Regional Network and Freight
Graduates can get MORE at Queensland Rail. There are endless career opportunities within our large and diverse organisation. We provide you with opportunities to experience various work environments so you can make informed decisions about the future of your career.
Our business centres on providing safe and reliable passenger rail services. To enable us to deliver for our customers we manage, own and maintain more than 6,500 kilometres of track and supporting infrastructure across Queensland. None of this would be possible without dedicated teams to support our operational business areas.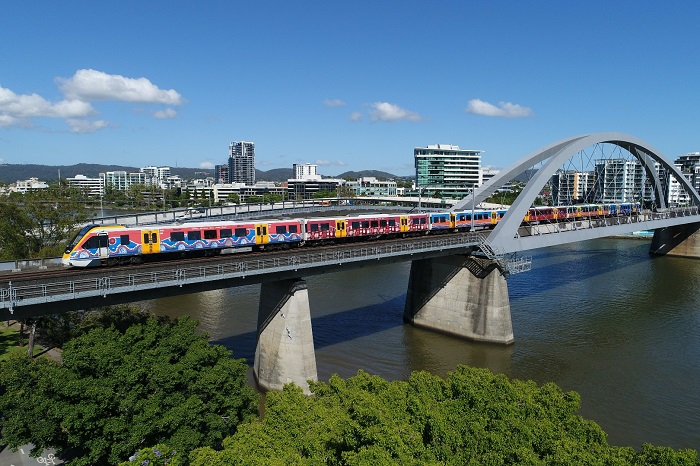 Our Graduate Program
Queensland Rail
---
Do you want to get MORE from your Graduate Program? We're looking for motivated, passionate and professional graduates to the join the Queensland Rail team.
As a member of our program you have the chance be part of an iconic Queensland organisation with a proud history of developing its people.
Queensland Rail's Graduate Program is a two-year, rotational program that will support your professional development and grow your technical and leadership skills for the future.
Our program offers graduates an exciting and challenging future in a safe, fast-paced environment where people are committed to delivering quality service and growing their careers.
Graduate Program overview
As a Queensland Rail graduate you will receive:
On the job experience working across various projects, teams and locations
Formal leadership and professional development and coaching
Mentoring with our expert leaders
Frequent networking events with other graduates
Regular reviews and performance feedback
Rotations through various teams and business areas to enhance your knowledge
Individual support from a dedicated graduate coordinator.
Watch Adrian's experience at Queensland Rail as a Graduate Civil Engineer
Watch Adrianna's experience at Queensland Rail as a Graduate Electrical Engineer
More information
Applications for the General Business graduate opportunities (Citytrain) will open later in the year. These roles will commence in February 2021.
Sign up for a job alert to be notified when the roles are advertised.
You can also contact [email protected] for more information.
Recruitment Process
Queensland Rail
---
Due to the ever-changing circumstances with Covid-19, recruitment processes are currently subject to change
The key stages and order of the selection process are outlined below. If invited, you must be able to attend each stage to be considered for the role.
Step 1: Submit your online application
Your application should consist of a current CV or resume and a cover letter explaining why you are interested in the Graduate Program and how you will contribute to our future success.
Step 2: Video interview
To help us get to know you better, short-listed candidates will receive an email invitation to record a short video answering questions that appear on the screen.
Step 3: Assessment Centre
At the Assessment Centre you will be assessed throughout an information session and group exercise on key skills and behaviours as they relate to the position and Queensland Rail.
The Assessment Centre will be held at one of our central Brisbane offices located on Edward Street, Brisbane. Following the assessment you will be advised of the outcome by email and will be provided contact details to request feedback if required.
Step 4: Panel interview
You will be invited to meet with us for a face-to-face interview.
Step 5: Reference checks
You will need to provide contact details of two professional referees. Referees must be people who you have reported directly to in a work or community situation within the past three years.
Step 6: Health Assessment and Alcohol and Other Drugs (AOD) screen
If successful in the process, you will be contacted to undertake a National Health Standards Category 3 Health Assessment.
The health assessment will be conducted at one of the various clinics throughout Brisbane and the South East Queensland area. It can take up to 10 working days for Queensland Rail to receive the results of health assessments; potentially longer if additional information is required.
This assessment also includes an alcohol and other drugs screening test.
Step 7: Offer of employment
Successful candidates will be offered a position by phone with a formal letter of offer sent out by email. You will be required to review, accept and return this offer of employment.
Frequently Asked Questions
Queensland Rail
---
What is the Queensland Rail Graduate Program?
Queensland Rail's Graduate Program is a two-year, rotational program that will support your professional development and grow your technical and leadership skills for the future.
Our program offer graduates an exciting and challenging future in a safe, fast-paced environment where people are committed to delivering quality service and growing their careers. Queensland Rail offers several different discipline-specific graduate programs to support your learning and development in your chosen field of expertise. Further information about the different program streams is available on our website.
What skills will I develop?
Our program engages our graduates in meaningful and productive work, while providing them with an opportunity to apply and test their theoretical knowledge from university. We are always seeking ideas on how to improve our processes and systems through smarter thinking and innovative design, which is what we encourage and seek from all of our graduates.
The Queensland Rail Graduate Program is underpinned by a professional skills development program. Participating in this program means that graduates will not only gain practical skills and experience, but also gain soft skills which are essential for anyone aspiring to be a capable and well-rounded professional.
When does the program commence?
Our Graduate Program will commence in February 2021.
Who is eligible to apply?
General business graduate roles are open to graduates who have obtained a Bachelor degree in any discipline within the last two to three years.
Engineering graduates will have obtained a Bachelor degree in engineering in the last two or three years.
What is the pay and superannuation?
You will receive a competitive salary circa $63,250.00 which will be reviewed annually based on performance.
QSuper is the compulsory superannuation provider for all Queensland Rail employees. Queensland Rail will make an employer contribution up to 12.75% based on a 5% employee contribution.
Or you can reduce your contribution to as low as 2% of your salary and receive the corresponding lower level of employer contributions. Other benefits include leave loading, paid parental leave, flexible working opportunities, scheduled pay increases, annual leave buy-out schemes, salary sacrificing and free rail travel when travelling to and from work on the Citytrain network.
What happens at the end of the two-year program?
The Graduate Program will give you a broad understanding of Queensland Rail's operations, and an opportunity to develop a wide personal network of professionals across the company.
The Graduate positions offered through the Engineering and Citytrain programs are permanent positions within Queensland Rail. Graduates who have completed their rotation program will receive ongoing development opportunities to further your career within Queensland Rail.
All Queensland Rail employees are also able to apply for internal vacancies which can lead to a wide variety of career pathways and opportunities to meet your career aspirations.