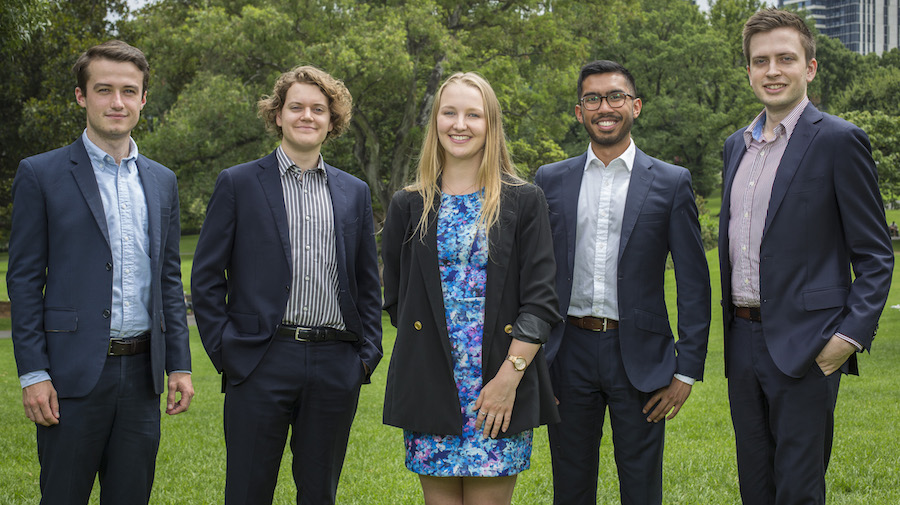 Rachel Pearce
What drove me to apply for the RACV graduate program was the program's generalist structure and the strong drive to develop graduates and enable them to succeed in their career.
I'm currently working in the People and Culture team, working on a broad range of projects and developing key skills.
The teams I've had the privilege of working with have been so welcoming and encouraging, creating a second-to-none positive environment to grow and contribute in an organization that truly believes in making a difference. The continual support from our grad coordinator, my mentor and fellow grads provides a strong support network to learn and bounce ideas off of.
I'm looking forward to exploring the opportunities and challenges offered by this organization throughout the program and my future at RACV.
---
Eleanor Yap
RACV's member centred focus and strong community presence is what drew me to apply to the RACV graduate program. The program follows a generalist stream which I have really enjoyed as it has provided countless opportunities to experience various aspects of the business and determine where I want to grow my career.
Everyone at RACV has been very supportive and friendly and it really reflects in its great work culture. The strong network of past graduates has also been a great source of help and encouragement. The company is going through an exciting time of change and it is very interesting to be a part of that.
Currently, my first rotation is in the Finance and Accounting department which is a great platform to learn about all aspects of RACV. My managers have been a great help, making me feel comfortable and able to ask any and all questions. I have felt very welcomed and while it has been a challenging role, I have been able to learn and contribute to multiple different projects.
---
Lynette Pham
When I thought about where I wanted to start my career, I knew that I wanted to work in an organisation that would not only provide me with opportunities for personal and professional development, but also provide me with strong guidance and support. Working for RACV has done exactly this.  
Currently, I'm working in the ICT department where I am constantly learning and being challenged to think outside the box. I'm contributing to some exciting pieces of work and being exposed to areas that I thought I wouldn't get the chance to experience.
What I love about working for RACV is that everyone around me is not only dedicated and hardworking, but also friendly and helpful. I'm comfortable asking for guidance where I need it and I know that I have the support from a variety of people including our rotation managers, graduate manager, and all the graduates both in my cohort and previous cohorts.  I'm excited to see where my journey at RACV will take me and I look forward to all the great experiences I will have.
---
Brooke Dunleavy
I applied to RACV because it aligned with my values. It enabled me to combine my passion for the community, making a difference and my desire for a 'career'.
The RACV Graduate Program is a generalist program, which was perfect for the Arts student in me. I had very little idea what I wanted to do with my life post uni, and the RACV program allows me to rotate through three areas and experience different parts of the business, with the aim to finally figure out where I want my career to go.
My first rotation has been in marketing and I could not have asked for a better team. They have been supportive, mentoring me through what I didn't know, while also giving me challenging and meaningful work right from my first week.
---

Samuel Harris
First Rotation – Innovation
Bachelor of Economics (Majoring in Economics and Finance)
I was drawn to the RACV graduate program due to the unique structure of the business. By being a mutual, the work we do is completely aimed at improving the lives of our members. This creates a highly positive working environment where you really feel like you are making a difference.
Additionally, this is an incredibly exciting time for RACV. The company is now sprinting towards a culture and environment of constant improvement, innovation and being the leader in the industries it operates in. 
It's fantastic to be jumping on board to be part of this transformation and I'm really looking forward to being able to experience this in as many different areas of the business as possible with the generalist program.
---

Caleb Delaney
Third Rotation – Cape Schanck Resort
Bachelor of Commerce & Law (Economics, International Trade & Economic Policy), Deakin University
What attracted me to the RACV Graduate Program was a mix of the organisation's excellent brand and reputation for taking care of their members. The program focuses on building on your knowledge and skills learnt at university while extending and challenging you to further develop both personally and professionally.
My first two rotations were across the Digital and Member Experience, and Home Products teams and gave me a great insight into the company, the member focus and the process of designing products for our members. I am now working on an exciting project at Cape Schanck Resort on the Mornington Peninsula as RACV opens a state of the art building on the existing resort which should provide more great benefits to our members. This really is an exciting time to be working at RACV as fresh thinking and ideas are encouraged from anyone in the company.
The support from past graduates is a stand out feature of the program. Everyone is really approachable and willing to pass on what they have learnt. It helps show the success of the program by seeing past graduates continuing to work for the company and becoming leaders of the future.
---

Nick Campbell
Former Graduate - Assistant Product Manager, Motoring
Bachelor of Commerce (Marketing & International Commerce), Monash University
I initially applied for the RACV Graduate Program because of the organisation's strong community values and substantial presence in the Victorian commercial environment.
During the 18 months, I had been given the opportunity to take the lead on several projects related to developing new product offerings using innovation techniques, designing strategic product reviews, evaluating major partnerships and facilitating internal workshops. It is definitely a very exciting period to be a part of the program as the rotation opportunities have become increasingly more diverse – demonstrated by my rotations in Membership as a Programs Analyst, Motoring as a Product Analyst and Golf as a Product Specialist. After the conclusion, I was fortunate enough to secure a role as the Assistant Product Manager in the Motoring Team.
I'm hugely optimistic about my future progression within the organisation, with a focus on professional development and support from senior management. This foundation that would not be possible without the RACV Graduate Program. If you are looking to be challenged in a fast-paced environment and are driven to make a meaningful contribution, I would strongly recommend you apply for this unique start.
---