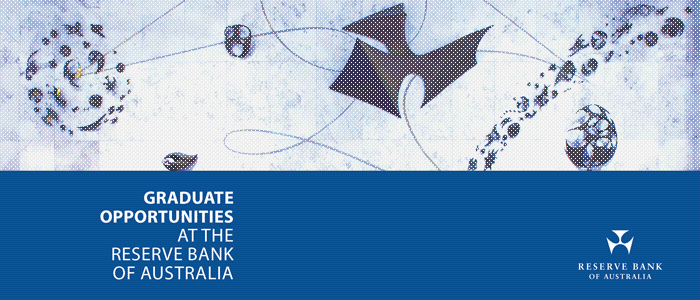 Career pathways
Reserve Bank of Australia
---
The Reserve Bank of Australia offers diverse and compelling graduate opportunities across our operations. Graduates at the RBA, no matter which position they occupy or project they are working on, require a combination of technical and analytical, leadership and influencing, and written and oral communication skills.
You will be asked to apply for one particular stream when completing an application – your selection should be based on your career interests and exposure to relevant studies in:
To better understand the RBA before completing an application, we would encourage you to review the RBA's website content including snapshots, structure, recent presentations, education, publications and media releases, which should provide deeper insights into some of the RBA's recent areas of focus.
If you remain at all unsure which stream is most appropriate for you, please contact us at [email protected] .
Economics, Finance, Mathematics, Statistics, Science, Engineering and Law
The RBA offers a wide variety of opportunities for students majoring economics, finance, mathematics, statistics, science, engineering and law (in any combination).
Graduates may be asked to analyse key Australian or overseas trends, prepare briefing notes on statistical releases, research developments in financial markets, or contribute analysis to monetary policy discussions. Others may examine banknote security and distribution, participate in the RBA's community and business liaison programs and evaluate payments systems regulation and financial system stability.
Graduates in our Economic Group contribute to analysis of domestic and overseas economic and financial market trends, as well as forecasting, modelling and research relevant to the framing of monetary policy. Graduates with strong microeconomics and legal backgrounds are sought after by the RBA's Payments Policy Department, a regulator of the stability and efficiency of the Australian payments system that reports to the RBA's Payments System Board. Payments Settlements Department also has a strong interest in students with training in economics and legal studies.
Many finance graduates are initially employed in the RBA's Financial Markets Group, which is analytically and operationally involved with essential financial markets activities. Specifically, these graduates assist in managing the implementation of the RBA's monetary policy setting tool in Market Operations, preparing briefing papers on daily domestic and international market activity, and contributing to the management of a portfolio of fixed-income securities or foreign exchange.
In line with the RBA's Financial Stability mandate, graduates with economics and finance training bring their particular skills to a multidisciplinary team involved in balance sheet analysis and risk assessment, and are focused on considering and developing policy responses to system risks. Financial Stability Department also values students with diverse backgrounds, including accounting and actuarial studies. Graduates with financial markets experience also support the work of Risk and Compliance Department, for example, by valuing the RBA's domestic and foreign asset portfolios and assessing credit quality of the RBA's dealing counterparties.
Note Issue Department produces, and issues Australia's banknotes, and offers opportunities for graduates interested in applying economics, finance, physics, chemistry, materials science, statistics, mathematics or engineering to analytical problems. Day-to-day tasks vary, and may include monitoring security developments in banknote printing and authentication technologies, developing and maintaining specifications and quality standards for production, developing ideas and production techniques for banknote security features, and analysing the effectiveness of innovative new security features.
Note Issue Department is currently focused on a number of strategic projects – visit the Banknote Microsite to learn more about some of its core functions.