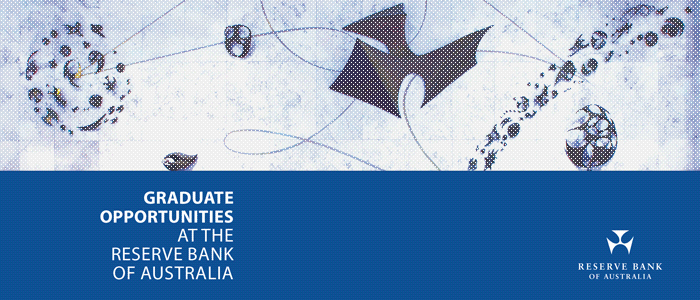 Graduate development program
Reserve Bank of Australia
---
The RBA Graduate Development Program provides you with opportunity to apply knowledge acquired at university to challenging real-world situations and acquire key transferrable skills. We welcome applications annually from graduates with degrees in business information systems, IT, economics, finance, banking, audit, accounting, mathematics, statistics, engineering and science.
While graduates with any degree type can apply, honours and higher degrees, including double degrees, masters and PhDs, are highly valued, as is a genuine interest in working for an institution that has an impact on the lives of all Australians.
The Reserve Bank of Australia's two-year Graduate Development Program offers comprehensive training and development. You will be able to apply knowledge acquired at university to challenging real-world situations and acquire key transferrable skills. Our main campaign for graduates opens in February each year but other vacancies can occur throughout the year.
The program currently includes:
Orientation week – including a corporate induction, targeted learning, group activities and events with the RBA's executives.
Business skills training – including a range of specialised training modules as well as business and communication skills to support your professional development. Training modules will target effective business and technical writing, critical thinking, communication and negotiation skills.
Technical training – specialist technical training delivered by leading professionals and experts.
Rotations – the Bank seeks to offer its graduates different career paths depending on their interests and skills. Rotations are designed to broaden your knowledge of business areas, and expand your internal and external professional networks.
Professional development opportunities – which may include exposure to special projects, conferences, research papers and presentations.
All of our graduate positions are located in our Sydney Head Office. Where candidates need to relocate, we ensure the transition is as smooth as possible by meeting the cost of:
Travel to Sydney for you and your immediate dependents including temporary accommodation on arrival.  Removal of your personal effects and household furniture.
The services of a relocation consultancy to provide assistance with settling in and getting to know Sydney, and to help you find suitable longer-term accommodation.
A one-off relocation allowance to help meet incidental expenses associated with your move.