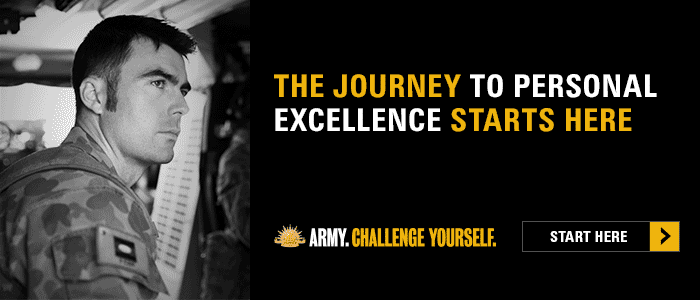 How to apply
Royal Military College, Duntroon
---
We recruit graduates from all disciplines, including:
Accounting - Actuarial Studies
Agriculture
Architecture
Arts/Humanities
Business/Commerce
Communications/Media
Creative Arts/Design/Performing
Economics
Education/Training
Engineering - All
Environmental Science
Finance
Health-related disciplines
Hospitality/Tourism
HR/OH&S
IT/ICT
Law/Paralegal
Logistics/Supply Chain/Transport
Mathematics/Statistics
Psychology
Sales/Marketing
Sciences
Social Work
Apply now
Submit your application on the Defence Jobs website or call 13 19 01 to make an enquiry.
Eligibility
For detailed information on the age, medical and education requirements please visit our website.
Position locations
Australia wide and abroad. Training takes place at the Royal Military College, Duntroon, ACT.
Further information
Visit defencejobs.gov.au/army/why-join- the-army/officer- opportunities/