SEEK Software Development Graduate Program 2021
SEEK
---
**We are seeking Expressions of Interest for our Software Development Graduate Program 2021, now!**
Innovation, creativity and passion drive us. We challenge the status quo and have the entrepreneurial spirit which helped us drive our early success. We are fearless in continuing to grow, evolve and succeed.
If there's one thing we know to be true, we'd be nothing without our people. At SEEK we've created a community of valued, talented and diverse graduates who really know their stuff and have worked hard to get to where they are today.
Don't just take our word for it, take a look at what they think about being a SEEK grad…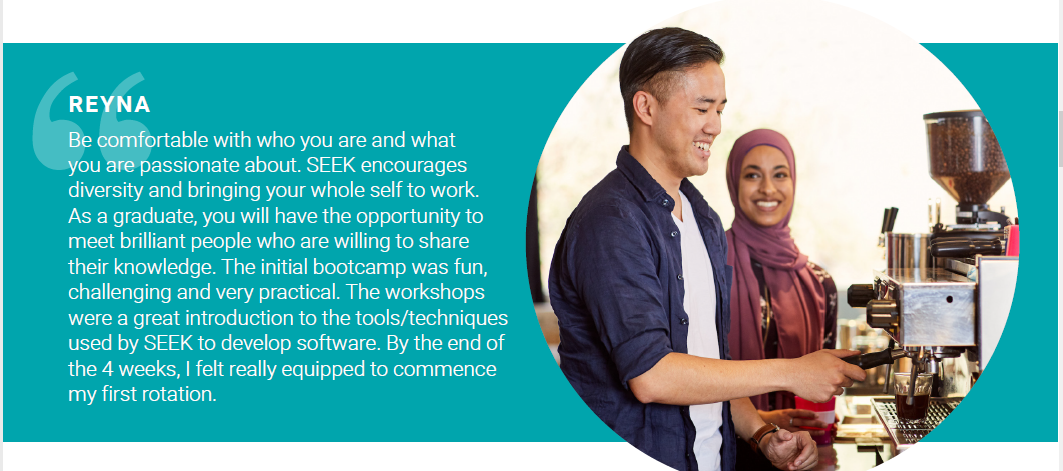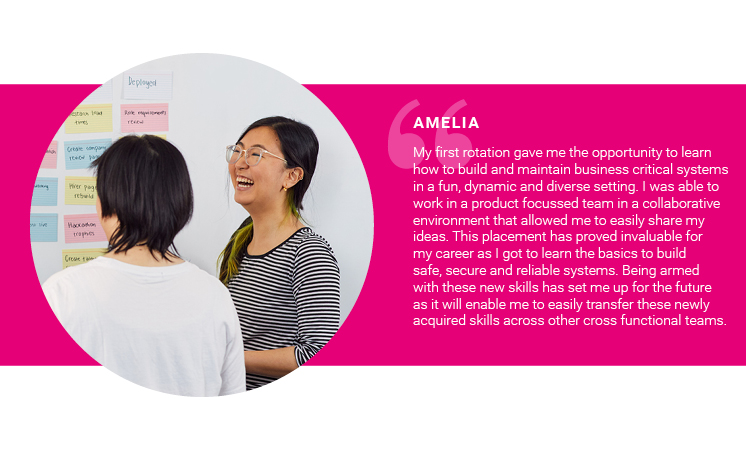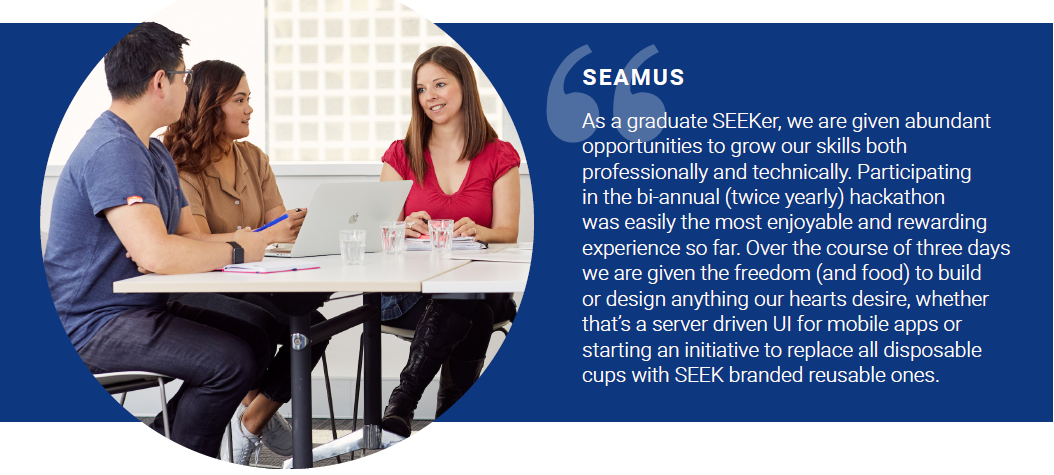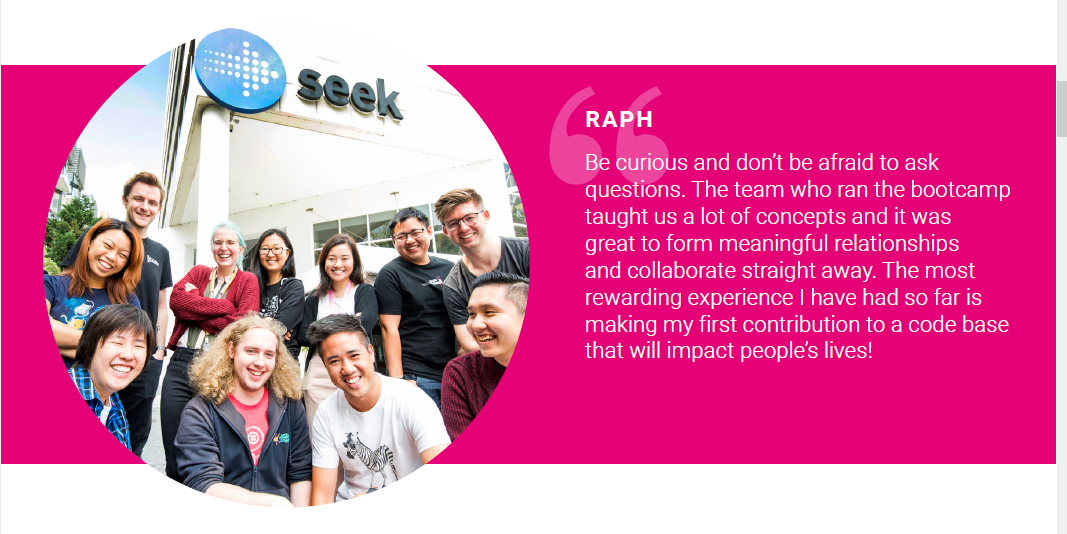 What you can expect from our 2021 Software Development Graduate Program
Orientation begins with our SEEK bootcamp with a small group of peers, refining and growing your technical skills
You will work with great people, learn from talented individuals and be mentored by a Technical Leader who cares about your career as much as you do
Your program mentors will guide and support you through your six-month rotations that expose you to different technologies and practices, including; iOS and Android Development, AWS, TypeScript, React, Serverless Architecture and Continuous Delivery
You will receive ongoing training and access to SEEK's Learning Hub as we want to give you every opportunity to develop your skills and capabilities
At SEEK our people are everything. You will work with passionate engineers who highly value your opinion and will encourage you to step outside your comfort zone.
When you join us in 2021, you will meet your buddy who will help you find your way and as a permanent employee, you will have access to SEEK's perks and benefits
What do our Developers do?
Our developers build products for our jobseekers and advertisers. You'll have the opportunity to work across SEEK product delivery teams, creating new features, refining functionality, fixing bugs and experimenting with user experiences.
As a grad, you'll get to rotate through different teams before YOU choose a career path to pursue your passion. You'll write code, but importantly learn about what each cross functional team is doing and get involved in helping shape the projects they're working on from design to deployment, learning new technology stacks and practices along the way.
Location
SEEK has offices across Australia and New Zealand and is headquartered in Melbourne.  Our graduate positions are offered in Melbourne.  
Our Application Process
Our process includes:
Stage 1 – CV Submission & Application Questions
Stage 2 – Online Coding Challenge, e-Assessment & Video Submission
Stage 3 - Assessment Day (includes technical assessment and values-based interviews)
Once you've submitted your application, we'll be attentively reviewing what you have sent us and updating you on next steps along the way.
IMPORTANT: In light of COVID-19 circumstances, we'd like to assure you that the safety and wellbeing of our SEEK employees and candidates are important to us. Effective Monday 16th March and until further notice, all external candidates will be assessed remotely or will be interviewed virtually over Zoom. We will not conduct any face-to-face interviews in any of our SEEK offices until further notice. This is to ensure we protect the health and safety of our people and our candidates. We would like to assure candidates that there is no expectation from SEEK Ltd to meet face-to-face to be eligible for our program.
Eligibility
To be considered for our program:
You are an Australian Permanent Resident, Australian Citizen or hold a Special Category Visa (if a New Zealand citizen living in Australia).
You hold a temporary work visa (e.g. Temporary Graduate, Secondary 457/TSS, Provisional Partner visa), you will need:

To hold a valid visa for 18 months for the length of the programme.
To be further considered for a company sponsored visa, a further 6-months work experience (minimum) would be required prior to application.
What Next?
So you're ready to apply but don't really know where to start? Worried you don't have an extensive amount of experience? Don't worry, SEEK has you covered.
Let us help you with your resume and explore any other career advice you might need. Please visit:
https://www.seek.com.au/career-advice/