Our Graduates
Sharp & Carter
---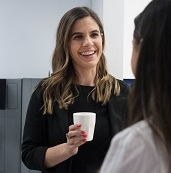 What Our Graduates Say
"I started at Sharp & Carter as a Graduate in 2015 with 3 others. We all went through the Graduate Program together, which initially involved training sessions with different consultants in the business where we learnt about recruitment. From then on, we were able to put our knowledge to practice and begin Recruitment. The people at Sharp & Carter have been very welcoming from day one, and provide continuous support when needed."
- Giuliana Bisogni
Recruitment Consultant
"My journey with Sharp & Carter began in 2015 when I commenced the Graduate Program with three other graduates at the time. Coming straight out of University I didn't know what to expect and I can safely say my time in the Graduate Program at Sharp & Carter was great. I spent 4 weeks shadowing everyone within the business in a structured program which allowed me to gain an understanding of recruitment and what was required to be a successful in this role.
Following on from that the program included 9 months of practical experience which allowed us to put our knowledge to use in a structured manner, with targets to achieve in order to be successful in a consultant role. I would highly recommend the Graduate Program at Sharp & Carter to anyone interested in the recruitment industry – the team at Sharp & Carter were great and from day one were willing to help and assist wherever they could!"
- Andrea Koletsis
Recruitment Consultant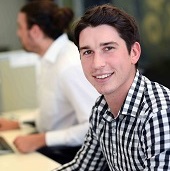 "I first started with Sharp & Carter in 2016 as a graduate straight out of university. Not knowing what to expect, I was welcomed with open arms. From day one I endured a well-developed training program that taught me the in's and out's of recruitment. As you progress through the program you become capable of becoming a qualified consultant and more importantly, you are trusted by Sharp & Carter. Not only is the training & development very thorough, but the business is awesome to work for, offering great staff incentives and reoccurring staff events."
- Niall Hoolahan
Recruitment Consultant