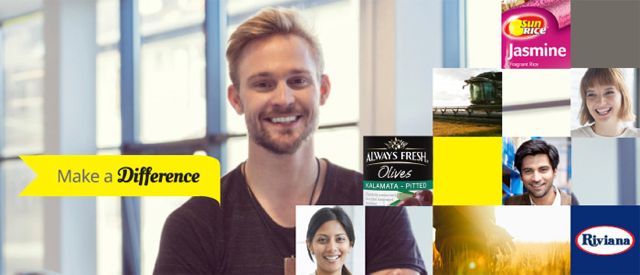 SunRice Group Graduate Programs and Jobs
SunRice Group is an internationally successful Australian business operating in the dynamic and challenging food industry.
SunRice Group currently has 0 opportunities.
Select the following options:
Your opportunity to make a difference
SunRice Group is an internationally successful Australian business operating in the dynamic and challenging food industry.
With 2,100 people across Australia, the Pacific, the US, the Middle East and Papua New Guinea, SunRice Group is one of Australia's leading branded food manufacturers and exporters.
Throughout SunRice Group, you will find people dedicated to making a difference who are at the heart of the company's greatest achievements. Through the commitment of our people to meeting challenges head on, we are extremely proud to have grown from humble beginnings as a Co-operativeinto a great Australian success story.
With an unrelenting focus on innovation and a firm commitment to developing our people and our communities while caring for the environment, SunRice Group is a great place to work for passionate people who are looking to make a difference in their job.
We are now looking for a new generation of graduates to develop into leaders who can make a difference.
Our graduate program
SunRice Group
---
As a SunRice Group graduate you will have the opportunity to work with some of Australia's leading supermarket brands and participate in a structured 24 month program exposing you to both our core business activities and unique standalone projects.
Throughout your program you will experience:
A detailed welcome and induction program, including opportunities to get to know our businesses such as our Rice Milling and the Rice Research Centre
An accelerated learning plan as part of our Leaders Making a Difference – Foundation Program
A hands-on role that allows you to apply your knowledge and to gain an understanding of business
Comprehensive technical training (Safety and Quality)
Exposure to senior leaders who have made a difference and who have a vested interest in your development and success
On the job project work, lunch and learn sessions, participation in off-site team events
Participation in graduate committees, community and volunteering initiatives
You will also be assigned a team buddy and a senior mentor to provide advice and support in addition to your manager who will be there for career advice.
Your development
Helping you to grow as a future leader with SunRice.
As a SunRice Group graduate you will be involved in meaningful work in key areas of our business from the outset. You will gain exposure to a variety of projects and have the opportunity to develop critical skills to make you a business leader with a passion for making a difference.
You will have access to a number of development opportunities as a SunRice Group graduate and we follow the 70/20/10 learning model which involves a combination of formal and informal development methods.
We expect you to:
Learn on the job (70 percent)
You will be involved in a range of projects related to your role and be given tangible objectives and goals to meet. We see you as a potential leader for the business and want you to learn how to make a difference by doing.
Learn from your connections (20 percent)
Forming strong working relationships will be key to your success. You will have the opportunity to meet with senior management and will be encouraged to ask lots of questions in order to learn from their rich experiences. The people around you will provide you with ongoing feedback and you will participate in a buddy and mentor program.
Learn through formal training (10 percent)
As a SunRice Group graduate you will participate in our Leaders Making a Difference – Foundation Program at an accelerated pace. This includes training modules covering the following areas:


High Performing Teams Attributes: Overview, part of a program developed for SunRice Group by Guttman Development Strategies, a global organisation development firm based out of New York
SunRice Performance Management System
Personal Leadership: Team Members Making a Difference including work on Communicating with Impact, High Impact Feedback and Listening, Navigating Beyond Conflict, Networking for Enhanced Collaboration, Embracing Change
Our positions
SunRice Group
---
We are seeking graduates with an outstanding academic track record, great leadership skills and who excel in all areas of life to join the SunRice Group graduate program. We want graduates who can rise to a challenge and make a difference to our organisation! We are looking for graduates who can start this year in May 2015.
SunRice Group comprises a number of businesses and brands and for 2015 we have graduate positions available for:
Operations (SunRice)
Sales and Marketing (Riviana Foods)
The University disciplines we accept for these areas are as follows:
Operations – Chemical, Mechanical, Electrical, Process or Manufacturing Engineering
Sales and Marketing – Business/Commerce with a Marketing major or Communications/PR/Marketing
It is essential to have geographic mobility as our Operations roles are located in the Riverina region of New South Wales (Leeton and Deniliquin) and our Sales and Marketing roles are located in Melbourne (Scoresby) with a rotation to Sydney after 12 months in the program. Please note, relocation packages will be available for the successful candidates.
Sales and Marketing
Riviana Foods is one of the country's leading and most successful food importers and is part of SunRice Group. Riviana's head office is in Scoresby, Victoria and it is uniquely diverse business, manufacturing, distributing and marketing a number of highly regarded brands across the retail grocery and foodservice sectors nationally.
Riviana's culture is grounded in great people and as a Sales and Marketing graduate you will have the opportunity to build your commercial acumen and explore areas including brand development (working on the rebrand of Riviana's most popular supermarket brand), consumer insights, brand management and marketing services.
After 12 months spent with Riviana you will transfer into SunRice's marketing team at the Group head office in Sydney.This will provide you with further learning about growing both a national and international brand.
Rupert Dyer, Sales and Operations Planning Manager, SunRice
"At SunRice you are empowered to make decisions and act upon them. The graduate program is invaluable as a structured entry into a business environment coupled with strong mentoring.
In my time with the company I've been lucky enough to experience an incredible variety of projects, roles, locations and cultures. I've worked in Papua New Guinea for SunRice Group subsidiary Trukai Industries Limited, I moved to the Riverina town of Leeton, and now I am based in the Sydney office of SunRice.
During my time in Leeton I was able to spend time at the heart of our business and develop strong relationships with the people in our vital regional communities. I came to understand the unique heritage of the business and found that being close to the operations hub gave me a real appreciation for how the business works and who is involved in making things happen. The added bonus was the great country lifestyle with generous hospitality, friendly people and great food, wine and weather."
Rachel Westbrook, Head of Finance, SunRice Group
"SunRice is fast-paced and dynamic with a strong culture and a great example set from the top down – I love it! Being a combination of an agribusiness and an FMCG business makes SunRice Group truly unique and adds a good level of complexity, providing plenty of opportunities for learning on the job.
The great strength of participating in a graduate program is the breadth of experience to be gained. Whether across multiple workstreams within a single function or across different functions within the business, it is an excellent grounding for understanding how the whole of the business works. This understanding is imperative for good decision making at a senior level and developing great leaders. It is also valuable for the network you can build as the more people you're exposed to the more opportunities will arise."
Matt Bailey, Manager, Australian Grain Storage (AGS)
"There are endless opportunities at SunRice Group if you are prepared to put your hand up. For a large business with multiple sites, locations and subsidiaries we are unique in the freedom we offer to people who step up and take responsibility.
As a graduate at SunRice Group you will have the opportunity to learn a lot and develop quickly. In particular, roles within the operations function at SunRice offer tremendous potential for growth. The areas of quality and safety are crucial to our business and there are always critical engineering projects going on that it's possible to get involved with.
My current role takes me to sites and locations across the Riverina rice growing regions, which means I get to see up close every day how the core of the SunRice business really works and how important our connection to our growers is."
Key Dates & Apply Now
SunRice Group
---
You can feel the buzz in the office as we launch our new Graduate Program. We are looking forward to hearing from prospective graduates who will start with us this year and enjoy being part of a well-loved brand, working with great people.
You can submit your application here: https://sunrice.gradapp.com.au/, and need to do so before the 9th of April.
To get you started with us during May this year, there are some key dates you need to know:
Applications open: 26 March
Applications close: 9 April
Online psychometric testing: 10 – 12 April
Video Screening: 13 – 15 April
Assessment Centres (Melbourne and Sydney): Week commencing 20 April
Interviews: Week commencing 27 April
Offer Process: Week commencing 4 May
We will communicate with you regularly throughout the process to let you know whether you have been successful in reaching the next stage. We hope to see you making a difference at the SunRice Group.