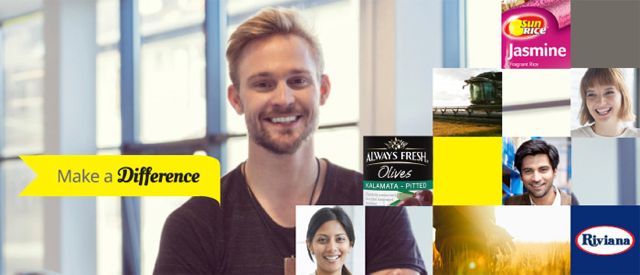 Rupert Dyer, Sales and Operations Planning Manager, SunRice
"At SunRice you are empowered to make decisions and act upon them. The graduate program is invaluable as a structured entry into a business environment coupled with strong mentoring.
In my time with the company I've been lucky enough to experience an incredible variety of projects, roles, locations and cultures. I've worked in Papua New Guinea for SunRice Group subsidiary Trukai Industries Limited, I moved to the Riverina town of Leeton, and now I am based in the Sydney office of SunRice.
During my time in Leeton I was able to spend time at the heart of our business and develop strong relationships with the people in our vital regional communities. I came to understand the unique heritage of the business and found that being close to the operations hub gave me a real appreciation for how the business works and who is involved in making things happen. The added bonus was the great country lifestyle with generous hospitality, friendly people and great food, wine and weather."
Rachel Westbrook, Head of Finance, SunRice Group
"SunRice is fast-paced and dynamic with a strong culture and a great example set from the top down – I love it! Being a combination of an agribusiness and an FMCG business makes SunRice Group truly unique and adds a good level of complexity, providing plenty of opportunities for learning on the job.
The great strength of participating in a graduate program is the breadth of experience to be gained. Whether across multiple workstreams within a single function or across different functions within the business, it is an excellent grounding for understanding how the whole of the business works. This understanding is imperative for good decision making at a senior level and developing great leaders. It is also valuable for the network you can build as the more people you're exposed to the more opportunities will arise."
Matt Bailey, Manager, Australian Grain Storage (AGS)
"There are endless opportunities at SunRice Group if you are prepared to put your hand up. For a large business with multiple sites, locations and subsidiaries we are unique in the freedom we offer to people who step up and take responsibility.
As a graduate at SunRice Group you will have the opportunity to learn a lot and develop quickly. In particular, roles within the operations function at SunRice offer tremendous potential for growth. The areas of quality and safety are crucial to our business and there are always critical engineering projects going on that it's possible to get involved with.
My current role takes me to sites and locations across the Riverina rice growing regions, which means I get to see up close every day how the core of the SunRice business really works and how important our connection to our growers is."