Veris is a market leading national surveying, digital & spatial and planning business. With over 500 staff and offices across Australia, we work with a diverse range of clients across the infrastructure, property, resources, utilities, government and defence sectors.
Adelaide
and 10 others
Available locations
Regional Western Australia
Veris is offering an exciting opportunity for Graduate Surveyors to train, under guidance from expert mentors in 18 office locations Australia wide, gaining exposure across a range of different aspects of Surveying.
Past Veris Graduate Hiring Statistics
If you're interested in working at Veris, understanding when they have opened up applications for their graduate programs, graduate jobs and internships is helpful knowledge to have so you know when you might need to apply. Use the below information to see when Veris hires graduates, but more importantly what graduate degree's and other student attributes they target for their jobs.
---
Disciplines
Data Science and Analytics (36%),

Engineering (4%),

Engineering Electrical (4%),

Engineering Mechanical (4%),

Engineering Mechatronics (4%),
Locations
Brisbane (96%),

Melbourne (96%),

Regional Queensland (96%),

Perth (64%),

Sydney (64%),
Work rights
Australian Citizen (100%),

Australian Permanent Resident (100%),

Australian Bridging Visa (36%),

Australian Skilled Migration Visa (485) (36%),

New Zealand Citizen (36%),

Australian Working Visa (4%),
Veris is Australia's largest and leading national surveying, digital & spatial and planning business. With over 500 staff and 18 offices across Australia, we work with a diverse range of clients across the infrastructure, property, resources, utilities, government and defence sectors.
Join Veris and become part of a market leading company that is shaping the spatial industry in Australia. You'll work alongside industry-recognised leaders who are experts in their respective fields, supporting clients on some of the largest infrastructure and development projects across the nation.
Our impressive client list includes some of Australia's premier property groups, blue chip mining companies, as well as a host of major engineering consultancies, construction companies and Government agencies.
At Veris, our people are first. Here, you'll work collaboratively, adopt innovative technology, and provide advice to clients that doesn't just solve problems, but takes projects to the next level. By joining Veris and working with our team you will have the opportunity to shape your career.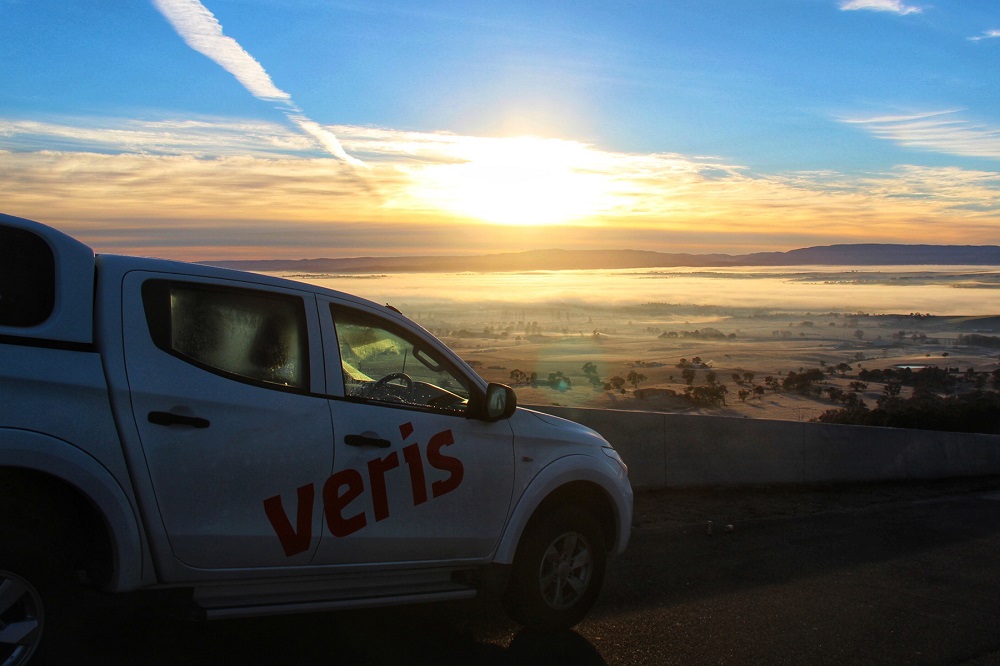 Here at Veris we are passionate about the surveying, digital & spatial and planning industry and are excited to share our knowledge and expertise with those accepted into the Veris Graduate Program.
Veris are just as passionate about supporting young Australians in getting started in their careers and have launched a brand-new graduate program. The first intake will commence in 2021 with yearly intakes thereafter.
With offices across Australia you will be part of the Veris Community of Graduates where you can share your experiences and aspirations with each other.
Veris has unrivalled coverage across Australia. With offices in every state and territory, we have both the breadth and passion to positively shape your career, our industry and the communities around us.
Program Benefits:
Join the only business in Australia to offer the full range of surveying and spatial services
One year program commencing in February each year
Get real industry experience. Work with industry leaders via our on the job training program
Join our soft skills sessions and develop your communication style and leadership ability
Be part of our graduate community across the country
Upon completion choose your next Learning and Development pathway i.e. Pathway to Registration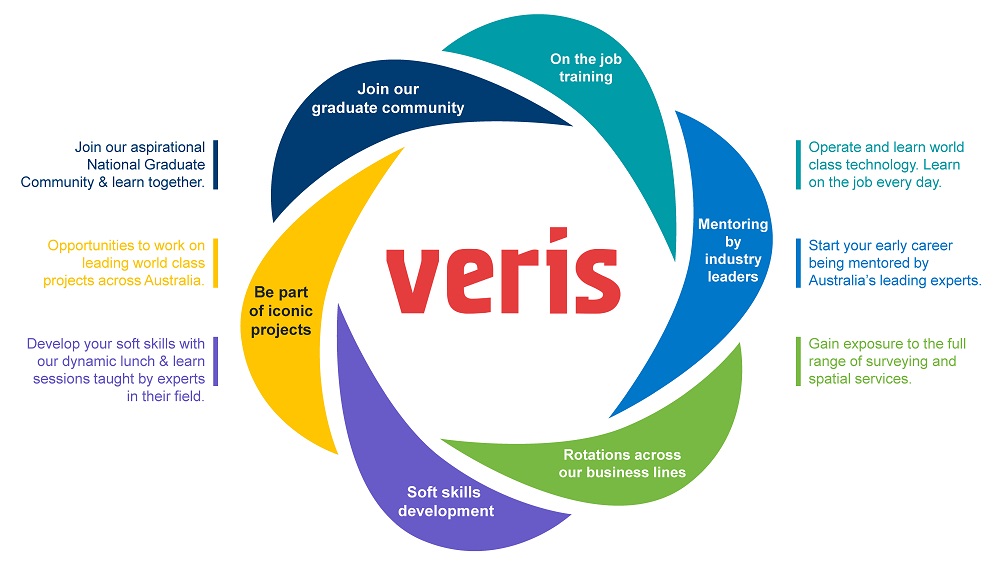 The Veris Graduate Program is spread across 12 months, beginning every February, and is designed to give you exposure to all areas of the industry so that you can decide where you feel you are best suited.
Our business structure is made up as follows:
Digital & Spatial
Engineering Survey
Property Survey
Urban Design & Town Planning.
Successful applicants admitted into the Veris Graduate Program will spend approximately four months in each of these business units through a regular rotation program.
Our specialised Urban Design & Town Planning Program participants will spend 12 months working and learning within our Urban Design & Town Planning teams.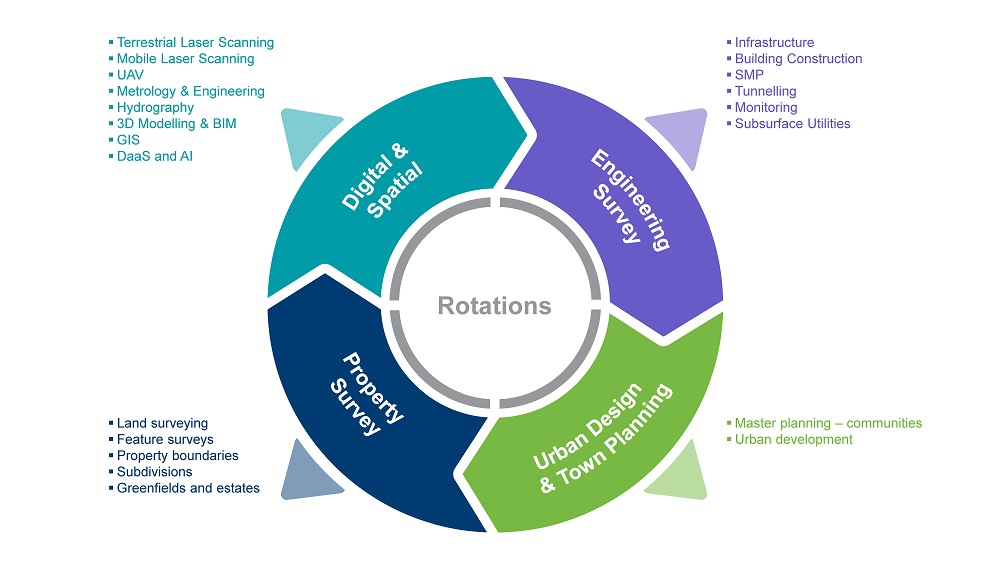 Mentoring
As a graduate, you will have the chance to work alongside industry leaders on iconic projects that help shape and connect our cities and communities. Veris will support and guide you through your learning. You will be encouraged to join networking groups set up for graduates to make connections and share knowledge.
Meet some of our inspiring Mentors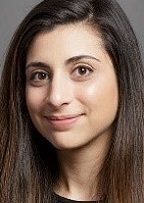 Mina Jahanshahi - National GIS Lead
Mina brings with her over a decade of experience in the GIS consulting industry, providing a strategic and technical nouse to help successfully deliver challenging and high-profile projects.
Mina is passionate about connecting with like minded professionals and champions a diverse and engaged team culture wherever she goes. Mina has had key roles in many of Victoria's major infrastructure projects and delights in being able to apply a variety of GIS solutions to the smart cities landscape
---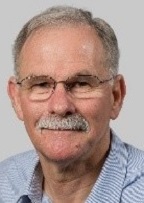 Peter Sippel - Consulting Survey Manager
Peter has over 40 years of experience in the surveying and spatial sector and is a registered cadastral surveyor in QLD. Peter was the Chair of the Board or Surveyors of Queensland and also chaired the surveying industry focus group for the Cadastre QLD Transport project.
A well distinguished professional, Peter is also a fellow of both the Surveying and Spatial Sciences institute and Urban Development Institute (QLD division)
---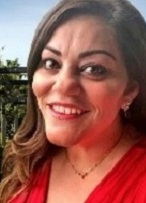 Randah Jordan – Town Planning & Urban Design Manager
Randah is a qualified Town Planner. She has a comprehensive knowledge of strategic and statutory land use planning and development processes, legislation and policy due to extensive experience in residential, commercial and industrial planning projects.
Randah has been involved in multi-unit residential developments, large scale residential subdivisions, planning scheme amendments, and preparation of both precinct structure plans and development plans
---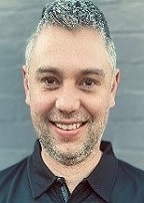 Matthew Jefferies - Survey Manager - Building and Construction
Matthew Jeffery, who has recently joined our team in Melbourne as Survey Manager – Building Construction.
Matthew is a highly skilled Engineering Surveyor with more than 15 years' experience he has a diverse range of expertise working on over 150 iconic projects around Melbourne to devise solutions that meet the needs of our clients.
Training
Training and Development channels will consist of the following:
Day to day on the job training with regular feedback
Mentoring
Formal Performance Management process
Regular lunch and learn sessions
Guest speaker presentations
The Veris Graduate Program will provide you with the relevant technical and soft skill training. For example, soft skills training will consist of;
Safety
Communication skills
Managing clients
Project management
Ethical considerations
Graduate Community
All graduates will join the Veris Graduate Community where you can share your ideas, experiences and learn from each other. You will get together regularly to attend training sessions and work together on your graduate project.
Graduate Project
At the end of the first six months the Veris Graduate Program will offer you an opportunity to work on a group project.
Groups will be made up of approximately five graduates. Each group will be given the same problem statement for which you will need to come up with one or more solutions to the problem.
Each group will be assigned a Veris Graduate Champion that will meet with you regularly to field any questions and make sure you are on track. Before you Graduate the program, you will present your solution/s to the community of Veris Graduate Champions nationally. Those ideas that best solve the problem will be implemented within Veris.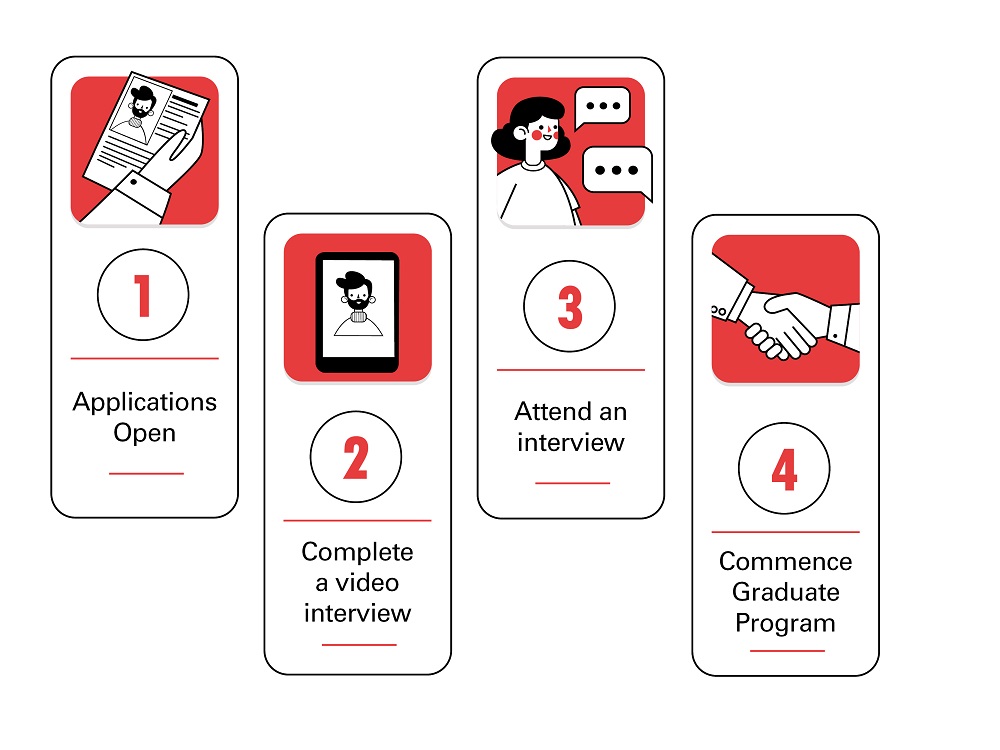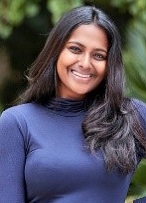 My time at Veris has been an invaluable experience. As a graduate, I am able to learn from some of the most inspiring and knowledgeable professionals in the industry.
I am also proud of Veris' commitment to innovation and adapting to new technologies, allowing me to gain hands on experiences using such technologies.
Veris continues to support and encourage me through the early stages of my career!
Lavannya Siva – Spatial Analyst
---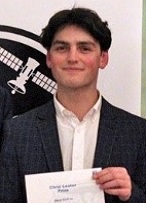 Working at Veris as a recent graduate I've been able to solidify concepts I learnt at university through practical, real-world work, surrounded by extremely knowledgeable and experienced people.
The range of technology the team works with has meant I've been exposed to a greater variety of tools and techniques compared with those used in other workplaces.
Veris has supported me, giving me the space to explore new things and develop the skills I want.
Matthew Killick – Survey Assistant
We have progressive leave and flexible working policies in place allowing you to truly balance your work and personal lives. Spread your time working from home and the office in a way that suits you.
We offer paid parental leave and family and domestic violence leave.
Need to support a community organization close to your heart? We provide community service leave for voluntary emergency management.
For those of you who like to holiday you can purchase extra leave as you need.