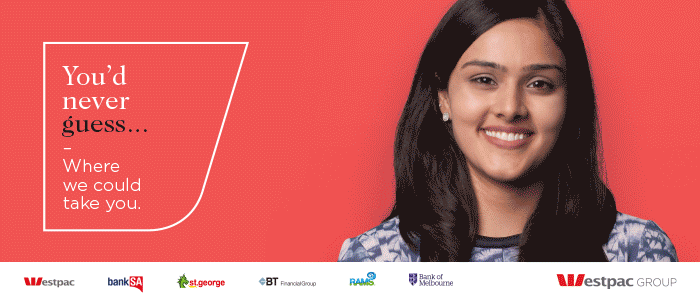 A Commitment to Diversity and Inclusiveness
Westpac Group

Where you'll be part of an inclusive workplace
Diversity is not just a buzz-word for us: we believe that an inclusive workforce builds the foundation for innovation. For us, however, it's about more than visible differences – it's about the different experiences, capabilities, insights and perspectives our people bring to work with them every day.
At Westpac Group we encourage our employees to play a role in advocating and championing diversity in our business by getting involved in Employee action group supporting woman in the workplace, LGBTI employee's, indigenous employee's and employee's with disabilities.
Be an advocate for inclusion and diversity
You can help us put inclusion and diversity at the forefront of everything we do by joining one of our Employee Action Groups (EAGs). These groups give you a chance to advocate for and champion diversity in our business, and include:
ABLE (accessibility group)
Asian Leadership Group
Brothers and Sisters Indigenous Group
FLEX (mainstreaming flexible work practices)
GLOBAL (lesbian, gay, bisexual, transgender, intersex and allies)
Prime of Life (50+ years)
Women of Westpac
The Youth Network (under 30s)
When unique people work together they deliver extraordinary results. Our approach to inclusion and diversity is broad, read about our strategy here.