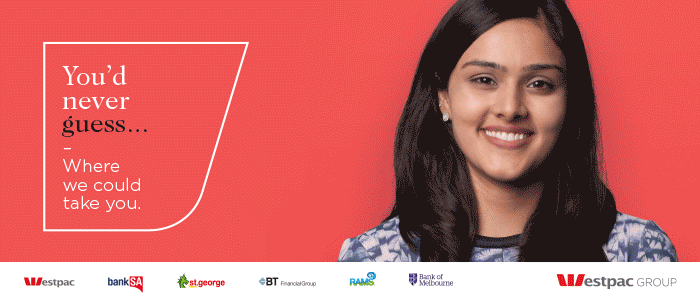 Westpac Group shares a vision – to be one of the world's great service companies, helping customers, communities and people to prosper and grow.
As home to some of Australia's most well-known financial services brands, we work with people of all walks of life – so whether you know banking or not, your passion and attitude is what's important to us.
We challenge you to think about your perceptions of a bank. Our teams are bursting with passionate, dynamic people who love what they do and are proud of where they work. With us, anything is possible and everyone is supported. 
We are proud to support graduates from a range of universities and disciplines into a wide-range of careers. We are more than just a bank; we are a service company that houses a range of respected businesses, so you'll have the benefit of abundant career pathways. 
With us, some of your career options could be within graduate program roles such as; 
GroupTech roles where you'll be part of an A$1.3billion investment in technology initiatives to help bring our vision to life, such as system engineers, tech leads, security, designers, architects or project managers
Innovative roles where you can dream, design and innovate next-generation digital experiences and products, including digital, service, product and interaction designers
Operational roles where you'll help provide better experiences for our customers and personally make an impact on the way we do business
Transformational roles that task you with helping us revolutionise how we help our customers, such as project managers, change managers or analysts
Specialist professional roles that are vital to our success as a company, such as finance, risk, HR, legal and compliance
Plus there are the more traditional financial services careers including; Customer, business advice and wealth management
The Graduate Program offers you more than just an ordinary job. It's a fun, rewarding experience that will accelerate your personal and professional development, providing you a platform to fulfil your goals. The graduate program allows you to rotate through different teams to build your experience and grow your network. During the program we will provide you with a solid support network, structured soft skills development and business specific technical training. You will also have opportunities to join different groups and committees to work on exciting projects – cultivating your leadership skills. We want to challenge you - you can expect to contribute from day one and be given real work that impacts our business and customers. 
Say hello to new ways of working, greater opportunity and a life less ordinary.
The majority of our programs are based in Sydney; however, we do offer select programs in Melbourne, Brisbane, Adelaide and Perth.
Take the next step at graduates.westpacgroup.com.au