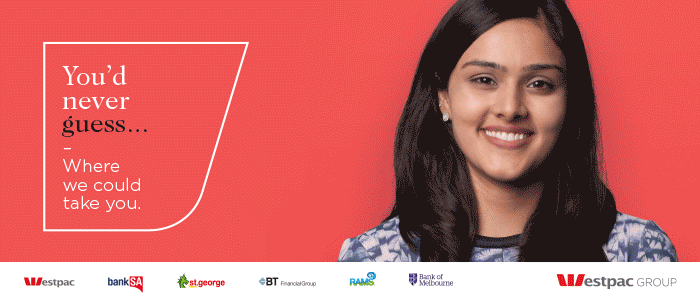 Graduate Opportunities
Westpac Group
Our Programs
For more information go to:  graduates.westpacgroup.com.au
BT FINANCIAL GROUP
BT Financial Group
BT Financial Group is one of Australia's leading wealth management organisations. We strive to delight our customers through providing innovative products and services to help manage, preserve and create wealth.

In the past grads have been lucky enough to work on a range of exciting projects as well as getting hands-on experience in all the business basics, and the practical aspects of data analytics, entry level product roles and reporting.
WESTPAC INSTITUTIONAL BANK
Corporate & Institutional Banking 
Are you a problem solver who wants to partner with customers to drive strategic solutions and make a real difference? In Corporate and Institutional Banking (CIB) you will learn more than just banking. Whether you have an analytical mind or you're great with people, if the above grabs your attention then there is a role in CIB for you! 
Financial Markets & Treasury
The culture in Financial Markets & Treasury is truly dynamic. We're looking for individuals to join our team to support Westpac Group's retail, corporate and institutional clients. 

We know the challenges faced in the global economic climate and we want individuals to help us assist our clients to adapt effectively and efficiently through innovative and holistic solutions.
Global Transaction Services
We're digitising and mobilising the movement of money and our transactional solutions attract the deposits that are the fuel for the bank's engine. That means you'll get to work in an area that is getting the investment to explore the newest trends and technologies and apply those to solve real-world customer challenges.
TRANSFORMATIONAL ROLES
Group Technology
Are you the type of person who wants to keep up and keep innovating?

From developing our mobile apps to monitoring cyber-security threats, experiencing the full life-cycle of projects, uncovering business solutions, deploying new code or working on programs that underpin the bank's strategy, the Group Technology Graduate program has it all!
Digital
Digital will take you to the forefront of new and emerging technology, giving you crucial experience in one of the fastest growing segments of the banking industry. 

Bring your innovative thinking to a team that is excited by finding creative solutions and putting them into action. Develop your knowledge of the digital landscape and a deep understanding about new technologies within the finance sector.
Project Delivery Professionals
Business drivers, customer needs and industry trends are demanding new and complex solutions. This requires specialised teams of creative thinking and collaboration, in a cutting edge workplace, to come up with comprehensive designs.

Get involved in supporting the business in the formulation and execution of strategy.
Group Operations
Group Operations is at the heart of Westpac Group. We touch nearly every interaction with every customer of every brand across Westpac Group. When we recruit our grads, we are recruiting our future leaders and technical experts. So if you ready to take on exciting new challenges with a diverse and global team, then you can make an impact right from the core.
SPECIALIST PROFESSIONAL ROLES
Compliance
Westpac Group Compliance is where we drive a confident business. We do this by providing high quality compliance advice, including strategic regulatory insight and a focus on emerging issues. You'll be immersed in the world of Westpac Group Compliance from day 1, gaining insights into the fascinating challenges presented by an environment that is evolving at an unprecedented rate
Finance & Accounting
Finance is pivotal to the success of the Westpac Group and we view our Finance Graduates as our future leaders. The team provides quality insights and advice to support strategic decision making by our business leaders. You will help us to provide a control framework by protecting, preserving and accurately monitoring the assets of the Group.
Human Resources
People. They are the heart of Westpac Group.  If you value people like we do, you could be the person we're looking for: proactive, passionate, driven to succeed, confident in building relationships and communicating with our diverse customers and employees.
Risk
A lot of people think risk is all about numbers, that's an important part of it, but it's not the only piece. We support a strong and risk aware organisation through expert advice, constructive challenge and innovative solutions. We develop relationships, build trust and help solve problems.
RETAIL & BUSINESS BANKING PROGRAMS
Agribusiness Connect
Passionate about Australia's agriculture and agribusiness sector? With Agribusiness Connect, you will be the face of our business. You will join a dedicated team of people supporting agribusiness customers, right across Australia, every day.
Multi-Brand Retail & Business Banking
Westpac, St. George, BankSA, Bank of Melbourne. Now is the time to get involved with a Multi-Brand company focusing on innovative face-to-face and online banking solutions.

You will support small to medium enterprise and commercial customers with a network of thousands of branches and business banking centres nationally.
St.George Emerging Bankers Program – Retail Banking
St. George Banking Group forms part of the Westpac Group and is home to three regional brands; St. George, Bank SA and Bank of Melbourne. 

Retail Banking Program

Do you have a passion for Retail and a flare for delighting customers? The St. George Emerging Bankers Retail Banking Program will give you exposure across front-line technical and management roles. Our graduates will commence with front-line training within our retail branch network and learn the business from the ground up allowing you to become an expert within sales and service roles.
St.George Emerging Bankers – Business Banking
Business Banking Program
This program provides you with an awesome opportunity to get close and personal with the heart and soul of the Australian business sector. You will get the opportunity to visit customer sites, understand their business and how we can help them.

We service Business Customers in a range of segments, including: Small to Medium Enterprise (SME), right through to ASX listed companies.