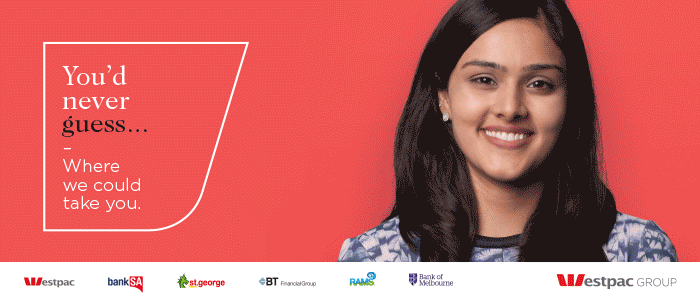 Westpac Institutional Bank
Westpac Group
Corporate & Institutional Banking
Are you a problem solver who wants to partner with customers to drive strategic solutions and make a real difference? Do you seek to gain a deep understanding of the exciting and fast paced world of institutional banking? Does the idea of working in a team on the front line with customers inspire you? Then our Corporate & Institutional Banking (CIB) business will provide the perfect introduction.
CIB sits within Westpac Institutional Bank, and as the client-facing side of the bank it includes dedicated Industry and Product Teams which work together to meet the needs of our customers. Working within these teams will help you gain a deep understanding of the exciting and fast paced world of institutional banking.
Students from all disciplines are welcome to apply for the Corporate and Institutional Banking Program, but you will need to have a strong interest in financial services with a solid analytical ability. Given CIB will often identify strategic opportunities for our clients, individuals with analytical, proactive and forward thinking ideas will fit well within our program and team culture.
Financial Markets & Treasury
The culture in Financial Markets & Treasury is truly dynamic. We know the challenges faced in the global economic climate and we want individuals to help us assist our clients to adapt effectively and efficiently through innovative and holistic solutions.
We want the best. We want to hire students who have the passion to grow and learn about global financial markets, who focus on our clients, and who work well within in our dynamic and inclusive culture. We value diversity in our people's background and thinking styles to help us generate great ideas and develop strong relationships with Westpac Group's diverse retail, business, corporate and institutional clients.
We welcome students from all disciplines to apply for our Financial Markets and Group Treasury Summer Intern Program.  A strong interest in sales, client solutions, finance, markets, trading, 
e-commerce or economics will allow you to get the most from your time with us.
Global Transaction Services

Transactional banking is one of the most exciting areas to be in banking today. Our Global Transaction Services (GTS) team will offer you a dynamic fast paced environment to kick start your career and develop your corporate knowledge. Get involved with the innovative, cutting edge solutions we offer our corporate & institutional clients, both nationally and globally!
We're digitising and mobilising the movement of money and our transactional solutions attract the deposits that are the fuel for the bank's engine. That means you'll get to work in an area that is getting the investment to explore the newest trends and technologies (mobility, digital payments, big data, etc.) and apply those to solve real-world customer challenges.
Students from all disciplines are welcome to apply for the GTS Summer Intern Program, but you will have a strong interest in innovation and solution development/design and a commitment to delivering positive customer outcomes.

Visit here to find out more about our Westpac Institutional Bank Internship opportunities and to apply.