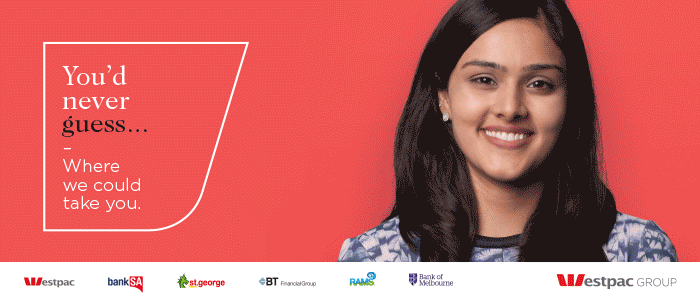 Why Join Us?
Westpac Group
Why Westpac Group
Development & Support
Development & Support We know that when you start on your journey with us, there will be a lot to learn so we will ensure that you're up for success with a support network and structured development program.
During the program we will provide you with a solid support network, including:
A graduate manager who will offer support and direction during your program
A business champion who will be there to continually support you throughout the grad program
A placement manager for each rotation, who will provide you with guidance and feedback day to day.
A mentor, a senior person in the business, who will support you with career advice •
A buddy , one of our current grads, who will help you settle in
During your grad program we will support your growth and development through a number of opportunities:
On-the-job:
For each rotation, your Manager will set challenging tasks, responsibilities and projects for you to work on. Objectives will be set for each rotation, identifying focus areas and action plans for your development. Your performance will be formally reviewed at the completion of the rotation.
Training Program:
You will participate in a structured grad training program specifically designed to equip you with the necessary business and technical skills for success. You will also have access to our e-Academy which has a library of online and face to face training courses and resources.
Networking:
In your rotational program you will build new relationships on a regular basis, constantly learning and stepping outside your comfort zone and adding value from the beginning. You'll also have the option to join various social and networking groups.
We put significant investment into training our grads. While we provide formal training we also believe learning comes from working with customers and colleagues assisted by our most experienced people.
Get Involved
There are many different groups you can join as a grad that will allow you to develop your leadership, team-work and project management skills.
GradWrap Social
A committee of talented individuals, with a flair for social media and journalism manage and distribute our Graduate newsletter and work on social media campaigns.
Graduate Community Consulting Committee (GCCC)
If you love the idea of supporting our communities then join our GCCC for an opportunity to work on a strategic project with one of Westpac Group's Community Partners.
Through innovative ideas and strategic thinking you can really make a difference with one of our non-for-profit community partners.
One Young World – Global Summit
You may even be nominated to attend the global youth leadership summit which brings together delegates from over 180 countries worldwide. Unlike any other event in the world, you will have a platform to share your views, vision and ideas to create real resolutions for real change.
The Youth Network
As an aspiring young leader, we want to help you reach your full potential. Projects run by The Youth Network aim to bring passionate young employees together to create significant and positive change.
Employee Benefits
We offer a great work environment where everyone is valued for their individuality and their unique contribution.
We offer competitive salaries to graduates as well as a wide range of market leading benefits including
Flexible working arrangements to balance your life outside of work
1 day a year to dedicate to helping the community or a charity
The ability to purchase additional leave each year
Employee share plans
Opportunities for a formal career break
We'll also give you a range of financial and lifestyle benefits on items such as:
Bank accounts
Personal loan and credit card interest rates
Home loans and interest rates
Investments, life insurance and superannuation
General and car insurance
Computer, electronic and household appliances
Health insurance memberships
Telecommunications
Other lifestyle benefits
Westpac Group encourages career development and movement across the company in order to help you build the career path that suits you. You will find online career management tools and a consultative Careers team that will help you make the right decision and guide you through your future career.