WorldQuant Graduate Programs & Internships
WorldQuant is a global quantitative asset management firm guided by the belief that there are an infinite number of insights to discover. Fueled by divergent thinking and a relentless pursuit of ideas, WorldQuant's more than 750 employees are all striving to get to the future faster. 
WorldQuant is a global quantitative asset management firm with over $7 billion in assets under management. Founded in 2007 by Igor Tulchinsky with the belief that talent is global, but opportunity is not, WorldQuant has more than 750 employees spread among 23 offices in 13 countries. WorldQuant seeks to get to the future faster, guided by the principle that there are an infinite number of insights to discover. The firm develops and deploys investment strategies across a variety of asset classes in global markets. For more information on WorldQuant's philosophy and culture, please visit www.worldquant.com. 
Join us as a Quant Researcher
The Role:
Our research office in Singapore is seeking an exceptionally talented individual to join the team as a Quantitative Researcher. This position involves the creation of computer-based models that seek to predict the movements of worldwide financial markets. Candidates need not have prior knowledge of financial markets, but must have a strong interest in learning about stock markets and other financial markets. Our highly accomplished senior staff provides new hires with mentoring and guidance to help them succeed.
We offer outstanding career opportunities, which include:
Competitive financial rewards, based on performance and position
Friendly and collegial working environment
Opportunity for promotion to Vice President in 2 to 4 years
Opportunity to learn from investment experts
What You'll Bring:
Candidates holding or pursuing a BS (Hons), MS or PhD in in a highly quantitative or highly analytical field e.g. Math, Physics, Computer Science or Financial Engineering from a leading university are strongly preferred
Have a research scientist mindset, i.e., be a deep thinker, creative, persevering, smart, a self-starter, etc.
Knowledge of Linear Algebra, Statistics, Machine Learning
Prior experience in Finance/Trading is a plus.  
Be competent in a programming language (Python, Unix)
Possess good English language skills
Have a strong interest in learning about worldwide financial markets
Possess a relentless drive to succeed, supplemented by a strong work ethic
We invite you to start your quantitative finance journey through our internship program. WorldQuant offers internships in various teams such as Research, Portfolio Management and Technology. Our internships are structured to offer students/graduates the following:
Direct, hands-on experience in quant research/technology/portfolio management related roles
Challenging real world projects to include in your career milestones 
Mentorship and industry guidance from our advisors and supervisors
Potential return internship/offer (for graduating students) subject to performance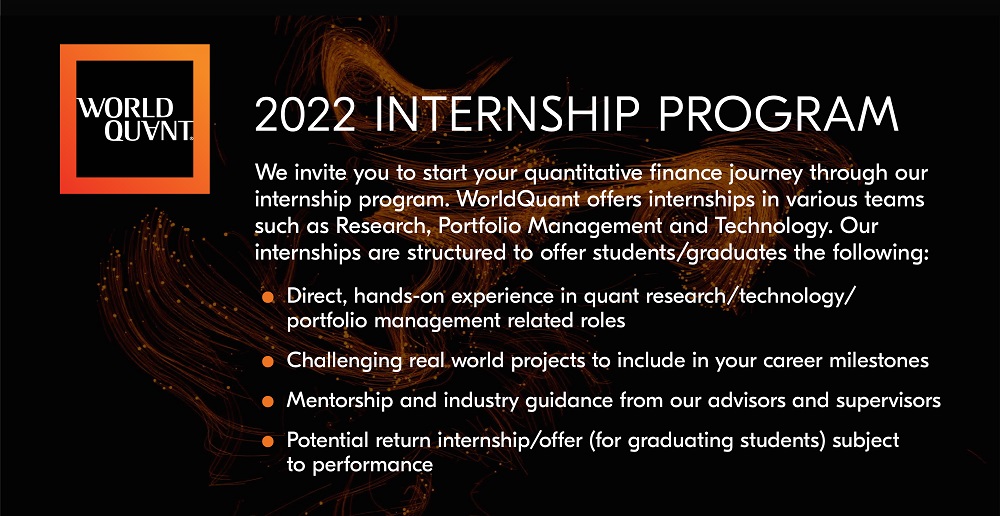 WorldQuant BRAIN would like to invite GradConnection members to participate in the 2022 Global Alphathon. The Global Alphathon is an 11-week long Quantitative Finance competition where participants across the world will compete to build the best alphas (predictive financial models). 
Winners may be eligible for cash prizes from a pool of up to USD 105,000; and in addition may be considered for opportunities to join WorldQuant in full time roles, internships and as BRAIN research consultants.  Please refer to the official guidelines for applicable rules and restrictions. 
About WorldQuant and WorldQuant BRAIN
Headquartered in the US, WorldQuant is a quantitative asset management firm founded in 2007 with over 750 employees spread across 13 countries. We seek to produce high-quality predictive signals (alphas) through our proprietary research platform. These signals are employed in financial strategies across a variety of asset classes and global markets.
Through the WorldQuant BRAIN program, we also work with global talent to be a part of our greater research efforts by contributing alphas and other quantitative finance algorithms.
The BRAIN program offers multiple advantages:
Learn: Discover the world of quantitative finance using 30,000+ data fields and diverse tools on the BRAIN platform. Access in-depth training and mentorship from experienced quants and exciting global challenges and events.
Earn: The upsides include merit-based financial compensation as a BRAIN research consultant and potential opportunities for internships and full-time positions with WorldQuant. 
Connect: Be part of a diverse group of intellectually curious individuals with an interest in quantitative finance.  
So far we have engaged with 3000+ global users on the platform, more than 700 of whom have been on boarded as BRAIN research consultants. 
Visit https://www.worldquant.com/brain/ for more details!